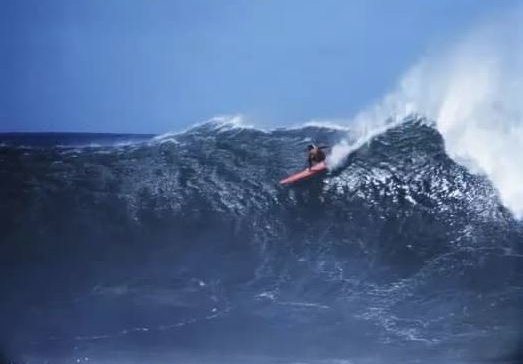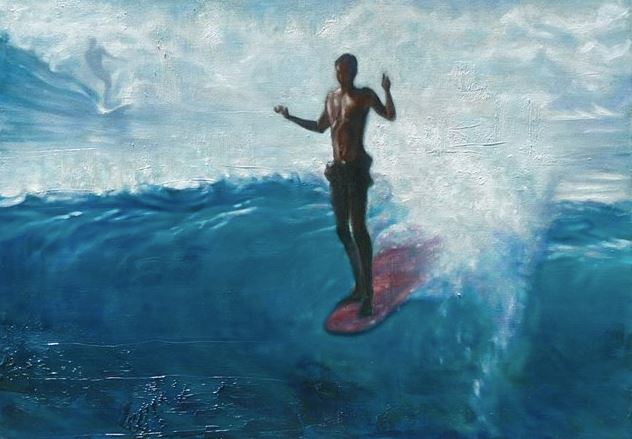 Surfing Legend Kimo passed away Oct 31st at 84.
Born 1939 in Honolulu he stood at 6'3″. He was a Giant of a Man. A character who made us laugh and think.
His Irish-Portuguese father Henry "Chubby" Hollinger Sr. was a firefighter, and his Hawaiian-Caucasian mother "Dutchie" Hollinger was a musician who played with Johnny Almeida's band.
Kimo began surfing relatively late…at age sixteen. But he became regarded as one of the world's best big wave riders at Sunset Beach and Waimea Bay.
Hollinger placed eighth at the 1965 Duke Kahanamoku Invitational contest and served as a judge at this event for the next three years.
During this time Kimo also worked as a Honolulu city and county fireman.
Hollinger stopped surfing big waves after he nearly drowning in the ocean at Waimea Bay in 1976. He was rescued by a human chain of fellow surfers.
An occasional writer for Surfer's Journal magazine, Kimo's nonfiction compilation "Kimo: A Collection of Short Stories" was published in 2002. See all his books below.
The father of two daughters, Hollinger lived on the North Shore of Oahu with his wife Bunnie.
A memorial service celebrating Kimo's life will be held this summer (details coming). In lieu of flowers, contributions can be made to charities that support the health of our Ocean. Mahalo.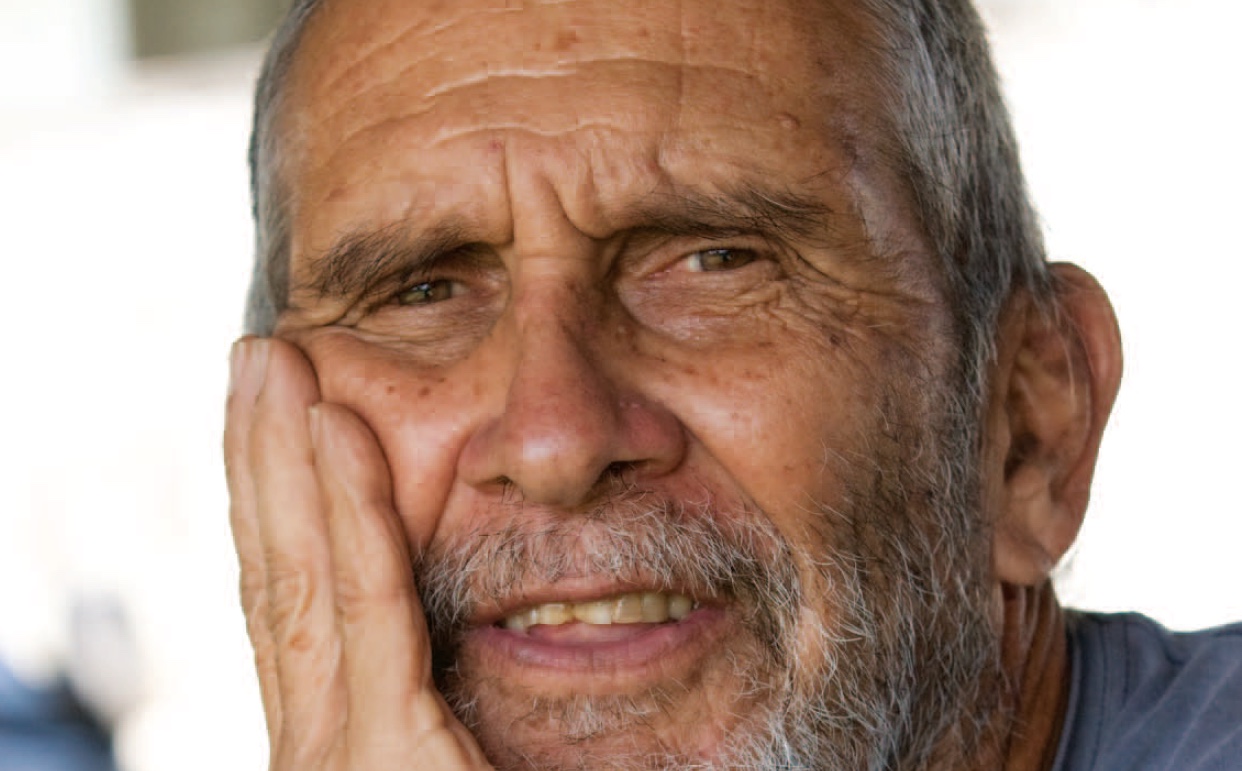 LEGENDARY SURFERS contributor Cayle Leipert Krikorian Aug 15 2021
The real deal LEGENDARY Kimo Hollinger
Oahu, Hawaii
KIMO HOLLINGER, WAIMEA BAY, 1966 (Front page Photo: Leroy Grannis)
KIMO HOLLINGER, 2021 Oahu (below: Farmer Fred)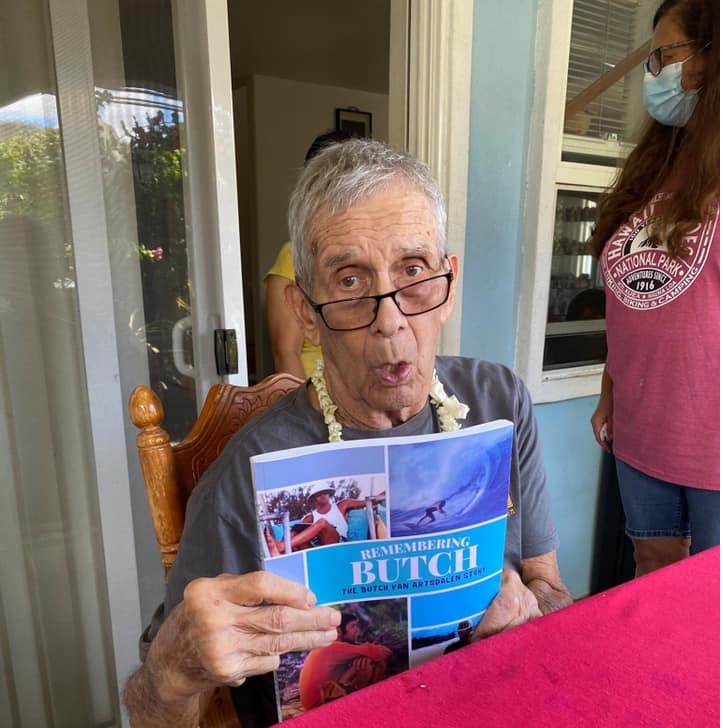 I'd like to take time to thank the man Kimo Hollinger 4 sharing his wonderful stories with the world! I could read his books and short stories 4 days! It's so great to see him every chance I get I go out give him a hug and kiss out of respect for the old school days. Yes we did KISS men …grown men but that was a sign of respect and I will still show it to the older guys because that's the way I was born and raised much Aloha Uncle! keep that Spirit Alive and Well ALOHA
Blane Chambers
The man, the myth, the legend, Kimo Hollinger. This is my Kimo story——
It seems like I've known of Kimo forever from surf magazines as a kid. He was already legendary back then. The stories about him were burned into my early surf memories. His daughter Holly was our classmate as kids but I never knew Kimo was her dad till way later——-
As years went by I started seeing Kimo surfing a lot. We were both dawn patrollers and he surfed out of the way spots too. Many days it would be just he and I and I gave him a lot of space. Kimo made it clear he would really rather be alone and was never what I called "chatty" in the water
This went on for a few years. Just he and I, surfing while the sun rised over us.——
One morning a pumping west swell had arrived. Solid 10', light south winds and Haleiwa was grinding from way, way out. It was big, perfect Haleiwa. All the morning regulars were out including the rest of the frothing crowd. At the time I rode a 12' Munoz pop out with a pad on the deck and I would paddle on my knees with a canoe paddle. I saw a bomb set come in and there was Kimo dropping into the biggest wave from the farthest out and flying across. I was out there!——-
I scrambled to get my gear together and paddled out into the fray. I took a wide line out to the peak outside the bathroom. By then Kimo had made his way back out to pole position. Farthest guy out waiting for the best bombs. Hawaiian was out too about 20 yards inside of Kimo. A big set came through and I watched Kimo stroke into a legit bomb. He was mid 60's at the time! I was so impressed with that
The crowd was thick and aggressive. I didn't catch any waves for a while. Puaena Pt across the bay was roping with no one out so I paddled over there and scored a bunch of perfect ones alone from way outside. After getting my fill I paddled back hoping I could get a good one at Haleiwa on the way in.———
When I got there Kimo was gone so I slipped into his spot. Hawaiian and other friends were in the farthest out positions too. It wasn't too long after I got there a big set arrived. We were too far out for the first few then there it was, a big bomb scooping out perfectly for where I was. I asked our friend Billa, you goin? He said go so I turned around and started stroking hard. I got in and it was steep and deep. As I was dropping in, Hawaiian was paddling up the face and screamed yeah Blaaane!! The wave was a absolute screamer. Hands down the biggest and best Haleiwa wave I ever caught to this day—-
I rode it in and walked straight up to the showers just stoked out of my mind. I kept thinking what a session! So many perfect waves on the outside of Puaena and then the best Haleiwa set wave I ever got to end it. GRATEFUL, BEYOND STOKED!—-
After rinsing off I was walking over to the Blue Tent Hawaiian would set up every morning and there was Kimo, staring straight at me and clapping. I turned around thinking he was acknowledging somebody else. No one there. When I got up to him he shook my hand and he was so stoked on the wave I got. He told me it was a beautiful wave and we talked about the session. I told him how I saw him on his bombs and that I slipped into his spot to catch that wave….
I will never forget that morning and I will never forget Kimo Hollinger….
Rest in Love Kimo
Till we meet again.
CHECK
HERE
FOR SOME CLASSIC VIDEO OF KIMO
BOOKS BY KIMO HOLLINGER
HERE
Jazz-man, Oahu fireman, lifeguard, a hipster when that meant you were well-read, open-minded, broadly-traveled, copacetic. Kimo is a literate hellman and a story talker of the first water. His occasional deliveries of small, first-person weavings are greeted in the TSJ editorial office like Christmas gifts and quickly set into issues. Ease into this collection like a Hawaiian tasting menu. If you find that it's your style, there is much more Kimo to be found in our archives, free to Journal subscribers. —Scott Hulet
THE SIGNING
A day after the Surf Auction, Greg Noll called and said he wanted us to do a book signing for his new book, The Art of the Surfboard, at Joe Green's shop, Surf and Sea, in Haleiwa. I figured a soft one, right down the road and a couple hours at most. The usual suspects signing were Henry Preece, Rabbit Kekai, Peter Cole, Ray Beatty, the imposing Bull, and myself. When I got there, Joe and his crew were setting up the scene. How would I describe it? Intimate. The Surf and Sea kids are efficient and nice. I do most of my surf business there. The people were milling around outside waiting for the big happening. Greg was moving around doing greetings. His lovely wife, Laura, who has probably done a thousand of these things, was tending to the details. A signal from Joe, and it was on.
We surfers have changed. Fifty years ago, we wouldn't have been caught dead doing this kind of thing. Now, we have mellowed and feel privileged to do it. I was seated between Peter and Rabbit. I tried to glean from them the proper method to be used. They talked story a little bit before signing. I ended up copying Henry, sign and "next." The people were beautiful, a thoroughly mixed bag, what you would expect being in Hawaii. I couldn't believe how eager and sincere they were to meet us. Greg set the tone. They were there to meet him, and we were side orders.
After one hour, I was beat. The line never seemed to get shorter, and the books never ran out. Peter started a little complaining. I glanced over at Henry who remained stoic to the task. Again, I copied him. After the second hour, Peter's complaints got louder. When he left to use the restroom, Greg got the kids to pile boxes of the books on his table. When he returned, everyone had a good laugh. Finally, the Nolls called it quits. The people left happy, and we were glad to be of service. Peter was tired. Greg thanked him, and he split for home. Joe passed out some fancy slippers, and my wife, Bunnie, got a pair. She was thrilled. Joe told us to go upstairs for grinds that his wife had ordered from the local okazu. Ray said that he had business elsewhere, and he also left. We trudged upstairs where the table was being set. Henry was thirsty, not hungry, and he split for cold beers. The finished setting looked like a lot of food, maybe too much. Yeah, right. There were other people there, but Greg, Rabbit, and I did most of the damage. It was sooooo ono.
"After too many surf check phone calls, Val began to cheat to get even with us for the intrusions. If Sunset was closed out, he'd call it six feet. If Waimea was across the bay, it was eight feet. In his eyes, double-digit North Shore didn't exist. The phone calls stopped."
For the whole story GO HERE
Enjoy this interview below with Kimo….
Over a decade ago on May 10, 2012
Kimo Hollinger "Talks Story" with Jodi Wilmont at Surfer, The Bar about growing up and surfing the Big Waves on the North Shore of Oahu.
From Surfers Journal Kimo Hollinger on an epic November 19, 1967 day at the Bay. Photograph by Tim McCullough.