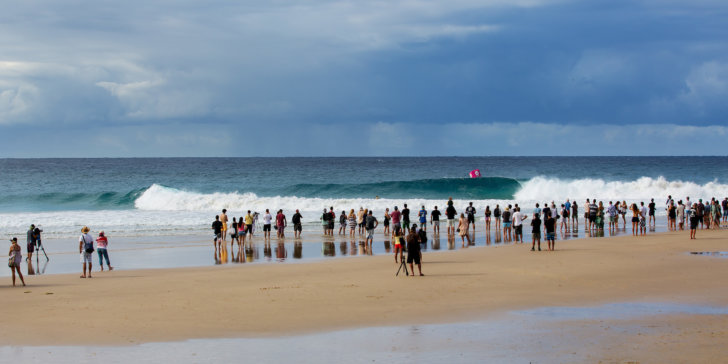 Challenger Series Kicks off at Snapper Rocks with Boost Mobile Gold Coast Pro (20 hours ahead of Hawaii)

Surfing Stars to Clash with Emerging Talents at Competitions in Australia, South Africa, USA, Portugal, and Brazil
Pictured front page: The Boost Mobile Gold Coast Pro Presented by GWM will kick off the 2023 Challenger Series, May 6 – 13, 2023 Credit: © WSL / Scholtz
SNAPPER ROCKS, Gold Coast, Queensland, Australia (Tuesday, May 2, 2023) – The World Surf League (WSL) 2023 Challenger Series is the battleground where surfers compete to qualify for the elite Championship Tour (CT), surfing's most prestigious competition tier. Across the six-competition series, promising young talents and hungry veterans will face off in high-performance waves for their shot to earn a spot on the CT. Following the CT's Mid-season Cut, the Challenger Series will feature competitors hoping to return to the elite CT in 2024, as well as new faces looking to achieve their dreams and qualify for the first time.

At the conclusion of the 2023 Challenger Series season, the Top 10 men and Top 5 women on the Challenger Series rankings will qualify for the 2024 Championship Tour season. Out of the six Challenger Series competitions, only the top four results will count toward their end-of-year rankings.
Pictured: Former CT surfer Nikki Van Dijk (AUS) is sure to be a threat on the Challenger Series. Credit: © WSL / Dunbar
2023 Challenger Series Schedule
Boost Mobile Gold Coast Pro Presented by GWM (Queensland, Australia): May 6 – 13, 2023
GWM Sydney Surf Pro Presented by Bonsoy (New South Wales, Australia): May 17 – 24, 2023
Ballito Pro Presented by O'Neill (KwaZulu-Natal, South Africa): July 2 – 9, 2023
US Open of Surfing presented by Pacifico (Huntington Beach, USA): July 29 – August 6
EDP Vissla Pro Ericeira Presented by Estrella Galicia (Ericeira, Portugal): October 1 – 8, 2023
Corona Saquarema Pro (Rio de Janeiro, Brazil): October 14 – 21, 2023
The 2023 Challenger Series will commence in under a week at the world-famous Snapper Rocks for the Boost Mobile Gold Coast Pro presented by GWM. It is bound to be an epic launch to the 2023 Challenger Series, with competitors doing battle at one of the most world-class, right-hand sand points on the planet.
From the Gold Coast the Challenger Series will then head south to North Narrabeen Beach for the GWM Sydney Surf Pro presented by Bonsoy. North Narrabeen is one of Australia's most high-performance beach breaks with a long lineage with professional competitive surfing and it's return to the annual schedule comes with much excitement from both competitors and fans.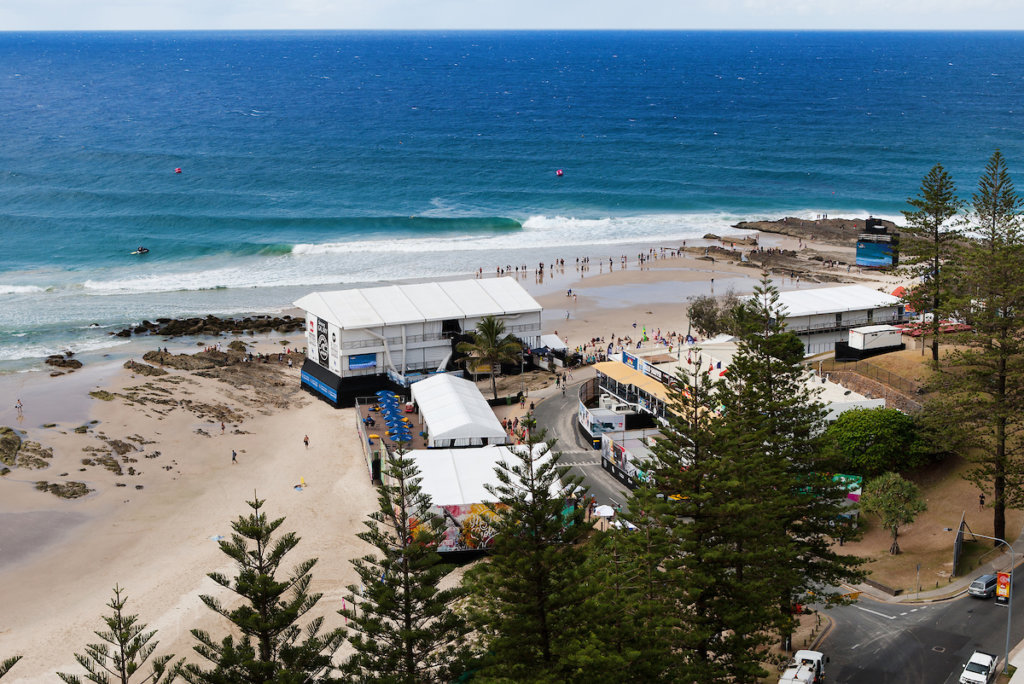 What a Lineup! Image WSL/Cestari
Surfing Stars Battle New Talents
The 2023 Challenger Series will host 80 men and 48 women at each event, comprised of athletes from the following groups:
12 men and seven women from the CT who did not make the Mid-season Cut,
10 men and five women from the previous year's Challenger Series rankings,
Three men and two women who were CT surfers in the prior season that did not requalify for either the CT or the Challenger Series,
49 men and 30 women as allocated by the seven WSL regions (Australia/Oceania, Asia, Africa, Europe, Hawaii/Tahiti Nui, North America, and South America), and
The men's 2022 World Junior Champion,
The women's 2022 World Junior Champion, and
Five men's and three women's wildcards per event.
Pictured: 2022 Junior World Champion Jarvis Earle (AUS) will make his maiden appearance on the Challenger Series at the Boost Mobile Gold Coast Pro Pres. by GWM. Credit: © WSL / Miers
Challenger Series Regional Qualifiers
The lists below include all regional qualifiers eligible to compete in the 2023 Challenger Series season. The confirmed list of competitors will be released ahead of each Challenger Series event. Championship Tour surfers who did not make the Mid-season Cut automatically qualify for the Challenger Series and will be announced ahead of each event.
2023 Championship Tour Competitors for Boost Mobile Gold Coast Pro Presented by GWM
Macy Callaghan (AUS)
Sally Fitzgibbons (AUS)
Sophie McCulloch (AUS)
Isabella Nichols (AUS)
Stephanie Gilmore (AUS) – CT Wildcard
Samuel Pupo (BRA)
Nat Young (USA)
Jackson Baker (AUS)
Miguel Pupo (BRA)
Kelly Slater (USA)
Michael Rodrigues (BRA)
Maxime Huscenot (FRA)
Jake Marshall (USA)
Kolohe Andino (USA)
Ezekiel Lau (HAW)
Carlos Munoz (CRC)
Jadson Andre (BRA)
Joao Chianca (BRA) – CT Wildcard
Ryan Callinan (AUS) – CT Wildcard
Connor O'Leary (AUS) – CT Wildcard
Caio Ibelli (BRA) – WSL Wildcard
Callum Robson (AUS) – WSL Wildcard
Australia / Oceania
Kobie Enright (AUS)
Paige Hareb (NZL)
Ellie Harrison (AUS)
Nyxie Ryan (AUS)
Bronte Macaulay (AUS)
Nikki Van Dijk (AUS)
India Robertson (AUS)
Zahli Kelly (AUS) – Regional Wildcard
Reef Heazlewood (AUS)
Jarvis Earle (AUS)
Alister Reginato (AUS)
Joel Vaughan (AUS)
George Pittar (AUS)
Billy Stairmand (NZL)
Mikey McDonagh (AUS)
Te Kehukehu Butler (NZL)
Dylan Moffat (AUS)
Morgan Cibilic (AUS)
Jacob Willcox (AUS)
Kalani Ball (AUS) – Regional Wildcard
Africa
Natasha van Greunen (RSA)
Jessie Van Niekerk (RSA)
Sarah Baum (RSA) – Regional Wildcard 
Luke Thompson (RSA)
Adin Masencamp (RSA)
Connor Slijpen (RSA)
Daniel Emslie (RSA)
Joshe Faulkner (RSA) – Regional Wildcard
North America
Sawyer Lindblad (USA)
Zoe Benedetto (USA)
Bella Kenworthy (USA)
Alyssa Spencer (USA)
Leilani McGonagle (CRC)
Ella McCaffray (USA) – Regional Wildcard 
Crosby Colapinto (USA)
Jett Schilling (USA)
Jabe Swierkocki (USA)
Evan Geiselman (USA)
Cole Houshmand (USA)
Josh Burke (BRB)
Dimitri Poulos (USA)
Eithan Osborne (USA)
Conner Coffin (USA)
Kade Matson (USA) – Regional Wildcard 
South America
Daniella Rosas (PER)
Sol Aguirre (PER)
Dominic Barona (ECU)
Luana Silva (BRA)
Silvana Lima (BRA) – Regional Wildcard
Miguel Tudela (PER)
Ian Gouveia (BRA)
Lucas Silveira (BRA)
Ryan Kainalo (BRA)
Rafael Teixeira (BRA)
Weslley Dantas (BRA)
Leo Casal (BRA)
Alejo Muniz (BRA)
Edgard Groggia (BRA)
Deivid Silva (BRA)
Lucca Mesinas (PER)
Mateus Herdy (BRA) – Regional Wildcard
Hawaii
Moana Jones Wong (HAW)
Puamakamae DeSoto (HAW)
Eweleiula Wong (HAW)
Zoe McDougall (HAW) – Regional Wildcard
Jackson Bunch (HAW)
Eli Hanneman (HAW)
Joshua Moniz  (HAW)
Shion Crowford (HAW)
Kai Paula (HAW)
Imaikalani deVault (HAW)
Keanu Asing (HAW) – Regional Wildcard
Asia
Nanaho Tsuzuki (JPN)
Minami Nonaka (JPN)
Anon Matsuoka (JPN)
Amuro Tsuzuki (JPN) – Regional Wildcard
Ketut Agus (INA)
Oney Anwar (INA)
Daiki Tanaka (JPN)
John Mark Tokong (PHL)
Kian Martin (SWE)
Hiroto Ohara (JPN) – Regional Wildcard
Europe
Yolanda Hopkins (POR)
Pauline Ado(FRA)
Carolina Mendes (POR)
Ariane Ochoa (EUK)
Teresa Bonvalot (POR)
Vahine Fierro (FRA)
Francisca Veselko (POR)
Tessa Thyssen (FRA) – Regional wildcard
Marco Mignot (FRA)
Kauli Vaast (FRA)
Tiago Carrique (FRA)
Jorgann Couzinet (FRA)
Justin Becret (FRA)
Marc Lacomare (FRA)
Adur Amatriain (EUK)
Gatien Delahaye (FRA)
Joan Duru (FRA)
Frederico Morais (POR)
Timothee Bisso (FRA) – Regional wildcard