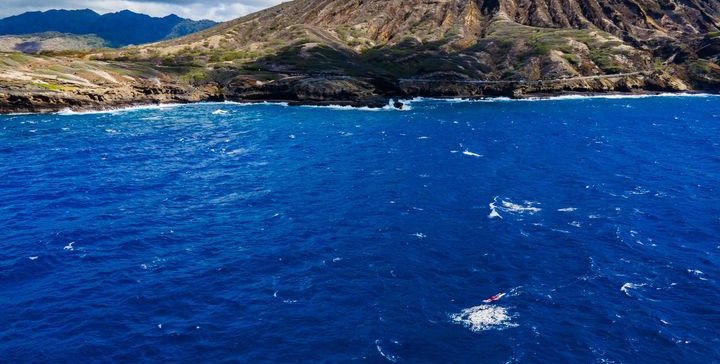 CONTRATS TO ALL!
A Beautiful return to Hawaii for the 2022 Bluewater Classic presented by
Florence Marine X
As we look to share more content and photos over the next few days, we wanted to share this drone shot of a lone paddler off Koko Head.
And that's a wrap for the 2022 Bluewater Hawaiian Classic! Thank you so much to everyone out there for tuning in, supporting the athletes and bearing with us through high winds, swells and a few Hawaiian internet issues
What a day!!
Thanks to all the athletes, partners, staff, and the Hawaiian community in paving our path back to the water for events in 2022.
22 Mile Challenging Coastline race on O'ahu.  The course will start at Makai Pier and finish at Sand Island Northwest Boat Launch.
2022 BLUEWATER HAWAIIAN CLASSIC – RACE INFORMATION
22 Mile Race OPEN to Prone, SUP and Foil
Race Date: Sunday July 24th 2022
22 Miles race on Oahu coastline.
A challenging deep-water course that will have athletes navigating some challenging surf and tides through Makapu'u point, Alan Davis beach, and China Walls before linking to classic downwind run outside Maunalua Bay at Koko head through Diamond Head. The final stretch in deep water as you pass Waikiki and head to Sand Island.
WHO Open to Solo and Teams for Prone, SUP. Foil, OC1, OC2, and Surfksi.
WHAT 22 Mile Blue water downwind race on the coast of O'ahu
WHERE Race starts at Makai Pier and finishes at Sand Island Northwest Boat Ramp.
WHEN July 24th 9 am start
WHY To get back on the water and celebrate paddling in 2022! 22 miles in 2022. #AreyouReady
Solo athletes will not be required to race with an escort boat. Escort boat optional for solo athletes.  Solo entries can use jetski for support and escorting on the course.  All Solo Athletes under age 18 will be required to have an escort boat.  No athletes under 12 will be permitted to register.   Team entries will be required to have an escort boat.
Age groups for PRONE and SUP for both UL and Stock and both Male and Female categories.    OC1, OC2 and Surfski categories will be defined from final entries.
Teams will be either Male, Mixed, Female with both 2-3 person teams offered.
FOIL will be Male and Female open for both solo and relays.
Price Increase will take place May 1st. We urge you to sign up early if you are considering racing.  Limited entries and gear need to be ordered earlier due to current supply chain challenges.  Please reach out with any questions at info@molokai2oahu.com
More info to follow. Please reference general rules and tentative schedule of events.