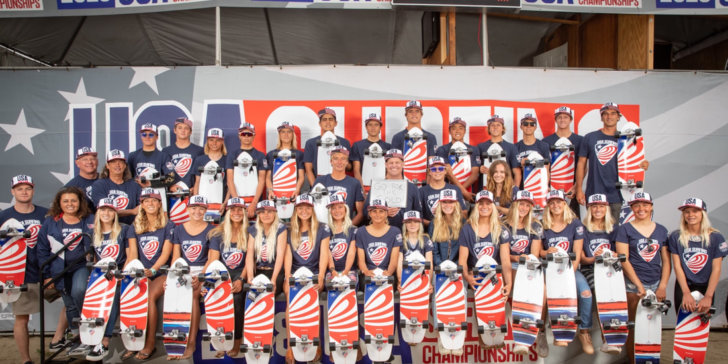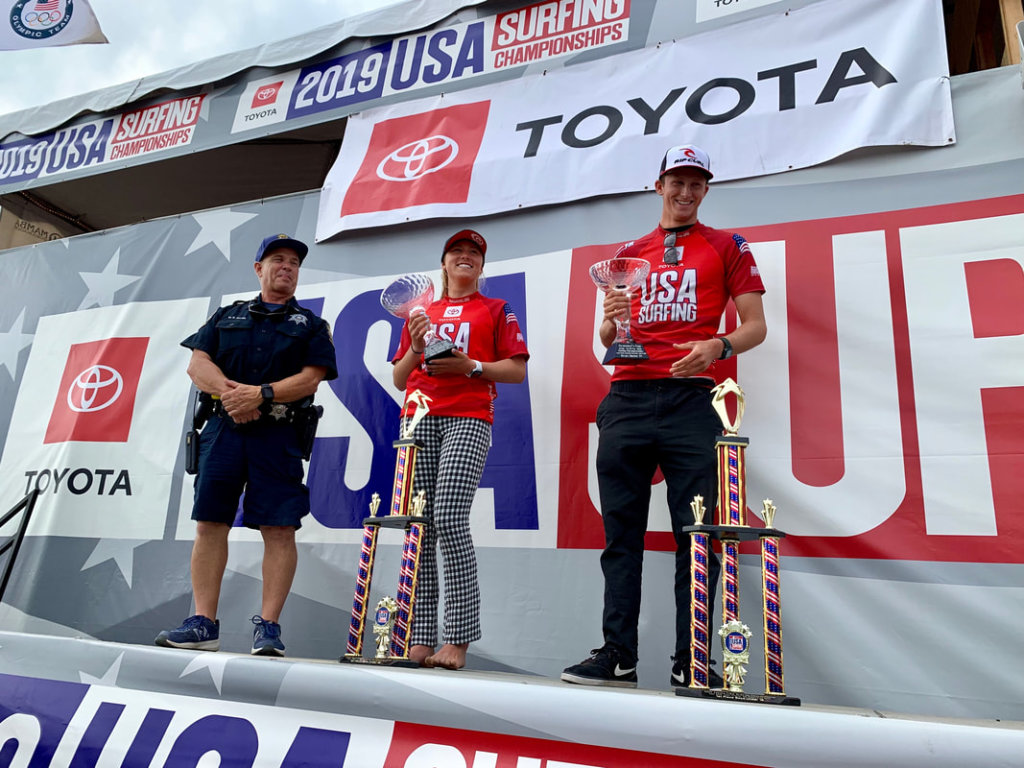 Images: USA Surfing
San Clemente, California (June 22, 2019) – USA Surfing crowned its 2019 Toyota USA Surfing junior champions today, following five days of impressive surfing with fiery performances on rippable Lowers waves.
The final heat of the event – the boys U18 – was absolutely insane! CEO Greg Cruse said it was the most exciting final in the history of the event. Conditions set up perfectly for taking to the air. Crosby Colapinto scored a perfect 10 with a lip-destroying series of maneuvers. He backed it up with a 9.93 tail high air reverse. It was his fourth Championship title in his career. Second-place surfer Nick Marshall's double grab flip scored a 9.87. Heat mate Hawaiian Wyatt McHale also scored a perfect 10, which put him in third.
Carlsbad's Alyssa Spencer had a double win in girls U16 and U18. Spencer and Colapinto were the 2019 Governor's Cup Winners – the highest honor of the event with a long track record of World Surf League Championship Tour surfers.
Other highlights included an intense girls U12 final as 11-year-old Vaihiti Inso and Oaka Wong delivered 9s and 8s with Vaihiti's powerful backhand ultimately winning the heat. The boys U12 finalists were separated by less than a point with Carlsbad's Chase Niemann unleashing a series of committed turns on the outside, opening the heat with an 8.17 and backing it up with an 8.67.
"The groms were surfing far beyond their years. The railwork in the U12 finals looked like a QS heat at times," said USA Surfing junior national coach Brett Simpson.
In the girls U14 Betty Lou Sakura Johnson took advantage of a well-overhead wave to deliver her signature front-side blowtail and carved it down to finish with a lip-smashing final turn for a perfect 10. She backed it up with a 9.97, throwing away a 9.17.
The boys U14 came down to a buzzer beater set wave that San Clemente's Hayden Rodgers took full advantage of, just edging out Oceanside's Lucas Owston whose mature railwork earned excellent scores.
In the girls U16, Alyssa Spencer ran away with the heat with a 9.33 and 7.17.
Levi Slawson wowed the crowds and won the heat with a 9.17 that included a series of powerful slashes, a layback jam finishing with a tail high air reverse.
The 2019 USA Surfing Champions for each division are as follows:
Girls U12
1st Vaihiti Inso, Hawaill
2nd Oaka Wong, Hawaii
3rd Avery McDonald, San Clemente, Calif.
4th Vela Mattive, Santa Barbara, Calif.
Boys U12
1st Chase Niemann, Carlsbad, Calif.
2nd Tiger Abubo, Hawaii
3rd Kenny Nishimoto, Hawaii
4th Charlie Stevens, San Clemente, Calif.
Girls U14
1st Betty Lou Sakura Johnson, Hawaii
2nd Caitlin Simmers, Oceanside, Calif.
3rd Zoe Benedetto, Palm City, Fla.
4th Ewe Wong, Hawaii
Boys U14
1st Hayden Rodgers, San Clemente, Calif.
2nd Lucas Owston, Oceanside, Calif.
3rd Kai Martin, Hawaii
4th Cannon Carr, San Clemente, Calif.
Girls U16
1st Alyssa Spencer, Carlsbad, Calif.
2nd Sawyer Lindblad, San Clemente, Calif.
3rd Luana Silva, Hawaii
4th Caitlin Simmers, Oceanside, Calif.
Boys U16
1st Levi Slawson, Encinitas, Calif.
2nd Jackson Bunch, Hawaii
3rd Luke Swanson, Hawaii
4th Taj Lindblad, San Clemente, Calif.
Girls U18
1st Alyssa Spencer, Carlsbad, Calif.
2nd Sawyer Lindblad, San Clemente, Calif.
3rd Kirra Pinkerton, San Clemente, Calif.
4th Savanna Stone, Hawaii
Boys U18
1st Crosby Colapinto, San Clemente, Calif.
2nd Nick Marshall, Encinitas, Calif.
3rd Wyatt McHale, Hawaii
4th Levi Slawson, Encinitas, Calif.
Competing at Lowers offers surfers an elite experience. It is one of only two surf contests allowed at one of the world's best surf breaks, Lower Trestles. Championships competition also features the latest technologies and talents used at the most elite levels of surfing. The heats are announced by crowd favorites Todd Kline and Ryan Simmons, 5-panel WSL/ISA judges use electronic scoring and replay, the priority with LED display and head judges – all with years of experience analyzing surfing around the world.
At the conclusion of the competition, head coach Brett Simpson presented the 2019-20 junior national development and junior national teams. Selection to national USA Surfing teams brings athletes into an elite program with year-round high-performance training and skill development to not only build elite professional athletes but future Olympians.
Contact: Becky Fleischauer Becky (at) USA surfing (dot) Org
USA Surfing is the National Governing Body for surfing in the United States, recognized by the International Surfing Association (ISA) and the United States Olympic Committee (USOC). USA Surfing's mission is to promote and grow the sport of surfing and support United States athletes of all backgrounds to achieve sustained competitive excellence in Olympic, Paralympic, Pan American and Parapan American competition. USA Surfing will oversee and support America's Olympic team as surfing makes its debut in the 2020 Tokyo Olympics, and surfing and stand-up paddleboarding athletes compete in the 2019 Pan American Games.