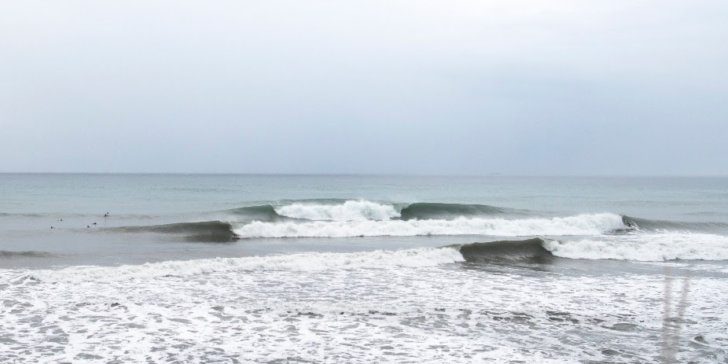 FIRST TIME IN WSL HISTORY THE WORLD CHAMPIONS FROM SEPARATE DISCIPLINES WILL BE CROWNED AT THE SAME EVENT
EVENT WINDOW TO RUN FROM NOVEMBER 26 – DECEMBER 9
The high-performance peaks of Jinzun Harbor will once again host the Taiwan Open of Surfing where the WSL World Junior and World Longboard Champions for 2018 will be crowned.
Credit: © WSL / Tom Bennett
Coolangatta, QLD/AUS (Tuesday, September 25, 2018) –  The World Surf League (WSL) is excited to announce that the 2018 World Junior and World Longboard Championships will be held in Taitung County in Taiwan. The Taiwan Open of Surfing, which has previously hosted surfers to QS1,000, QS1,500 and LQS events, will now be the location to crown two World Junior Champions and two World Longboard Champions. This will be the first time in WSL history that World Champions from separate disciplines will be crowned at the same event.
Having proven itself as an incredible location for surfing events over the last seven years, Jinzun Harbor in Taitung will act as the event's primary location. The competition window for the World Longboard Championships will be from November 26 to December 1, 2018. The World Junior Championships will run from December 1 through 9, 2018.
"Jinzun Harbour in Taiwan looks like a super high-performance wave, so I'm really excited to see the world's best Juniors battling it out at an exciting new location,"said Travis Logie, WSL Deputy Commissioner. "I'm really expecting to see the Juniors push to a new level. The addition of this location is great news for all the surfers who've qualified for the World Championships and for everyone who gets to watch it go down. It's also a massive stepping stone for these competitors as they strive towards Championship Tour (CT) qualifications and ultimately a WSL World Title like many Junior World Champs have gone on to do before them."
Taitung County Governor Justin Huang has been a huge supporter of the Taiwan Open of Surfing ever since he helped to bring the WSL on board seven years ago. He has seen it continue to grow and develop into what it is today and loves what this event has done to the local economy and surf scene. He is also thrilled to say that along with the Longboard World Champions, the Junior World Champions will also be crowned in Taitung County.
"I'm so happy with this latest announcement," Huang said. "This year's Taiwan Open of Surfing will be the biggest yet as it encompasses two WSL Championship events making it the most historical two weeks in Taiwan surfing history. Taitung County has the longest coastline in all of Taiwan so there are plenty of waves for the international competitors to enjoy during their visit. We can't wait for each of these competitions to get underway and are so excited to crown the World Junior and World Longboard men's and women's Champions at Jinzun Harbor."
Peace Marketing Manager and Taiwan Open of Surfing Event Director, Bruce Cheng, has watched the event grow over the years and believes that the dual championship event structure will have the greatest effect yet on tourism and the local surf scene in Taiwan and the greater China area.
"This is such great news for this year's Taiwan Open of Surfing," Cheng said. "Having such a large field of elite longboarders and now junior competitors come to compete in Taitung is so inspiring to young surfers in the area. Each year the positive effect of the event can be seen in the numbers of people participating in surfing and we're expecting this to grow exponentially with the addition of the WJC event."
The 2018 Taiwan Open of Surfing will run from November 27 to December 9, 2018. For more information please visit 
worldsurfleague.com
.