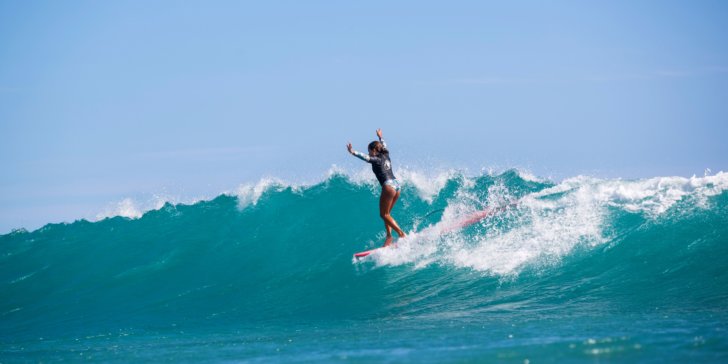 Oahu south shore's largest keiki surf contest kicks off summer with proceeds to benefit local nonprofit.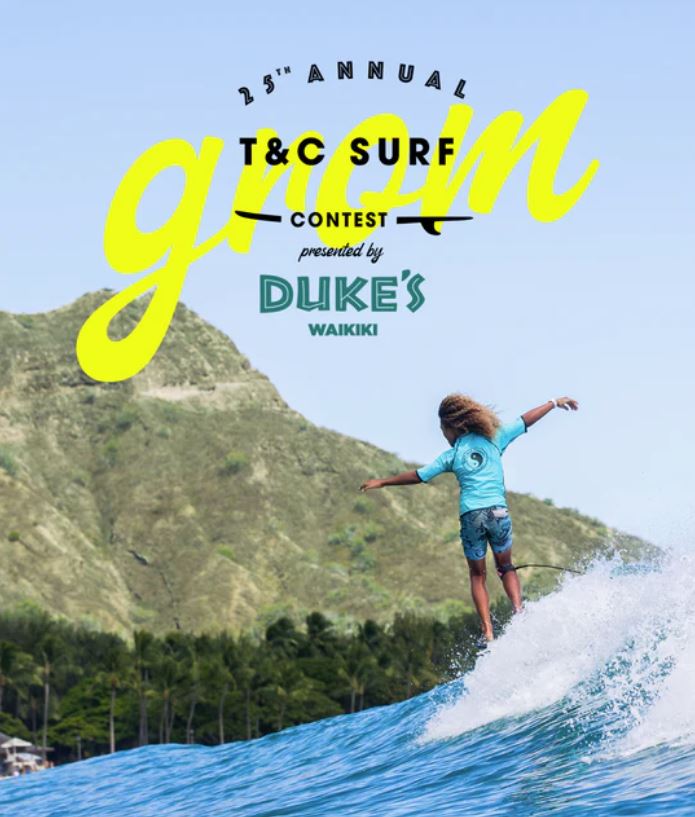 SURFING'S NEXT GENERATION TO INVADE QUEENS
Summertime on Oahu means sun filled days, salty hair, sandy feet, and no shortage of south swells. It also means it's time for our favorite surf event… the T&C Grom Contest. You couldn't pick a better place to have a keiki surf event than the adored wave at Queens in Waikiki. The wave is perfect for surfers of any age or skill, from beginner surfers to top professionals and the iconic backdrop of Waikiki beside Diamond Head doesn't get much better. It's almost poetic to have a keiki surf contest in the place that gave birth to modern surfing, with help from famed Olympian and legendary waterman Duke Kahanamoku. And on June 3rd 2023, the 25th annual T&C Grom Contest presented by Dukes Waikiki, returns once again to celebrate and perpetuate youth in surfing.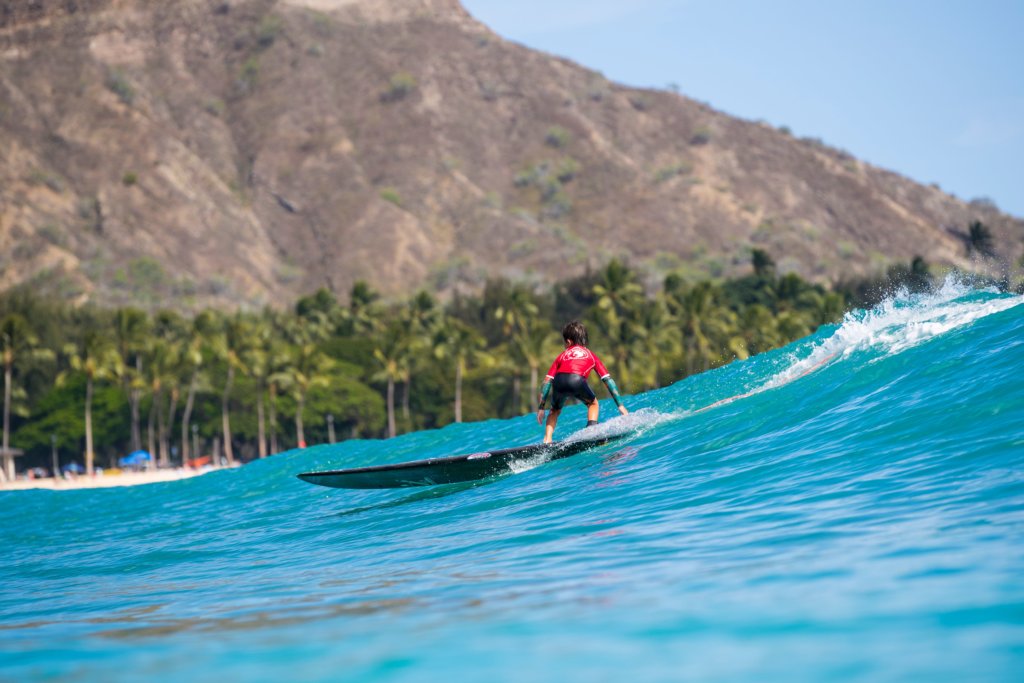 25 years ago, T&C Surf Designs founder Craig Sugihara held the first T&C Grom Contest, where kids ages three to twelve get to surf a nearly empty lineup at Queens, arguably the most perfect wave in the world, and get to go home with a ton of prizes. Needless to say, it caught on and has been going ever since. Craig Sugihara exclaims, "I look forward to this event every year, it is one of my favorite ways to give back. So much has changed over the 25 years since we started the T&C Grom Contest – more kids, more girl surfers, younger kids. What hasn't changed is the stoke you see in the eyes of the kids!"
The contest is special because it features only kids that are unrated in the junior contest circuit. For many, it's their very first introduction to competition in surfing. With help from the local surfers and community we clear the lineup for kids to get accustomed to surfing heats as they compete in shortboard, longboard, and bodyboard divisions, along with the kokua division at Baby Queens, where the smallest keiki get a helpful push into the waves from parents, aunties and uncles. There's also the "Freesurf Magazine Expression Session," where ohana join in on the fun and surf in tandem with their keiki. Many of today's top professional surfers can trace their contest roots back to this very event, including Seth Moniz, Zeke Lau, Barron Mamiya, not to mention five-time WSL Women's World Champion and Olympic Gold Medalist Carissa Moore, as well as three-time WSL Women's Longboard Champion (WLC) Honolua Blomfield and two-time WSL WLC Kelia Moniz.
With typically more than 350 plus kids competing, we strongly advise interested parties to get their entries in early, as the contest is often full to capacity prior to the entry deadline. Registration can be found online at tcsurf.com. The public can also call 808-483-8711 for more information. A portion of the proceeds from the contest will be donated to our non-profit partner, the Boys & Girls Club of Hawaii.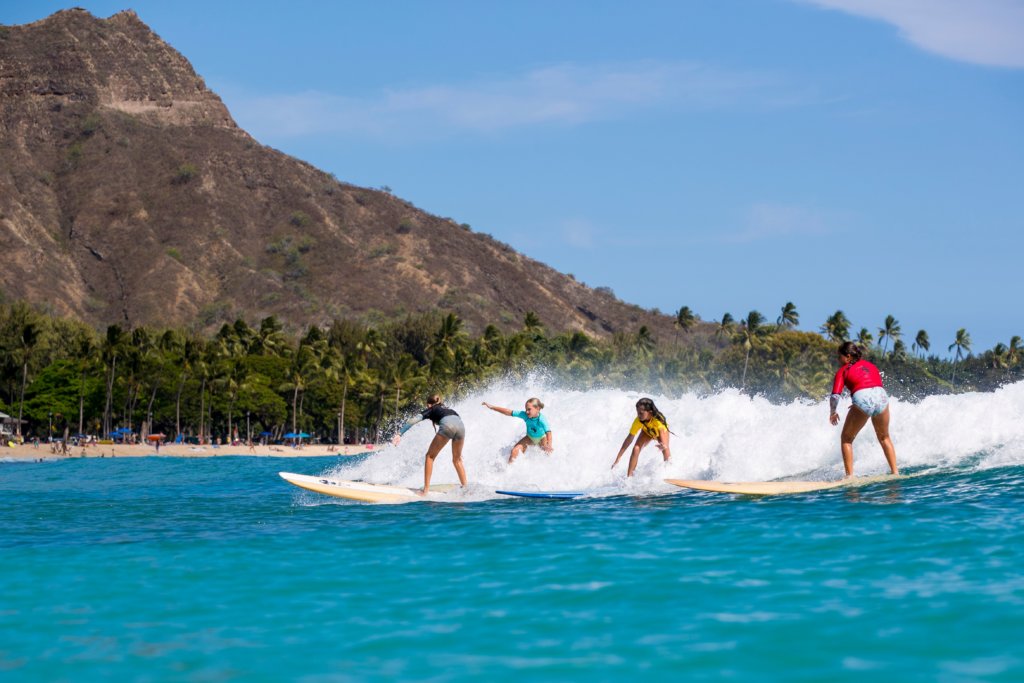 All photos T&C Surf
About T&C Surf
Founded in 1971 by surfboard shaper Craig Sugihara, T&C Surf operates three divisions: surfboards, retail and licensing. The surfboard division operates from a state-of-the-art shaping facility in Wahiawa. It provides our highly skilled board shapers with the best tools for designing and producing some of the world's most sought-after surfboards. The retail division includes six locations on Oahu; Ala Moana Center, Haleiwa Store Lots, Kahala Mall, Ka Makana Ali'i, Pearlridge Center, and Windward Mall. The brand also has licensees around the world, including Australia, Brazil, Europe, Japan and New Zealand. Visit us online at TCSurf.com.
T&C Surf Grom Contest Schedule:
Saturday, June 3, 2023:
 Kuhio Beach – Queen's surf break
 T&C Surf Grom Contest Open Division – competition 8 a.m. to 4:30 p.m. (times subject to
change)
 Kuhio Beach – Baby Queen's surf break
 T&C Surf Grom Contest Kokua Division 8:30 a.m. to 2:30 p.m. (times subject to change)
 T&C Surf Grom Contest Kokua Division – awards (2:30 p.m., time subject to change)
Sunday, June 4, 2023:
 Kuhio Beach – Queen's surf break
 T&C Surf Grom Contest Open Divisions prelims and finals 8 a.m. to 4 p.m. (times subject
to change)
 FreeSurf Expression Session tandem event – 11:30 a.m. – 12:00 p.m.
 T&C Surf Grom Contest Open Division – awards (3:30 p.m., time subject to change)
For the latest times and heat information visit www.tcsurf.com and follow along on social media Facebook @TCSurfGromContest and Instagram @tcsurfgrom