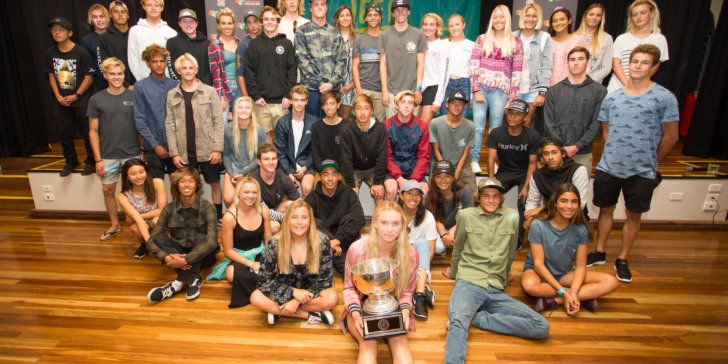 – BEST JUNIOR SURFERS ON THE PLANET ARRIVE IN NSW AHEAD OF WJC EVENT
– REIGNING WORLD CHAMPION MACY CALLAGHAN (AUS) RETURNS TO DEFEND HER TITLE
The world's best junior surfers assemble in Kiama ahead of the 2017 WSL Jeep World Junior Championships.
Credit: © WSL /  Matt Dunbar
Location:               Bombo Beach, Kiama NSW/Australia
Event window:      January 4 – 12, 2018
Today's call:          TBD – First call Thursday, January 4 at 7:00 a.m. local time
Conditions:           TBD
Kiama,  NSW/AUS  (Wednesday, January  3, 2018) –  The world's best junior surfers have descended on the NSW South Coast town of Kiama ahead of the 2017 Jeep World Junior Championship, which is set to kick-off at Bombo Beach tomorrow, January 4th.
After a long season of qualifying events all over the globe, 36 men and 18 women (all 18 and under) will do battle to become the World Champions. The highly anticipated event has a window that is open until January 12, giving event organizers the option of picking the best conditions on offer during this period.
Returning to Kiama is current women's WSL Junior Champion Macy Callaghan (AUS). Callaghan took out the 2016 World Title which kicked off a stellar competitive season and saw her only narrowly miss out on qualifying for the elite Championship Tour (CT). The 17-year-old prodigy will be looking to go back-to-back in Kiama and continue her roll from last year.
"I can't wait for the event to kick off this year," said Callaghan. "Last year was such a dream run for me and really gave me a helpful leg up to get the ball rolling on the Qualifying Series. Hopefully the waves cooperate and I can put together another good result."
Hawaiian standout Cody Young (HAW) fell just short of a finals berth in Kiama last year after being ousted by eventual Champion Ethan Ewing in the semifinals. Young was pleased with an equal 3rd last year but has his eyes set on the win this time around.
"I feel like I have a sense of knowledge of this wave and the area having competed here last year," said Young. "Last year, my goal was a good result, but this year it's to take the win, so I won't be satisfied unless I get it. Competing last year against Ethan Ewing, who was just on the Championship Tour as well as Griffin (Colapinto) who qualified for 2018 has definitely given me a lot of added confidence."
After taking out the Australia / Oceania  Junior Qualifying Series in 2017, Reef Heazlewood (AUS) comes into the WSL Jeep Junior Championships as a hot favourite. A Quarterfinal finish at last year's event was a great result for the stylish goofy-footer, but he will be hoping to go a few steps further when competition gets underway this week.
"I've spent a lot of time in the Kiama region for events over the last few years, so I'd say I feel relatively comfortable here," said Heazlewood. "To come away with a fifth place in this event last year felt epic and I'll hopefully bring that and the Pro Junior event experience as well as into the event this year. I've been doing a lot of training while I'm here and that's helped me a lot in preparing for this event."
European Women's JQS winner for 2017 Teresa Bonvalot (PRT) also finished in equal 5th in Kiama last year. After some big performances on the Qualifying Series during the season, Bonvalot will be aiming for top spot in her last World Junior appearance.
"Starting a year off at this event is always a good feeling," said Bonvalot. "I love to represent Portugal at this competition, I feel like I have the country behind me as I compete as I'm the only Portuguese surfer in the event. It's a very special feeling."
The 2017 WSL Jeep World Junior Championship will be held from January 4 – 12, 2018. For more information, highlights and images, head to www.worldsurfleague.com and on the WSL App.
2017 WSL Jeep World Junior Championships Men's Round One Match-Ups:
Heat 1: Samuel Pupo(BRA), Ryland Rubens(USA), Marco Mignot (FRA)
Heat 2: Mateus Herdy (BRA), Mikey McDonagh (AUS), Keanu Kamiyama (JPN)
Heat 3: Rio Waida (IDN), Jake Elkington (ZAF), Ocean Macedo (HAW)
Heat 4: Barron Mamiya (HAW), Adin Masencamp (ZAF), Jhonny Guerrero Yauri (PER)
Heat 5: Finn McGill (HAW), Te Kehukehu Butler (NZL), Erwan Blouin (FRA)
Heat 6: Cody Young (HAW), Lucas Wrice (AUS), Kauli Vaast (FRA)
Heat 7: Reef Heazlewood (AUS), Momoto Tsuzuki, (JPN), Theo Julitte (FRA)
Heat 8: Liam O'Brien (AUS), Tyler Gunter (USA), Yuri Ogasawara (JPN)
Heat 9: Joh Azuchi (JPN), Joshe Faulkner (ZAF), Max Elkington (ZAF)
Heat 10: John Mel (USA), Sandon Whittaker (AUS), Eli Hanneman (HAW)
Heat 11: Yuji Nishi (JPN), Cole Houshmand (USA), Leo Paul Etienne (FRA)
Heat 12: Che Allan (BRB), Joao Chianca (BRA), Ford Van Jaarsveldt (ZAF)
2017 WSL Jeep World Junior Championships Women's Round One Match-Ups:
Heat 1: Teresa Bonvalot, (PRT), Alyssa Lock (AUS), Sophie Bell (ZAF)
Heat 2: Vahine Fierro (PYF), Kirra Pinkerton (USA) Kayla Nogueira (ZAF)
Heat 3: Macy Callaghan(AUS), Shino Matsuda (JPN), Ellie Turner (GBR)
Heat 4:  Zoe McDougall (HAW), Alyssa Spencer (USA), Sol Aguirre (PER)
Heat 5: Minori Kawai(JPN), Zahli Kelly (AUS), Sara Wakita (JPN)
Heat 6: Summer Macedo (HAW), Sophia Fulton (AUS), Taina Hinckel (BRA)
HIT 'EM UP  HERE
http://www.worldsurfleague.com/events/2017/mjun/1755/jeep-world-junior-championship