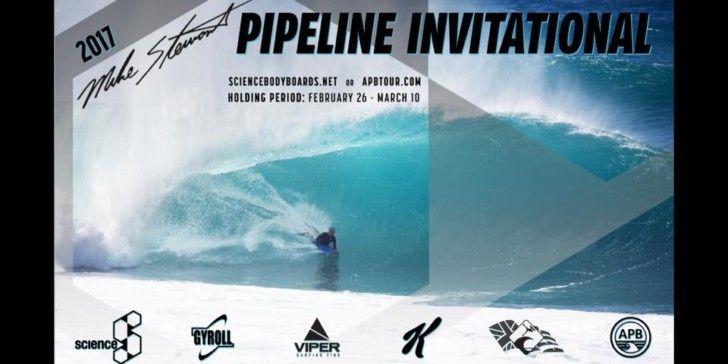 …@14 seconds with good shape. Great timing for day one and now the last day! Light trades into variables and chance of seabrz mix. SNN
North Shore, Oahu, HAWAII – The highly anticipated 2017 Mike Stewart Pipeline Invitational kicked off in double overhead surf last weekend on the North Shore's ultimate proving grounds: The Banzai Pipeline.
A prize purse of $16,000 is up for grabs for the 3-day contest.
The competitor seedings for the annual event include the Top 16 athletes from the Hawaii Bodyboarding Pro Tour, the Top 26 competitors on the Association of Professional Bodyboarders (APB) World Tour, and an invitee list of underground locals and Pipeline specialists.
"This year, there is a fresh crew of different riders competing," said 9-time World Champion Mike Stewart. "This includes guys who are known as great riders but aren't necessarily on Tour, competing against Hawaii's best and the World's best. It's a great opportunity to showcase their talent and their skill in an arena that offers great waves."
The holding period Feb 26-March 10.
"A big Mahalo goes to our sponsors: Kellogg's, Science Bodyboards, Mike Stewart, Team Jamba and Pulp Surf," said Skorge.
For media inquires:
Norm Skorge, Tour Organizer