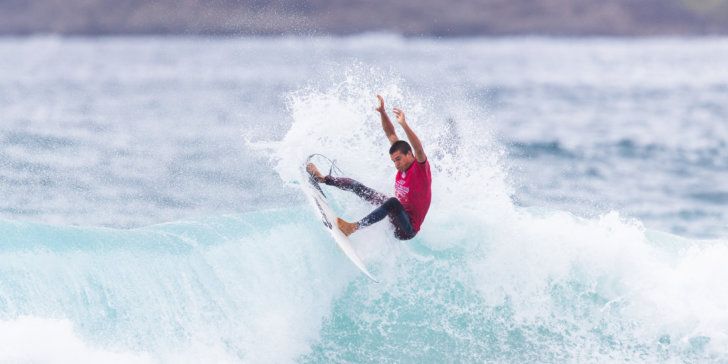 – MEN'S AND WOMEN'S ROUND ONE COMPLETED
– MACY CALLAGHAN (AUS) AND MATEUS HERDY (BRA) STANDOUT ON OPENING DAY
 Mateus Herdy (BRA) posted the highest single wave score of the opening day at the WSL Jeep World Junior Championship in Kiama, NSW.
Credit: © WSL /  Matt Dunbar
Location:               Bombo Beach, Kiama NSW/Australia
Event window:     January 4 – 12, 2018
Today's call:         Men's and Women's Round One completed
Conditions:          Clean 2-to-3 foot waves
Kiama,  New South Wales/AUS   (Thursday, January  4, 2018) –  The 2017 Jeep World Junior Championship kicked off today at Bombo Beach in Kiama, New South Wales, Australia. The action-packed opening day saw the world's best Pro Junior competitors treated to clean 2-to-3 foot waves for the completion of men's and women's Round One.
In what was a slow start for quality waves, Samuel Pupo (BRA) opted to scour the lineup for anything and remain busy to post scores. Pupo scratched into a total of 13 waves over the course of his Round One heat, but it was the dual-6.00 scoring rides (out of a possible 10) that allowed him to gain the upper-hand over Ryland Rubens (USA) and Marco Mignot (FRA), who finished in second and third respectively. As a result, Pupo cemented his position straight into the third round.
"The waves were quite fun out there when they came, so I just remained busy as I could," said Pupo. "I was stoked when I turned up and saw the swell had increased to this. My goal out there was to post two good scores in that six-or-seven-point range, but it was difficult to find those bigger scores, so I had to rely on just those two 6.00 waves. This is my first World Juniors, so I'm happy to start my campaign off with a win."
Thanks to a mammoth backside air-reverse, Mateus Herdy (BRA) was able to put his fellow competitors Mikey McDonagh (AUS) and Keanu Kamiyama (JPN) into a combination situation in the second heat of Round One. Flanked by his uncle, former elite Championship Tour surfer Guilherme Herdy, Mateus was able to notch up an impressive 15.16 heat total (out of a possible 20 points) to take the win and earn a position into the third round.
"I know that every single heat is going to be difficult in this event, so it's a huge relief to take a win in the first heat," said Herdy. "It's like every year that passes, the level of surfing jumps to another level. Having my uncle Guilherme in my corner helps a lot. He has taught me a lot about competing and strategy, having been there himself, while I teach him a lot about filming, so it's good for me to teach him new stuff while he teaches me old stuff (laughs)."
Hawaiian powerhouse Barron Mamiya (HAW) continued his dominant year-long run with an opening heat win at Bombo today. As the tide continued to rise, quality waves became few and far between. While his opponents struggled to find scores, Mamiya steamed ahead, winning the heat with a two-wave total of 13.60.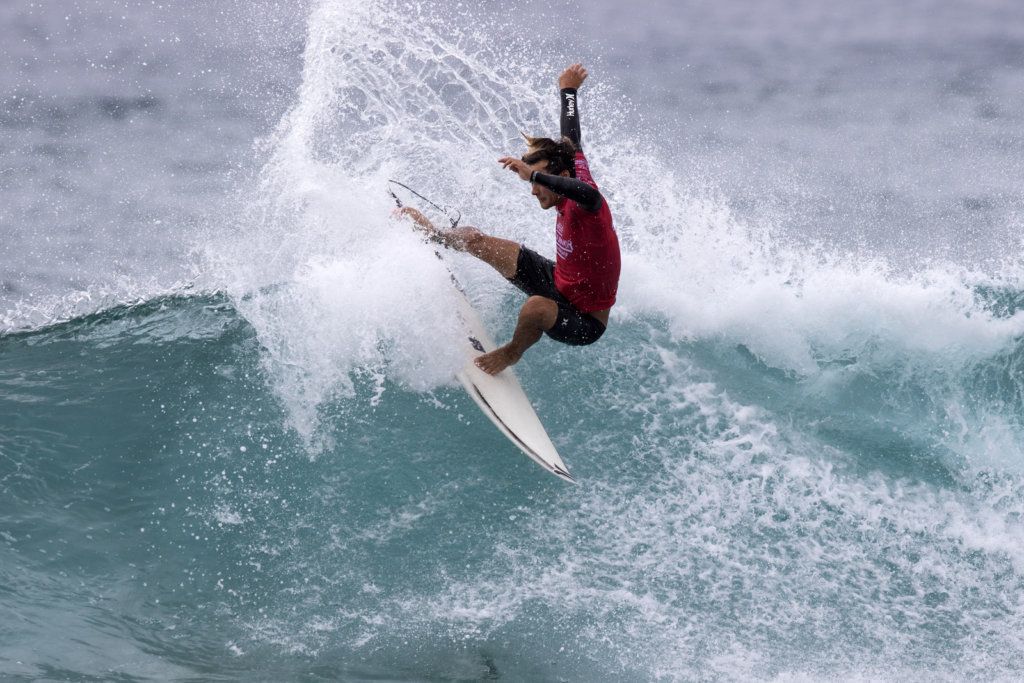 Barron Mamiya ripping with style_WJC__Smith
"I feel like I got really lucky during that heat," Mamiya said. "The conditions got really tricky so it was hard to find good waves – you had to be in the right spot to get a score and luckily for me I was. I'm really stoked to be here competing with the world's best."
Japanese competitor Momoto Tsuzuki (JPN) caused one of the opening days biggest upsets taking down 2017 Australia / Oceania regional JQS champion Reef Heazlewood (AUS). Tsuzuki opted to surf the right-handers displaying his razor-sharp backhand attack to post a winning total of 12.10. Heazlewood was unable to find his required score and will move into sudden death Round Two.
"I was really nervous in that heat," Tsuzuki said. "I knew Reef and Theo (Juliette) would be tough to beat so I'm really glad to make it. The waves aren't the best but it is still good fun out there so I'm glad to continue in the event."
Event wildcard Liam O'Brien (AUS) got the ball rolling for the local Australian surfing contingent, claiming a win in Heat 8 of the first round. O'Brien used the rolling right-handers that became predominant on the high tide to his advantage, posting a 13.10 heat total. O'Brien attributed the round one victory to the momentum he gained from taking out the last QS1,000 event in Australia in 2017.
"Being a wildcard takes a little bit of pressure off in this event and I can just focus on putting on a good performance, rather worrying about results and things like that, which seems to work well for me," said O'Brien. "I had a rough run through the start of 2017, but I began to get a bit of momentum at the end of the year, which fortunately ended with the win at Port Stephens. It was a huge confidence boost which I hope I can keep in this event." 
After Round One of the Men's was completed it was time for the top Junior women to hit the line-up. In Heat 1, Portugal's Teresa Bonvalot (PRT) got her campaign off to a great start overcoming Alyssa Lock (AUS) and Sophie Bell (ZAF). With two 3rds and a 5th to her name at the last three World Junior Championships, Bonvalot is keen to break into the final and looks well on her with a great opening performance.
"I've been doing this event for a long time now, and I've come close but I've made silly mistakes," Bonvalot said. "I've tried to learn from these mistakes and hopefully I can get a decent result this year. The waves were tricky with the tide dropping out. I watched the men's heats and it was changing all the time so I wasn't sure where to sit, so you had to really make the waves you caught count."
Current Women's World Junior Champion Macy Callaghan (AUS) returned to Bombo Beach with a bang on Day 1, posting an incredible heat total of 17.50 with an electric backhand display. Callaghan dominated opponents Shino Matsuda (JPN) and Ellie Turner (GBR) who will surf off in Round 2, while Callaghan will progress into Round 3 and hope to continue her good fortune in Kiama. Callaghan's total came from an excellent 8.00 and a near-perfect 9.50.
"The waves were pretty tricky out there but I managed to find a couple of good lefts," Callaghan said. "It's great to be back in Kiama, I don't come here often but I have some great memories here. I got picked up by my sponsor Billabong here when I was 12, I then won my first Australian Title here and then last year my first World Title, so it's a really special place for me. I'm looking forward to Round Three and what it may bring."
 Current Women's World Junior Champion Macy Callaghan (AUS) posted the highest heat total of the opening day at the WSL Jeep World Junior Championship in Kiama, NSW.
Credit: © WSL /  Matt Dunbar
The 2017 WSL Jeep World Junior Championship will be held from January 4 – 12, 2018. For more information, highlights and images, head to www.worldsurfleague.com and on the WSL App.
2017 WSL Jeep World Junior Championships Men's Round One Results:
Heat 1: Samuel Pupo (BRA) 12.00, def Ryland Rubens (USA) 10.96, Marco Mignot (FRA) 4.43
Heat 2: Mateus Herdy (BRA) 15.16, def Mikey McDonagh (AUS) 8.80, Keanu Kamiyama (JPN) 8.43
Heat 3: Jake Elkington (ZAF) 12.10, def Rio Waida (IDN) 11.40, Ocean Macedo (HAW) 9.33
Heat 4: Barron Mamiya (HAW) 13.60, def Adin Masencamp (ZAF) 7.20, Jhonny Guerrero Yauri (PER) 7.60
Heat 5: Erwan Blouin (FRA) 13.34, def Finn McGill (HAW) 11.60, Te Kehukehu Butler (NZL) 11.56
Heat 6: Cody Young (HAW) 14.97, def Lucas Wrice (AUS) 11.83, Kauli Vaast (FRA) 8.96
Heat 7: Momoto Tsuzuki (JPN) 12.10, def Reef Heazlewood (AUS) 12.04, Theo Julitte (FRA) 11.06
Heat 8: Liam O'Brien (AUS) 13.10, def Tyler Gunter (USA) 10.07, Yuri Ogasawara (JPN) 5.86
Heat 9: Joh Azuchi (JPN) 11.17 def, Joshe Faulkner (ZAF) 9.33, Max Elkington (ZAF) 8.40
Heat 10: Sandon Whittaker (AUS) 12.50, def John Mel (USA), 11.50, Eli Hanneman (HAW) 7.44
Heat 11: Leo Paul Etienne (FRA) 12.27, def Yuji Nishi (JPN) 8.44, Cole Houshmand (USA) 12.00
Heat 12: Che Allan (BRB) 11.80, def Joao Chianca (BRA) 9.27, Ford Van Jaarsveldt (ZAF) 11.17
2017 WSL Jeep World Junior Championships Women's Round One Results:
Heat 1: Teresa Bonvalot, (PRT) 11.20, def Alyssa Lock (AUS) 11.10, Sophie Bell (ZAF) 4.27
Heat 2: Vahine Fierro (PYF) 10.70, def Kirra Pinkerton (USA) 6.23 (Intf) Kayla Nogueira (ZAF) 4.60
Heat 3: Macy Callaghan(AUS) 17.50, def Shino Matsuda (JPN) 9.64, Ellie Turner (GBR) 7.20
Heat 4:  Zoe McDougall (HAW) 10.17, def Alyssa Spencer (USA) 8.96, Sol Aguirre (PER) 7.50
Heat 5: Minori Kawai (JPN) 12.10, def Zahli Kelly (AUS) 11.80, Sara Wakita (JPN) 10.73
Heat 6: Sophia Fulton (AUS) 15.54, def Summer Macedo (HAW) 13.40,  Taina Hinckel (BRA) 9.93