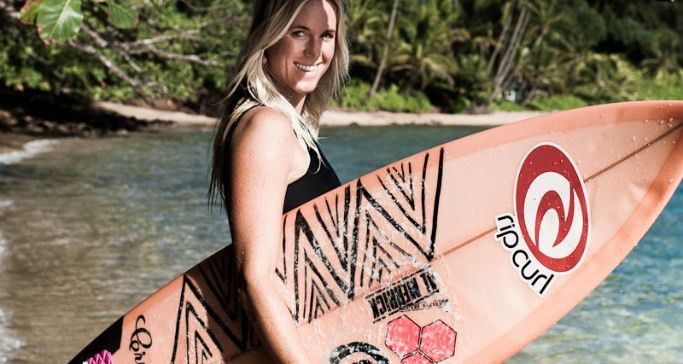 Bethany Hamilton, one of earth's most inspirational humans charges. Here's proof on a Jaws bomb January, 2016. P- Gavin Shigesato. Next up Tavarua. 
Vista, California, May 24, 2016 – Bethany Hamilton has been selected as the wildcard for the 2016 WSL FIJI PRO, the 5th stop in the Women's Championship Tour.
The event waiting period is May 29th through June 3rd.  Bethany was previously selected as the wildcard for the 2015 Swatch Women's Pro Lower Trestles last September, and she credits this event inclusion as the motivator for getting back in surf shape so quickly after her son, Tobias, was born in June 2015.  Now, exactly a year after his birth, she is more than ready to head back to one of her favorite waves and show the world what she can do at Cloudbreak.  She will compete alongside two other Sticky Bumps team members, Tatiana Weston-Webb and Alessa Quizon.  All three women have signature traction pads with the surf accessory company.  Following the women's event in Fiji, the men will take to the water June 5th through June 17th, and new team member Alex Ribeiro will be in that line up.
"I am so excited to have the opportunity to be competing in the women's event at Cloudbreak! I've been dreaming of surfing and competing there for years and I think the wave will suit my surfing. Seeing all the swell headed to Fiji has me pumped up! I know I'll have to surf strong and be heat smart to do well, I believe I can!" -Bethany Hamilton, Professional Surfer

Photo: Mike Coots
"Bethany loves big waves, and Fiji has some of the biggest. We wish her luck and can't wait to watch and cheer her on as she competes at one of the most challenging and iconic breaks in the world." John Dahl, President and Founder, Wax Research Inc
Bethany will be in heat 3. Here's the line up for Sunday Fiji time (22 hours ahead). HERE
About Bethany Hamilton
Bethany Hamilton is a Professional Surfer from Hawaii who's best-selling autobiography was the subject of the major motion picture, Soul Surfer.  Bethany was born and raised on Kauai, and continues to live there with her husband, Adam, and their son, Tobias.  She began surfing with her parents as a toddler, and entered her first surf contest at the age of 8.  She had a natural talent, gained sponsors quickly, and won many amateur surfing competitions.  At age 13, she survived a shark attack in which she lost her left arm.  Bethany returned to surfing less than a month later, and hasn't stopped since.  She travels the world as a surfer and motivational speaker, and has done many appearances in TV shows and movies.  Bethany enjoys surfing in the occasional contest, but recently has focused on filming her own two-part documentary, part one covering her love for free surfing the world's best barrels and bigger waves, while the second part is more of a behind the scenes look into her personal journey from pre-shark attack days to her pro-surfing life today.