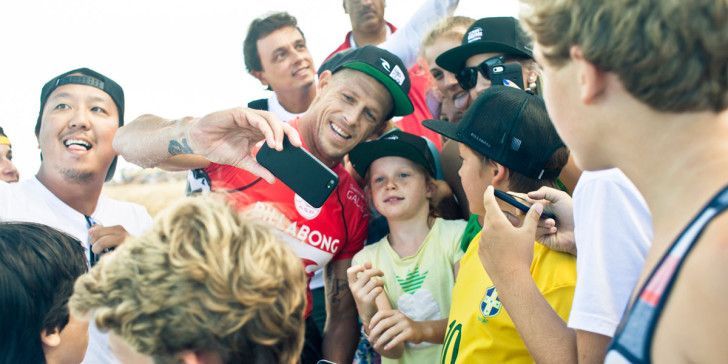 2015 ended up being a phenomenal year for surfing. Be it for new benchmarks in big wave surfing, high stakes world title races that went to the wire, crazy stunts and the opening of new frontiers, it has to be called a vintage year.
Here, we take a look at the key highlights from the last 12 months……
A NEW WORLD CHAMPION WAS CROWNED
The year ended as it started, with a new Brazilian world champion. Unlike last year's 20-year-old champ, Gabriel Medina, Adriano de Souza had been on tour for 10 years and, perhaps, no other surfer has put in more effort to win a title.  After winning the Billabong Pipe Masters, de Souza fulfilled a dream that started with a $7 board, bought for him by his brother, in the Sao Paulo's favelas where they grew up. He also dedicated his win to his good friend Ricardo dos Santos, who was shot and killed in Brazil earlier this year.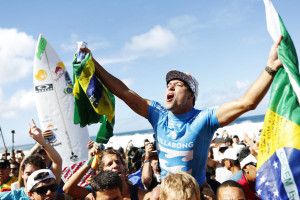 THE PEOPLE'S CHAMP WON OUR HEARTS AGAIN
Mick Fanning may have lost the world title at the very end, but his performances and behavior have netted him millions of new fans. His bravery, humility and composure in dealing with a shark attack in South Africa was widely praised.  Fanning then showed his generosity when he donated the $75,000 fee he gained from a TV appearance to a recent shark victim. As if the year hadn't been traumatic enough, on the eve of the Billabong Pipe Masters, he discovered his elder brother Peter had died in his sleep.  Fanning had already lost another brother, Sean, to a car accident when he was only 16, yet still competed to the very end of the event with dignity and composure.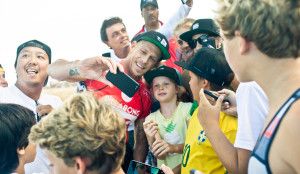 Read more at http://www.grindtv.com/surf/the-2015-surfing-yearbook/#McX7UbcFbCfPyKE1.99