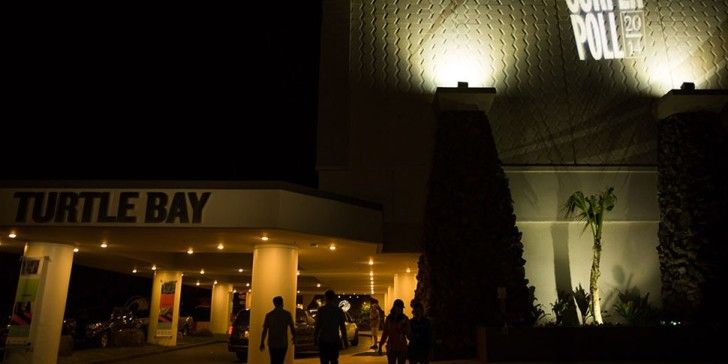 Deemed 'Deep Blue Surfing Event' at Turtle Bay Resort"Ocean-friendly" event officially recognized by Sustainable Surf. Photo: Glaser from 2014.
Sunday night is the night. It's a rare event where even the most popular surfers on the planet get to see their hero's and icons all in one place, all in one night. It'll be at one of the most 'mana-infused' places on O'ahu's Fabled North Shore. SNN.
For all the categories and more GO HERE
SURFER Magazine is pleased to announce that the 2015 SURFER Poll has been deemed a Deep Blue Surfing Event by the team at Sustainable Surf with support from Turtle Bay Resort and Surf Sweets Organic Candies. A Deep Blue Surfing Event is a more "ocean-friendly" event that sets a clear path for reducing direct environmental impacts, while also providing positive social benefits for the local and global community. Sustainable Surf received the SURFER Poll Agent of Change award in 2014.
Deep Blue Surfing Events address issues directly related to the local event area including waste reduction, wise use of natural resources, and strengthening local community institutions. Events with this designation also reduce direct threats to the global sport of surfing itself, such as sea-level rise, ocean acidification, and the loss of the world's living coral reefs.
Each Deep Blue Surfing Event program focuses on five major categories to improve, and an event must meet the minimum requirements of at least two categories upfront, to receive the official designation.
"In the case of the 2015 SURFER Poll Awards event, we have determined that the strategy in place will meet and exceed the requirements of all five of the categories, marking this as a top performing, 5-star event," said Michael Stewart of Sustainable Surf.
Below are the five categories and the specific actions being taken:
1. Waste Diversion: A plan is in place with Turtle Bay Resort event staff to achieve at least their typical 34 percent of waste diverted from landfill by utilizing the existing infrastructure for handling waste, recycling and composting.
• Where possible, reusable cups, plates, and utensils will be used for food and beverage service (mostly inside); and all other disposable food/drink service items (used outside) sourced are certified as compostable. The use of plastic straws (compostable or not) has been completely eliminated.
• Local nonprofit Sustainable Coastlines Hawaii has been brought in to do onsite waste diversion education and hands-on waste stream separation (compost, recycling and landfill) services on the outside lawn area, by bringing in the same Waste Diversion tents that are used on the beaches during the Triple Crown series events. By partnering with Sustainable Coastlines Hawaii, the waste diversion ratio is expected to climb above 50 percent at least.
2. Renewable Energy: In December of 2013, Turtle Bay became the first Oahu resort with a solar roof installation. At various times, the panels generate so much power for the hotel operations that they sell it back into the local energy grid. It's estimated that a significant portion (over 50 percent) of the energy used by the SURFER Poll event will be sourced from the solar panels.
3. Climate Change Impact: 100 percent of the CO2 footprint (from flying, driving, lodging, and meals) from staff and guests related specifically to the operations of the event will be mitigated by purchasing the highest quality carbon offsets from certified REDD+ Forest Conservation projects, from Wildlife Works, a leading Calif.-based project developer. Depending on where the scoping boundaries are set, it's estimated that the total footprint will be about 20 tons.
4. Community Support: The SURFER Poll Awards will be honoring the local North Shore Community Land Trust this year with the 2015 Agent of Change Award, which comes with a $10,000 donation.
5. Transportation: A van shuttle service will be provided to SURFER Poll invited guests and pro athletes in order to minimize CO2 emissions from driving. Van shuttle service will pick up and drop off at the Ehukai Beach Park near Pipeline.
The 2015 SURFER Poll will be broadcast live at SurferPoll.com on Dec. 6, 2015 beginning at 7 pm HST (9 pm PST, 12 am EST).
Working media are invited to attend and cover the biggest night in surfing. To request attendance, complete the online credential request form: www.surfermag.com/surfer-poll/surfer-poll-media-credentials/
Special thanks to SURFER Magazine partners Nexen Tire, Martin Guitar, New Era, Peligroso Tequila, GoPro, Dos Equis, and Turtle Bay Resort for helping to bring the biggest night in surfing to life.
About SURFER
In 1960, SURFER Magazine began as the original. After a long history of delivering provocative and insightful editorial features, revealing interviews and award winning state-of-the-art photography, SURFER remains the authoritative voice of the surfing world and thus earned the moniker "the bible of the sport." The SURFER brand has also grown to include SURFERmag.com, Fantasy SURFER, and the SURFER message boards. All of these assets combine to make the SURFER network the most current and reliable channel of information to the surf community. The magazine is published by TEN: The Enthusiast Network, which reaches more than 45 million active sports enthusiasts through an integrated network of magazines, online properties, events and television programming. To learn more, visit SURFERmag.com.
About TEN: The Enthusiast Network
TEN: The Enthusiast Network is the world's premier network of enthusiast brands, such as MOTOR TREND, AUTOMOBILE, HOT ROD, SURFER, TRANSWORLD SKATEBOARDING, and GRINDTV. With more than 50 publications, 60 websites, 50 events, 1,000 branded products, MOTOR TREND OnDemand subscription video on-demand service, the world's largest automotive VOD channel, and the world's largest action/adventure sports media platform, TEN inspires enthusiasts to pursue their passions. For more information, visit enthusiastnetwork.com.
Read more at http://www.surfermag.com/surfer-poll/2015-surfer-poll-deemed-deep-blue-surfing-event/#6iSdAteriveuxAAc.99