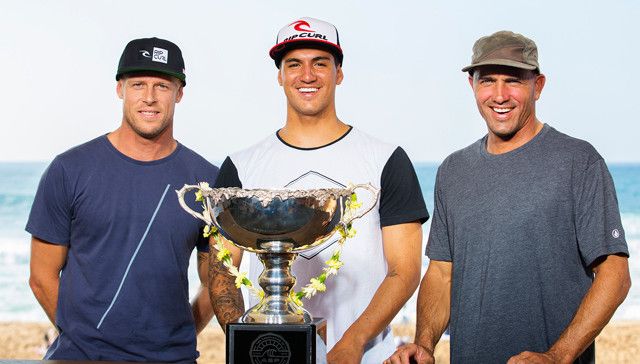 3 generations: Kelly Slater, Mick Fanning, Gabriel Medina  © ASP/Scholtz
Event organizers will reconvene Aloha Friday morning at 7:30 a.m. to assess conditions and make the next call.
SNN surf for Friday: Surf and NE winds will drop significantly. Expect cleaner side-offshore 5-8′ NNW local scale surf (double to triple overhead) with plenty rights to go with the lefts. It wont be epic by any stretch but with 3 days left and more closed WNW sized surf Sunday the directors may opt to 'cover' themselves with one bird in the hand vs 3 in the bush.
Medina, Fanning and Slater Speak Ahead of Title Showdown
Surf News Network, 11 December, 2014 .The Billabong Pipe Masters in Memory of Andy Irons is the final stop on the 2014 Samsung Galaxy ASP World Championship Tour (WCT) and will determine the world surfing champion between 20-year-old phenom Gabriel Medina (BRA), reigning three-time ASP World Champion Mick Fanning (AUS) and 11-time ASP World Champion and sporting icon Kelly Slater (USA).
History will be made at the world-famous Banzai Pipeline on Oahu's North Shore over the coming days when the three remaining contenders battle for this year's world surfing crown. Medina, Fanning and Slater took part in a Q&A ahead of the start of competition to reflect on the season so far and speak about their strategies going into the Billabong Pipe Masters.
"I've had a great year and won three events," said Medina. "That was pretty big for me and it's been amazing. I've been surfing a lot of big waves, Teahupo'o was so amazing, and traveling a lot.
"I really don't care about all of the media attention. I try not to focus on that. There have been a lot of things going on but I don't feel too much pressure and I try not to worry about it. I'm just doing my job – to surf good at every single event and do my best. Competition is like this – you win some and you lose some. Portugal was like that but I know you can't always win.
"It's hard to give advice to young people (who want to get into surfing) but I'd say just try to do your job, surf as well as you can and train hard. If you want to reach your goal, you have to do everything you can to reach it and try very hard."
"It's been a great year actually," said Fanning. "Any year where you get to win an event is a big one, but to win three has been awesome. Everyone has been going next level this year, so it's been amazing.
"It's very different defending a World Title compared to going for one. When you're going for one you're super hungry and you put everything else on the back burner. Then the following year you have so many more obligations, but you're also working hard to try to improve. Sometimes you put extra pressure on yourself and sometimes things don't go your way, but I've had fun.
"I think from when I first got on Tour to where I am now I hope I've improved. I think it's just a matter of putting in the time and I feel like I'm getting better in bigger waves. I still want to get better and I'm still fighting."
"I know what I have to do to win the Title, there's no middle ground this year," Slater said. "I have to win the contest. Hopefully we get good waves and it's really exciting. If we can make Gabriel (Medina) lose, like he never does, then Mick (Fanning) and I will have a shot and it will be really exciting. I think we're all hoping for good waves and lots of opportunity.
"It's scary how good Gabriel has been since he got on Tour two and a half years ago and where he won two of his four events, which is a standard that no one has ever set before. He's met all the challenges and surpassed people's expectations. When a guy like that comes along it's scary for his competitors, but it's also motivating for people that want to challenge him.
"I know that for myself and for Mick it's caused us to reassess some things, from equipment to approach to maneuvers. He's won backside on a wave that's dominated by forehand guys and he won on his forehand on a wave dominated by backhand guys, so he's really pushing a standard that we all have to step up to and try to surpass.
"We're going to go into competition and I'm going to do everything I can to win but I'm not in control of what Gabriel does or what Mick does. Every year, inevitably, you get to the end of the year and there's something that you wish you did differently, a slip up that you made along the way."
The 2014 Title race scenarios are as follows:
– If Medina finishes 2nd or better at the Billabong Pipe Masters, he will clinch the 2014 ASP World Title.
– If Medina finishes 3rd at the Billabong Pipe Masters, Fanning will need to win the event and Slater will be out of contention.
– If Medina finishes 5th at the Billabong Pipe Masters, Fanning will need to win the event and Slater will be out of contention.
– If Medina finishes 9th at the Billabong Pipe Masters, Fanning will need to finish 2nd or better and Slater will be out of contention.
-If Medina finishes 13th or 25th at the Billabong Pipe Masters, Fanning will need to finish 3rd to win or 5th to send the title race into a one-heat "surf-off" between himself and Medina.
– If Medina finishes 13th or 25th at the Billabong Pipe Masters, Slater will need to win the event.
As the third and final stop on the Vans Triple Crown of Surfing Series (an ASP Specialty Series in Hawaii), the Billabong Pipe Masters will also determine the winner of the revered three-event leg. Maui's Dusty Payne (HAW) is the current frontrunner after a dynamic victory at Haleiwa and blistering runner-up finish at Sunset Beach.
The ASP Heritage Series, which celebrates the rich culture and history of professional surfing, is poised to have its third and final competitive event of the season with a four-man heat between Gary Elkerton (AUS), Tom Carroll (AUS), Derek Ho (HAW) and Sunny Garcia (HAW).
The world's best female surfers will also compete at Pipeline this year in the Women's Pipe Masters Invitational with reigning six-time ASP Women's World Champion Stephanie Gilmore (AUS), two-time ASP Women's World Champion Carissa Moore (HAW), Australian powerhouse Tyler Wright (AUS) and international icon Bethany Hamilton (HAW) battling it out at the world-famous Pipeline.
The Billabong Pipe Masters in Memory of Andy Irons will be webcast LIVE at ASPWorldTour.com.
Men's Pipe Masters Invitational Final Match-Up:
Reef McIntosh (HAW), Jamie O'Brien (HAW), Makai McNamara (HAW), Hank Gaskell (HAW)
Billabong Pipe Masters Round 1 Match-Ups:
Heat 1: Joel Parkinson (AUS), Julian Wilson (AUS), Glenn Hall (IRL)
Heat 2: Michel Bourez (PYF), Sebastian Zietz (HAW), Raoni Monteiro (BRA)
Heat 3: John John Florence (HAW), Matt Wilkinson (AUS), Mitch Coleborn (AUS)
Heat 4: Kelly Slater (USA), Adam Melling (AUS), Dusty Payne (HAW)
Heat 5: Mick Fanning (AUS), Aritz Aranburu (ESP), TBD
Heat 6: Gabriel Medina (BRA), Dion Atkinson (AUS), TBD
Heat 7: Jordy Smith (ZAF), Jadson Andre (BRA), Jeremy Flores (FRA)
Heat 8: Kolohe Andino (USA), Fredrick Patacchia (HAW), Travis Logie (ZAF)
Heat 9: Josh Kerr (AUS), Kai Otton (AUS), Brett Simpson (USA)
Heat 10: Owen Wright (AUS), Adrian Buchan (AUS), Mitch Crews (AUS)
Heat 11: Nat Young (USA), Filipe Toledo (BRA), Alejo Muniz (BRA)
Heat 12: Bede Durbidge (AUS), Miguel Pupo (BRA), Tiago Pires (PRT)
Women's Pipe Masters Invitational Heat: Stephanie Gilmore (AUS), Tyler Wright (AUS), Carissa Moore (HAW), Bethany Hamilton (HAW)
ASP Heritage Series Heat: Gary Elkerton (AUS), Tom Carroll (AUS), Derek Ho (HAW) and Sunny Garcia (HAW)