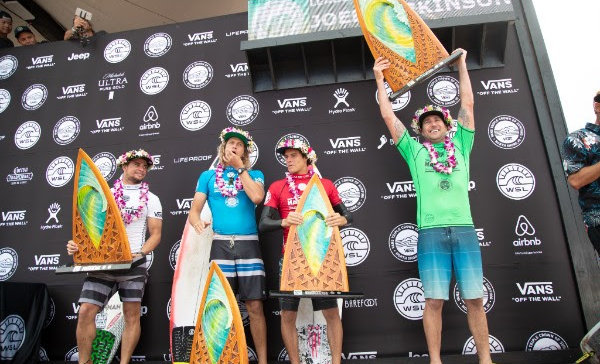 …TAKES LEAD ON VANS TRIPLE CROWN OF SURFING
– 17-YEAR-OLD MATEUS HERDY EARNS RUNNER UP
– SETH MONIZ OFFICIALLY QUALIFIES FOR 2019 CHAMPIONSHIP TOUR
– NEXT STOP, VANS WORLD CUP OF SURFING NOV. 25 – DEC. 6
Cover shot: Left to right: Deivid Silva (BRA) in fourth place, Ricardo Christie (NZL) in third, Mateus Herdy (BRA) in second and Joel Parkinson (AUS) in first. 
Credit:
 © WSL / Heff
Event / Rating:      Hawaiian Pro, Men's QS 10,000
Window:                 November 12 – 24
Today's Call:          Event Completed
Conditions:            3-5ft. NNW swell, breezy NE trade windsHaleiwa, Oahu/HAWAII — (Saturday, November 17, 2018) – 
2012 World Champion 
Joel Parkinson
(AUS)
 was a vision of classic power surfing today at the 
Hawaiian Pro
 and earned the event win for the second time in his professional career. The Australian is now the front runner for the 36th Annual 
Vans Triple Crown of Surfing
 (VTCS) title after besting a dynamic Final field that included 
Mateus Herdy (BRA) 
who earned runner up, 
Ricardo Christie (NZL)
 who finished third and 
Deivid Silva (BRA)
 in fourth.Parkinson will compete next at the 
Vans World Cup of Surfing
, the final World Surf League (WSL) Qualifying Series (QS) event of 2018 and a Men's QS 10,000, in his
hunt for a fourth VTCS title after he won the series three consecutive times in 2008, '09 and '10.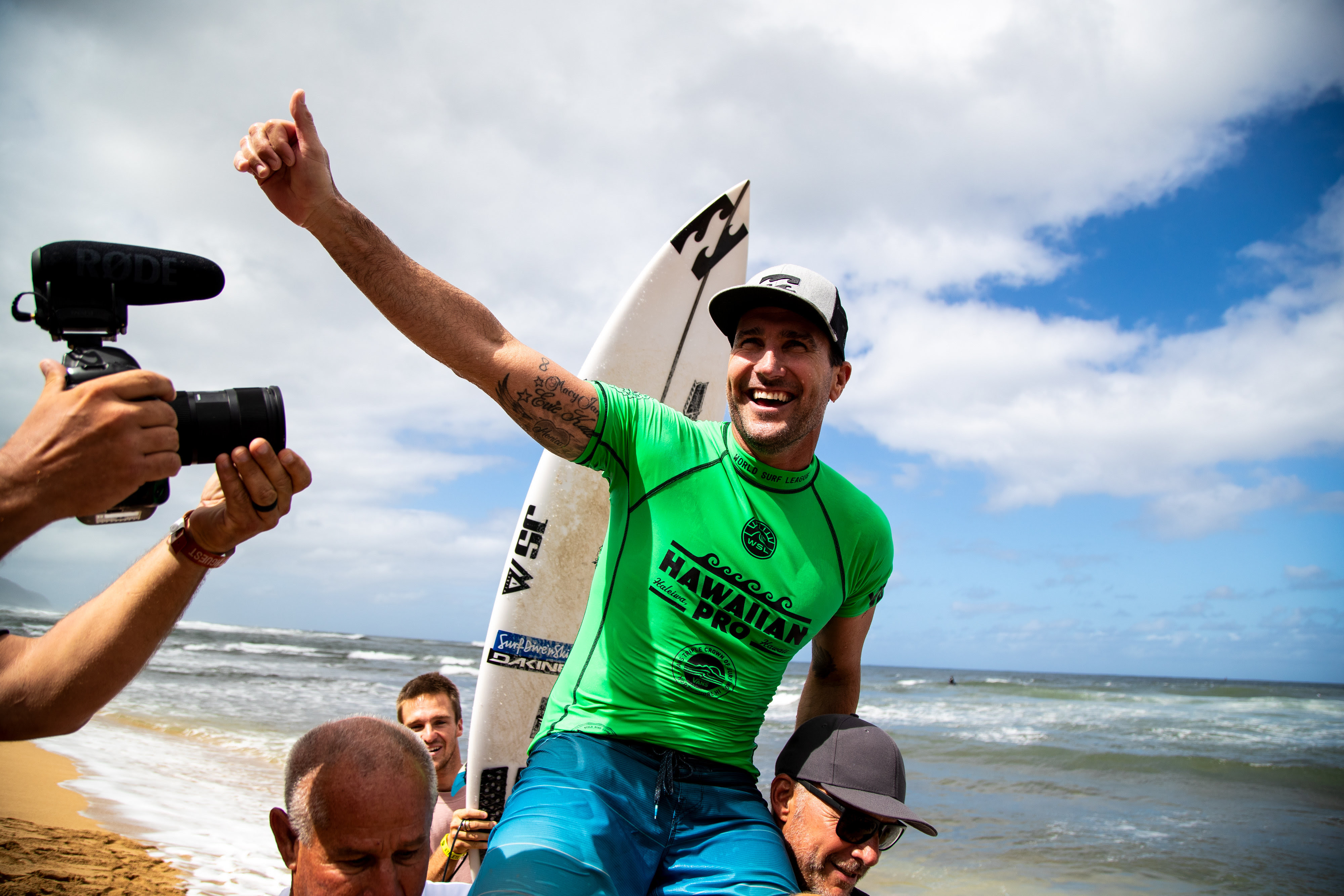 Joel Parkinson is chaired up the beach after winning against a youthful trio of QS competitors. 
Credit:
 © WSL / Heff
The Final was an incredible clash of classic surfing versus progression, old school versus new school, as Parkinson, 37, and Herdy, 17, went head to head with high scoring rides. The waves turned on for a rapid-fire exchange among all finalists, and spectators were treated to a variety of power carves, barrels and aerial maneuvers throughout the 35-minute heat at Haleiwa Ali'i Beach.
Parkinson got off to a strong start with a beautiful opening turn followed by another arcing carve for a 7.50, but Herdy answered back with an 8.83 after an impressive tailslide on his closing hit. Each finalist earned excellence as mother nature provided an onslaught of waves and by midway through the heat, it was anyone's day. Christie's best wave, an 8.40, was for a wrapping first turn into a tail slide followed by a quick barrel, while Silva jumped on the biggest wave of the Final and powered out an 8.53 for a big vertical snap on his first turn.
The win inevitably became Parkinson's after he nailed a near-perfect 9.33 with a combination of smooth maneuvers on a frothy wave face and then an 8.03 to put a stamp on his domination with timeless power surfing. The 2018 Hawaiian Pro marks his first win since 2013 and final competitive appearance at Haleiwa.

A Vans Triple Crown veteran, Parkinson is on his way to a fourth title after today's win puts him in the lead. Credit: © WSL / Keoki
"Oh man, I'm just shocked, I just started to feel it, I feel like I want to surf another heat," said Parkinson atop the awards stage. "I actually really enjoyed the event, that's probably been the key for me at this stage of my career, to enjoy it. That was enjoyable. I'll miss moments like that but I'm glad they're coming to an end."
Parkinson will surf his final event of his career during the Billabong Pipe Masters, which is the last stop on the WSL Championship Tour (CT) and culminating competition of the VTCS. The holding window is December 8 – 20 and will take place at the North Shore's infamous Pipeline at Ehukai Beach Park.
"Thank you everyone here in Hawaii that lends us the beach and lets us enjoy it and the waves, I really appreciate it," Parkinson continued. "Hawaii is a special place to us all. For years to come I think we'll be back and enjoying these waves… If this is the last time I ever stand on stage, surfing has been amazing to me. I love it. Next year I'll just be a surf fan like all you guys, can't wait. I'll always love surfing, I'll always love the people in surfing and I thank you all for being a part of it and cheering me on! Come December 21, I'm a surf fan and I'll watch and enjoy watching."

Parkinson was awarded a hand-crafted trophy made of recycled surfboards that were broken along the North Shore. Credit: © WSL / Heff
Herdy was among the youngest in the 128-man draw and made it to the podium all the way from Round 1. Today's runner up finish boosted him 49 spots up the QS rankings, from No. 61 to No. 12, and with another solid result at the Vans World Cup, he could be one of the year's biggest qualification stories.
"I don't know it feels better than the win I think, I just came here to win some heats and I'm in the final against my idols," Herdy said. "Thanks to the Brazilians and everyone here on the beach!"

Mateus Herdy looked confident in the challenging conditions and demonstrated some of the day's best high-performance surfing. Credit: © WSL / Keoki
Hawaiian athlete and QS crusader, Seth Moniz (HAW) had a dream run today after advancing to the Semifinals, taking home 5,100 points and officially qualifying for the 2019 CT.
"People were congratulating me, saying I got the points but it never really sunk in yet," said Moniz. "I knew I wasn't going to be excited until I heard it on paper and saw it on paper. If I didn't have this guy, (Rainos Hayes) with me all year round – we did it together. Super stoked."

Seth Moniz, the newest Hawaiian to join the 2019 Championship Tour. Credit: © WSL / Heff
Moniz is now safely in the No. 2 spot on the QS behind Kanoa Igarashi (JPN), who will double qualify for next year's CT. In today's competition, Moniz stuck to the fundamentals, but is widely known for his progressive style and aerial mastery. A regular-footer from Honolulu, Moniz will add today's historic moment to the chapter book of his family's legacy.
The highest wave score of the day, a 9.37, went to Patrick Gudaduskas (USA) in Semifinal 2. Wave selection was crucial in the challenging conditions and Gudauskas was able to pull out the near-perfect ride for a massive first gouge followed by two more powerful turns. The La Jolla local will need to forge his way to a Semifinal finish at the Vans World Cup or a Quarterfinal result at the Billabong Pipe Masters for a chance at requalification, but given his prowess throughout the Hawaiian Pro and track record at Sunset, this is achievable for the athlete.

Gudauskas was eliminated in the Semifinal despite earning a massive 9.37 score. Credit: © WSL / Heff
The VTCS now swings to Sunset Beach for the Vans World Cup of Surfing, which has a holding window from November 25 – December 6. In its 44th year of running, the Vans World Cup will showcase more of the world's best athletes as they tackle one of the best and most consistent big wave breaks on the planet.
Each event of the 2018 Vans Triple Crown of Surfing will run on the four best days of surf within the event's holding window. LIVE streaming is available on WorldSurfLeague.com, VansTripleCrownOfSurfing.com, Facebook.com/wsllive and the WSL and Facebook apps (Facebook login required for mobile viewing). Or tune into Spectrum SURF Channel, which will televise the action LIVE and in replay on digital channels 20 and 1020HD, across the state of Hawaii.
Hawaiian Pro Results
Final
1st – Joel Parkinson (AUS), 17.36
2nd – Mateus Herdy (BRA), 15.83 (8.83 + 7.00)
3rd – Ricardo Christie (NZL), 15.83 (8.40 + 7.43)
4th – Deivid Silva (BRA), 15.36
Semifinal (1st and 2nd advance, 3rd = 5th place, 4th = 7th place)
SF1: Mateus Herdy (BRA), Ricardo Christie (NZL), Jesse Mendes (BRA), Seth Moniz (HAW)
SF2: Deivid Silva (BRA), Joel Parkinson (AUS), Leonardo Fioravanti (ITA), Patrick Gudauskas (USA)
Quarterfinal (1st and 2nd advanced, 3rd = 9th place, 4th = 13th place)
QF1: Seth Moniz (HAW), Jesse Mendes (BRA), Miguel Pupo (BRA), Bino Lopes (BRA)
QF2: Mateus Herdy (BRA), Ricardo Christie (NZL), Filipe Toledo (BRA), Kanoa Igarashi (JPN)
QF3: Deivid Silva (BRA), Leonardo Fioravanti (ITA), Soli Bailey (AUS), Jordy Smith (ZAF)
QF4: Patrick Gudauskas (USA), Joel Parkinson (AUS), Jack Robinson (AUS), Jake Marshall (USA)
About Vans
Vans®, a VF Corporation (NYSE: VFC) brand, is the original action sports footwear, apparel and accessories brand. Vans® authentic collections are sold in 84 countries through a network of subsidiaries, distributors and international offices. Vans® has over 2,000 retail locations globally including owned, concession and partnership doors. The Vans® brand promotes creative self-expression in youth culture across action sports, art, music and street culture and delivers progressive platforms such as the Vans Park Series, Vans Triple Crown of Surfing®, Vans Pool Party, Vans Custom Culture, and Vans' cultural hub and international music venue, House of Vans.
The rights to the images attached or accessed by link within this email are granted by the Association of Surfing Professionals LLC ("World Surf League") for editorial use only. No commercial rights are granted to the Images in any way. The Images are provided on an "as is" basis and no warranty is provided for use of a particular purpose. Rights to individuals within the Images are not provided. The copyright is owned by World Surf League. Sale or license of the Images is prohibited. ALL RIGHTS RESERVED.The rights to the audio/visual content attached or accessed by link within this email ("Footage") are granted by the Association of Surfing Professionals LLC ("World Surf League") to you (the email recipient) and any entity you forward the same to pursuant to the terms and conditions below ("Footage License"): By opening or accessing the Footage, you accept the terms of this Footage License. The rights to the Footage (or any part of it) are royalty-free and granted for editorial use or news service use only and this Footage License will expire one (1) week from the date the event subject to this Footage License concludes. No rights for commercial use or modification of the Footage are granted in any way, including any association made with a commercial brand or message. Where the Footage is used in any way online, a link to www.worldsurfleague.com must exist where the Footage is visible. The Footage is provided, and must be used on an "as is" basis and no warranty is provided for its use by you. Rights to individuals or brands (except WSL) within the Footage are not granted. World Surf League owns all rights, including copyright to the Footage. ALL RIGHTS NOT SPECIFICALLY PROVIDED ABOVE ARE RESERVED BY WORLD SURF LEAGUE.
---
About the WSL
The World Surf League (WSL) is dedicated to celebrating the world's best surfing on the world's best waves through a variety of best-in-class audience platforms. The organization, headquartered in Santa Monica, is a global sport with regional offices in Australasia, Africa, North America, South America, Hawaii, Japan and Europe.The WSL has been championing the world's best surfing since 1976, annually running more than 180 global events across the Men's and Women's Championship Tours, the Big Wave Tour, Qualifying Series, Junior and Longboard Championships, as well as the WSL Big Wave Awards. The League possesses a deep appreciation for the sport's rich heritage while promoting progression, innovation and performance at the highest levels, and in doing so crowns the undisputed Men's and Women's World Champions across all tours.Showcasing the world's best surfing on its digital platform at WorldSurfLeague.com, the WSL has a passionate global fan base with millions tuning in to see world-class athletes like Kelly Slater, Stephanie Gilmore, Tyler Wright, John Florence, Lakey Peterson, Paige Alms, Kai Lenny, Taylor Jensen, Honolua Blomfield, Carissa Moore, Gabriel Medina, Courtney Conlogue and more battle on the most dynamic field of play of any global sport.