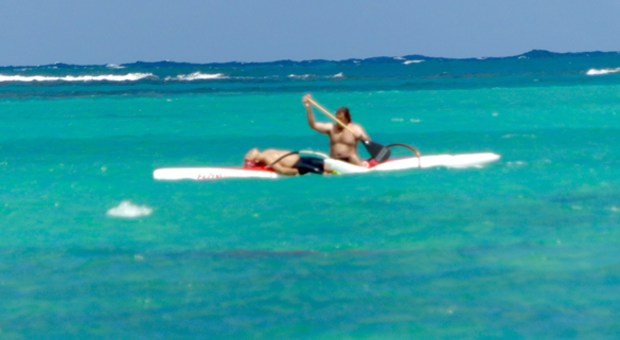 So the guy in Waikiki
In case you were out surfing the amazing South swell or the NNW up country and were out of the news loop.
Our 6th Shark attack has now occurred. The swimmer attacked by a shark in Lanikai is assisted to shore afterward Saturday by a good Samaritan in a one-man canoe, as seen in this photo from a KITV-TV news report.
1st attack: Shortly before noon, a 44-year-old man was wounded Saturday after what appeared to be a shark attack in the waters off Lanikai beach in Oahu, the Honolulu Star-Advertiser reported.
The victim and another man, whose age is unknown, were swimming to shore from the Mokulua Islands when the shark attacked, the newspaper reported. The attack happened about 50 to 100 yards from shore, the Honolulu Fire Department said.
The victim was injured in his lower legs, but the other man did not sustain any injuries, the Star-Advertiser reported.
Two nearby kayakers paddled the men back to shore, where Hawaii Fire Department staff and paramedics treated the victim. He was taken to the hospital in serious condition.
Authorities notified swimmers and cleared Kailua, Lanikai, and Mokulua beaches.
2nd attack: About 7:20 p.m Saturday eve., an eel (not a shark) bit a local 33-year-old surfer's left foot as he was in the water off Waikiki beach.
The man was in serious condition at a nearby trauma center, the TV station reported and is ok now.
Another man who surfs at the beach every day saw the rescue workers arrive.
"We were surfing out there. It was firing, and I hear all this commotion, but I had no idea it had to do with the shark. It's pretty crazy," Kyle Kaiser told the TV station. "We see sharks out here, you know, but mostly small sharks. I never hear about a hoard of big, tiger sharks or anything like that. So yeah, very rare. I couldn't believe it."
Kaiser remembers last year's shark attacks happening in October, even referencing a 2003 incident when Bethany Hamilton, a professional surfer, lost her arm in a shark attack off Kauai. "It seems like October is the month where this kind of thing happens," he said.
These are the sixth and seventh shark attacks in Hawaii this year and the second and third in as many weeks on Oahu. Earlier this month, a surfer lost most of his left leg after a shark attacked him off Oahu's north shore. One attack, which occurred in April on Maui, was fatal.
All shark attacks this year have happened in turbid or murky water.
There have been several consecutive days of rain on the windward side of Oahu, where the bite occurred.
NOTE:
The number of shark attacks across the country is slightly above average for this time of year, and many of the incidents have occurred farther north than usual.
There have been over 25 attacks in 2015, of which one in Hawaii was fatal, according to data from theInternational Shark Attack File at the Florida Museum of Natural History at the University of Florida.
Typically, the U.S. sees about 30 to 40 attacks, of which either zero or one is deadly, the Shark Attack File reported. To reach more than half the average number of attacks so early in the season and already have a fatality puts this year a bit above average, said George Burgess, the director of the Shark Attack File.