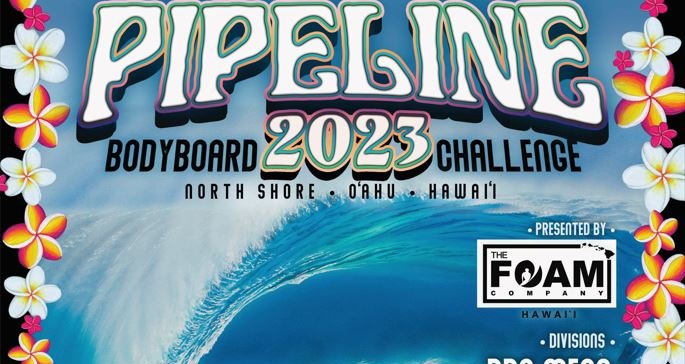 The Pipeline Bodysurfing Classic

Sat afternoon February 25th, 2023

The 45th annual Pipeline Bodysurfing Classic presented by Kaikeha and Pipeline World Games, on the North Shore of Oahu, finished up today at Ehukai Beach Park in 2-3 plus challenging conditions.

There were 60 world class bodysurfers all enjoying the camaraderie of the community event even though the spot Pipeline was not in the cards.

Surf was a challenge as competitors had to try and find the most contestable waves in a playing field very close to the beach.

Some of the last maneuvers were done right into the sand!

The winner was Kalani Souza Lattanzi.

The 28-year-old Lattanzi is from Maui and known for his big wave riding at the world-renowned surf spot Peahi, called Jaws.

He took out the heat with a total 14.60 score out of 20 and a $500 prize!

Kai Santos who is no stranger to winning bodysurfing contests ended up in 2nd just a couple points.

Scoring the best ride of the competition was the North Shore's Todd Sells who has placed in many of these events through the years. He also took a third overall.

Right behind him was the guy with the biggest smile, Kealii Punley in fourth.

Bodysurfing, called he'e umauma or kaha nalu in Hawaiian, was first enjoyed by ancient Hawaiians at the break called "Pipeline" today. It is believed that bodysurfing at Pipeline was first inspired by the dolphins seen there, long before the invention of the surfboard.

While boardsurfing has evolved into a visible and highly competitive sport, the main draw to bodysurfing is still as it ever was–the intimate relationship between the ocean and the rider in what is considered by many as the "purest form of waveriding."

Additional Information on the event may be obtained on the web:

For additional Information:

Betty Depolito

808-781-2535

EARLIER UPDATE FOR BODY BOARDERS

Aloha Friday …The Bay Equity Route 99 Pipeline Bodyboarding Challenge Day one is done at Ehukai

"LET'S DO IT" Day One

Guilherme Tamega rolls to advance with a 10.20 (all photos

@banzaibetty

)
In conjunction with the Pipeline Bodysurfing Classic…today got underway with The Route 99 Bay Equity Home Loans Pipeline Bodyboarding Challenge… 
It kicked off today, February 24th, the first day of the waiting period.
Pipeline, the surf spot, was not showing it's teeth so the Ehukai surf break showed some potential scoring opportunities, so the contest director said, "let's do it".
Competitors took on the challenge in 2–3-foot beach break. It was literally on the sand slams, but they pulled off some of the maneuvers they are known for.
Spins, rolls and airs maneuvers scored high throughout the day.
There are more than 130 top international athletes which includes a "drop knee" division and pro women's division, here in Hawaii to compete and event organizers are happy to gather the tribe together in support of one of the original wave riding disciplines.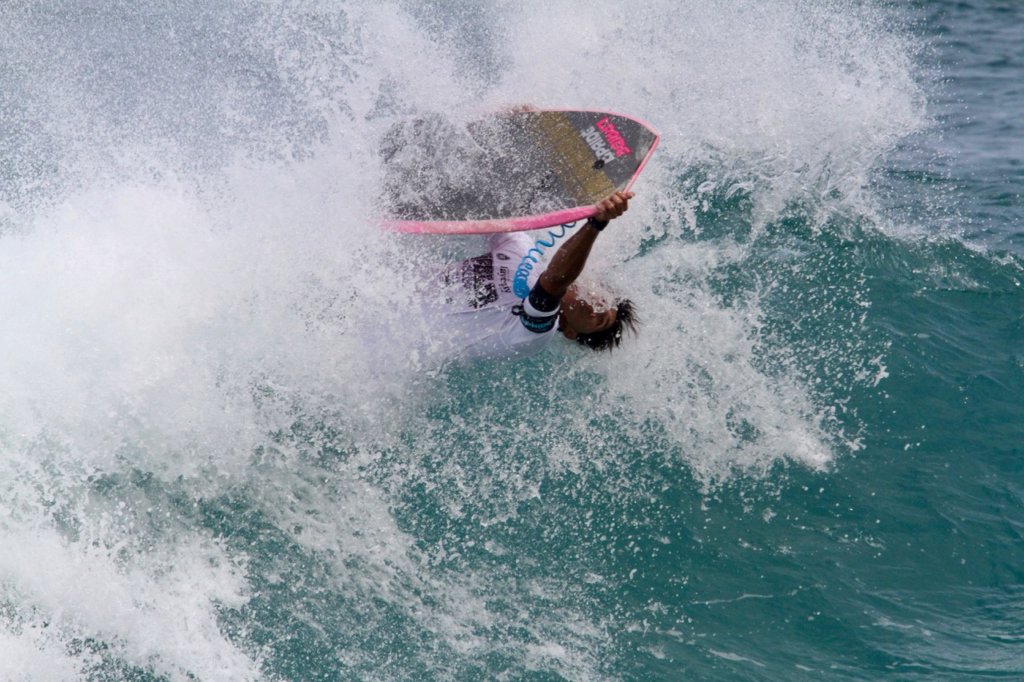 Matias Diaz, Chile, One of top scores at 13.27 today
Today a standout surfer was Kawika Rohr-Kamai who is a born and raised Waimanalo charger. Rohr-Kamai scored a high heat total of 16.67 to win his heat and advance on to the second round. Score wise it was Kauai surfer and World Champion Jeff Hubbard behind him with a 13.30 total heat score to advance. A surfer from Chile was right behind with a 13.27 total. The surfer, Matias Diaz, tore the shore break apart pulling a perfect airs, air-spin-rolls,  maneuvers to advance.
The event will continue surf permitting tomorrow. Waiting period ends March 9th, 2023.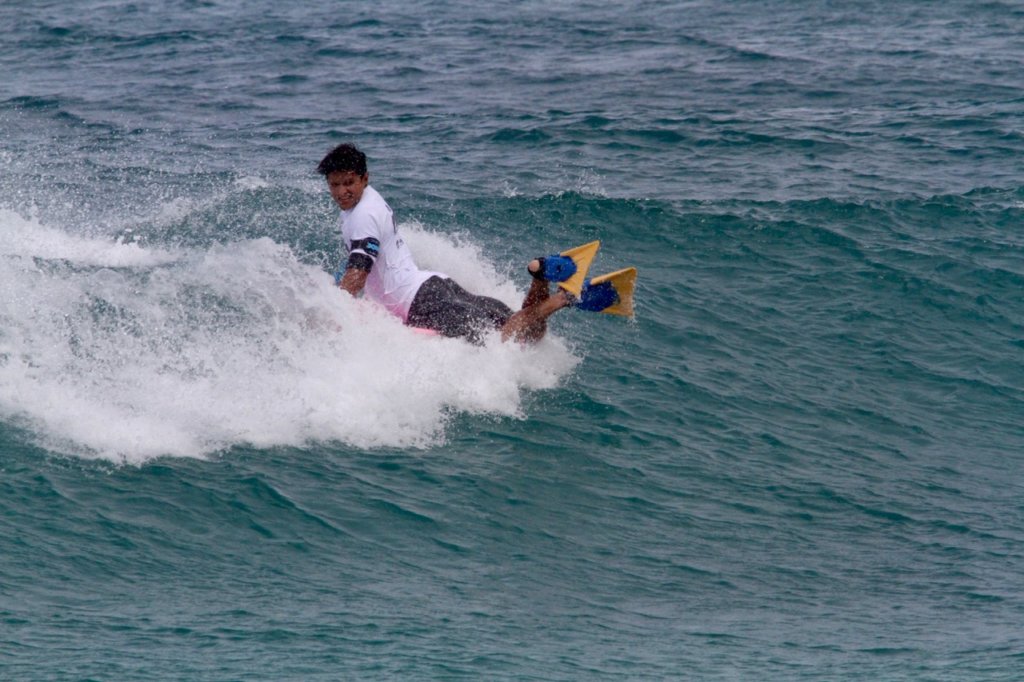 3rd shot Diaz Spins to advance
The Route 99 Hawaii / Bay Equity Home Loans Pipeline Bodyboarding Challenge is presented by the Foam Company, in memory of Don & Josie Over, and is organized by Bodyboarding US and supervised by APB North America with additional coordination by Kaikeha.
Route 99 Hawaii is a brand born on the North Shore of O'ahu whose mission is to share aloha worldwide. Their locally embroidered hats and apparel, along with local artwork and gifts, can be found at their Route 99 "Blue Container" Store in a 40-foot-long shipping container in Kahuku, next to the world-famous Giovanni's Shrimp Truck.
A locally operated mortgage branch, with an expert team of passionate professionals, Bay Equity Home Loans LLC has been servicing the North Shore community through education and wealth management for 10+ years.    Their mission is to guide clients through the home loan process thoroughly and completely, making ownership possible and connecting the ʻĀina and the ocean to real estate ownership, building wealth and experiencing the amazing lifestyle the community offers to those that live and work here. They are located in the historic town of Haleiwa, HI.
Betty Depolito
Banzai Enterprises
Pipeline Women's Pro 2023
Women's Waimea Bay Cultural Championship 2024
Day one of our 4-day competition Bodyboarding men, women and drop knee, and the 45th Annual Pipeline Bodysurfing Classic!
DIVISIONS, COMPETITITORS AND LIVE HEAT SCORES HERE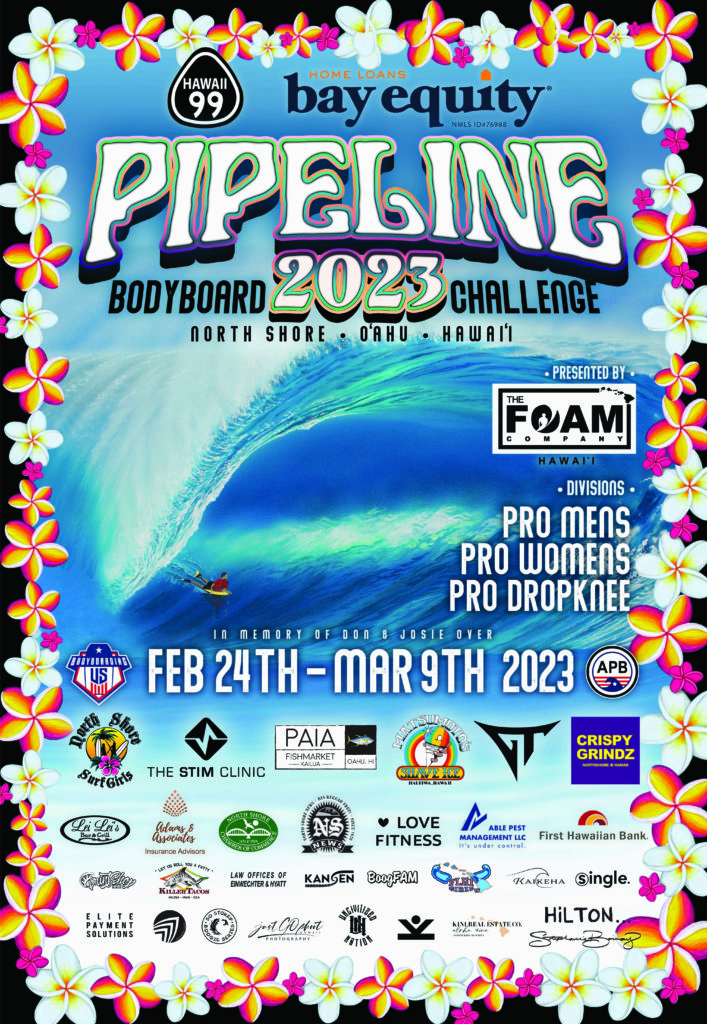 45th annual Pipeline Bodysurfing Classic
In case you missed the PRESS RELEASE earlier this month. 
We see a small NW Saturday that might reach 3′. It will be strong gusty ENE Trades through the weekend. Trades possibly 15-30+ from the NE Sunday so Saturday's best bet. The long-range NW swell machine needs a tune up. SNN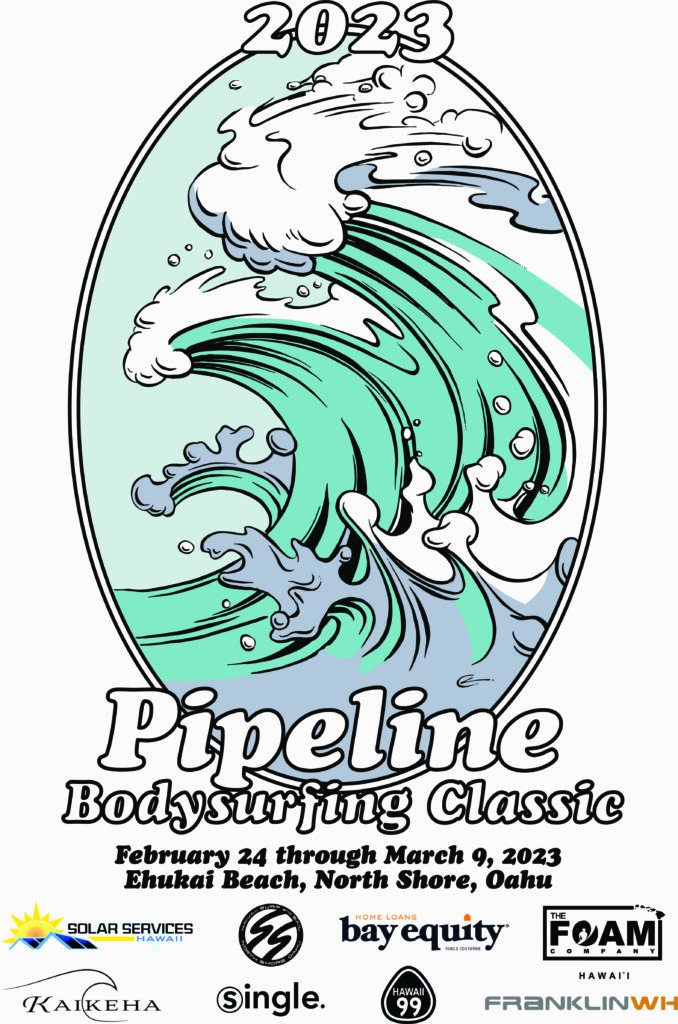 AND…The Pipeline Bodysurfing Classic – Runs in the same period with plenty time to go~
Presented by Kaikeha and Pipeline World Games, on the North Shore of Oahu, the epic event will begin February 24th and will run through March 9. To be held when the conditions at Pipeline are the best available during the holding period (based on swell and wind direction as well as size).
Each year, for one to two days, watermen from around the world come together and participate in a homegrown event in Hawai'i involving Bodysurfing.
Bodysurfing, called he'e umauma or kaha nalu in Hawaiian, was first enjoyed by ancient Hawaiians at the break called "Pipeline" today. It is believed that bodysurfing at Pipeline was first inspired by the dolphins seen there, long before the invention of the surfboard.
While board surfing has evolved into a visible and highly competitive sport, the main draw to bodysurfing is still as it ever was–the intimate relationship between the ocean and the rider in what is considered by many as the "purest form of wave riding."
The defending champion Mike Stewart (Hawaii) continues to dominate the field at the Pipeline Bodysurfing Classic.
Sixty of the world's most dedicated bodysurfers will be on-call during the holding period and will have a ten-day window to compete at Pipeline [one to two days of competition] without any surfboards.
Competitors must swim without the use of any type of board into extremely challenging at the world class break known as Pipeline.
Pipeline is world-famous for its fast and powerful breaking waves over a shallow reef. Just as Everest is the gauge of all mountains for mountaineers, Pipeline is the ultimate test for wave-riders from all over the world, rewarding the best with waves of aesthetic perfection.
Each of the 60 bodysurfers compete in preliminary rounds, semi-finals and the top four bodysurfers will compete in an intense final.
Additional Information on the event may be obtained on the web: