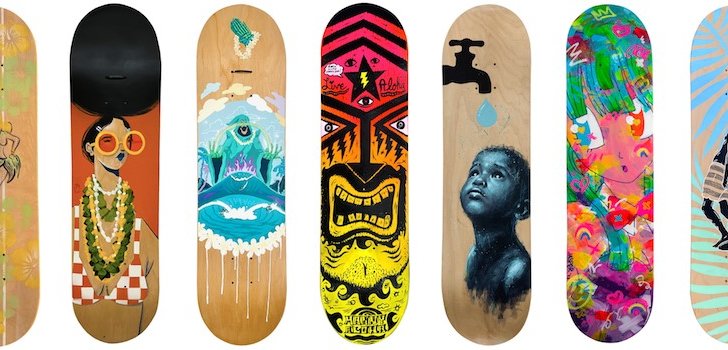 On September 8th, The Gallery Waikiki will be hosting the first Moss Deck Art Show in Hawai'i!
An eclectic art exhibit on skateboards, that includes a total of thirty artist from Oahu, outer islands and mainland, plus a few old school professional skaters.
The artists donated their work and Galabid will auction all the pieces online https://app.galabid.com/moss22syd/items bidding have been live since Friday September 2nd and will close on Friday September 9, at 1:00 am Hawai'i time.
100% of all funds raised through the charity auction are allocated to building life changing clean water systems to needing communities in Eswatini (formerly Swaziland), Africa.
The exhibit will take place on September 8th, from 6-9pm at The Gallery Waikiki, located on Kalakaua Ave. at the floor level of the Outrigger Beachcomber Hotel.
This is a free event open to general public.
Participating Artists
 Old School Skateboarders:
Christian Hosoi Marcello Vercelli Pops Hosoi Steve Alba
Oahu Artists: Andrew Giletti, Barby Casagrande, Brent Clementine, Chris Miyashiro, Connor Trimble, Derick Fabian, Eduardo Bolioli, Eric Karbeling
Jack Soren, Jasper Wong (Pow Wow Founder) JT Ojeiro, Kris Goto, Manny Pangilinan James Melon Micah Lacio, Shar Tuiasoa, Ran Noveck, Summer Colmus
Outer Islands:
Camille Izumi Page (Kauai) Gregg Kaplan (Maui)
Joe Regan (Big Island) Josefina Zorrilla (Maui) Susanna Cromwell (Maui)
Mainland:
Bruce Reynolds (Florida) Ethan Estess (California) Matt Allen (California)
For more information contact: Eduardo Bolioli eduardobolioli@gmail.com (808) 627 2976