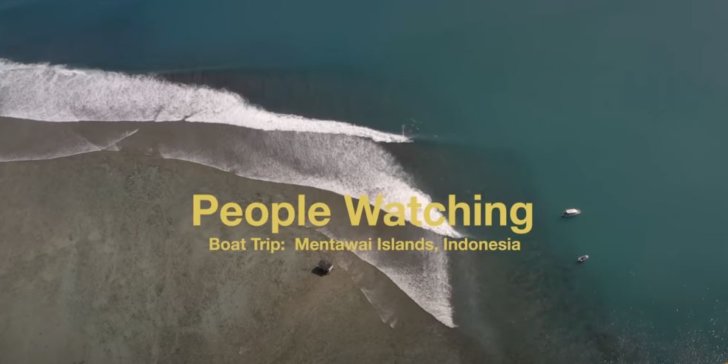 Featuring Caroline Marks, Bronson Meydi, Adriano DeSouza & more…
Sailing the length of the Mentawai Island chain sits atop every surfer's bucket list and so, with the world slowly reopening its borders, we figured it was high time we rounded up a crew of our favourite salt water athletes and granted them their ultimate wish.
Red Bull assembled a roster of surfers from all generations and headed to Indonesia in search of tubes and perfection. Headlined by 2015 world champion Adriano de Souza and current Championship Tour star Caroline Marks, we enlisted young guns Jarvis Earle, Leon Glatzer and Dimitri Poulos, teamed them up with heavy water specialists Conor Maguire and Natxo Gonzalez, threw multi-sport weapon Izzi Gomez in the mix then let local superstar Bronson Meydi show them all how it's done on his turf.
Rather than shooting regular hifi surf porn we had The Marcs take the tiller to let the tape roll on another episode of "People Watching". Come for the crazy action, stay for the subtle moments in-between. From Adriano's wild opening Greenbush beast through to classic Macaronis and an all-time Hollow Trees session that will leave you begging for more the surfing doesn't let up, but neither does the sea sickness, the down day chatter, and the candid reflections on life lived on the ocean.
Welcome aboard your new favourite 19-day surf bender as our team hops, skips and punts their way across everything the Mentawai Islands have on tap. This is "People Watching", enjoy.

Chapters
0:00 – Intro
0:56 – Day 1
1:55 – Day 3
2:43 – Macaronis
4:47 – Day 5
5:26 – Day 6
6:13 – Day 7
8:20 – Day 8
10:10 – Day 10
11:21 – Day 11
12:57 – Day 13
13:07 – Hollow Trees
14:52 – Day 15
15:42 – Day 17
16:55 – Day 19
21:30 – Bronson Meydi Best Birthday Present
23:50 – Credits
_
Experience the world of Red Bull like you have never seen it before. With the best action sports clips on the web and original series, prepare for your "stoke factor" to be at an all time high.
Subscribe to Red Bull Surfing on Youtube: https://win.gs/SubToRedBullSurfing
Get the FREE Red Bull TV apps for all your devices: http://onelink.to/yfbct7
Watch Red Bull TV: http://win.gs/WatchRBTV
Red Bull on Facebook: http://win.gs/redbullfb
Red Bull on Instagram: http://win.gs/RedBullInstagram