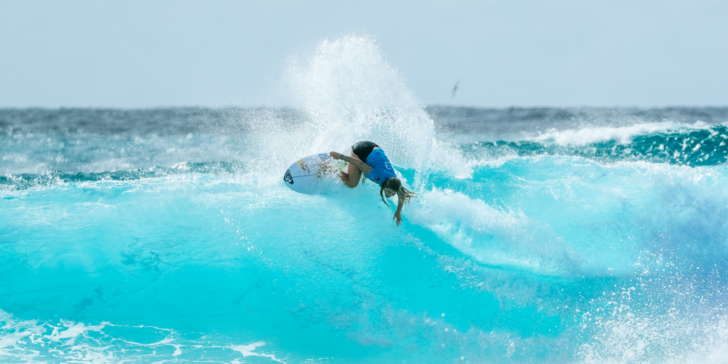 The 'best back side surfer on the womens Tour'
CT sophomore Caroline Marks (USA) upset the competition with her win over 7x WSL Champion Stephanie Gilmore (AUS) at the Boost Mobile Pro Gold Coast. 
Credit: © WSL / Cestari
COOLANGATTA, Queensland/AUS (Saturday, April 6, 2019) – The Boost Mobile Pro and Quiksilver Pro Gold Coast, Stop No. 1 on the World Surf League (WSL) Championship Tour (CT), narrowed the field down to the Semifinalists and Quarterfinalists after another exciting day of action at Duranbah, the event's backup site. Clean three-to-four foot (1 – 1.3 metre) waves set the stage for big eliminations and upsets in men's Round 4 and the women's Quarterfinals.
Teenager Marks Eliminates 7X WSL Champion Gilmore 
Caroline Marks' (USA) signature surfing, which earned her two major Qualifying Series wins in 2018, was on full display against the seven-time WSL Champion Stephanie Gilmore (AUS). 17-year-old Marks had Gilmore under pressure, requiring a near-perfect 9.16 (out of a possible 10) after she posted a 16.33 (out of a possible 20) heat total. Marks kept improving her lead with a third excellent ride to seal the deal and start her 2019 campaign with a guaranteed third-place finish.
"I've looked up to Steph (Gilmore) since I started surfing," said Marks. "It's incredible to get to surf against her and I'm super humbled to win that because she's one of the best surfers in the world. I definitely wanted to win that heat and I'm feeling really fired up. I even claimed a couple of waves and I never do that [laughs]. I was going to move down the beach and try a couple of airs, but Steph's just so good and I didn't want to leave her on a perfect right to herself because she can easily get a nine."
"That was really tough," Gilmore said. "A Quarterfinal finish is still a good result, but it's just made me hungrier. That hurt a lot, but it also reminded me how much I love doing this and how much I want to win. Caroline (Marks) has always had that fire but she's piecing it together in heats now and shaking things up."
3X WSL Champion Carissa Moore (HAW) is through to the Semifinals of the Boost Mobile Pro Gold Coast. 
Credit: © WSL / Dunbar
Moore, Manuel, Fitzgibbons Advance to Semifinals 
Hawaii surfers Carissa Moore and Malia Manuel are through to the Semifinals after big wins over Johanne Defay (FRA) and Tatiana Weston-Webb (BRA), respectively. Three-time WSL Champion Moore put on a powerful and progressive display to dominate Defay in the clean D-Bah peaks. Moore posted the second highest heat total of the Boost Mobile Pro and moves one step closer to a third Gold Coast event title. The fan favorite Weston-Webb fell to fellow Kauai's Manuel in a close battle that went to the final minute where Manuel garnered the critical score to secure her spot in the next round.
The sole Aussie progressing in the Boost Mobile Pro Gold Coast Quarterfinals is perennial title threat Sally Fitzgibbons (AUS) who overcame alternate Sage Erickson (USA) with a measured performance at Duranbah. Although Fitzgibbons controlled the heat in its majority, Erickson snagged a perfect set wave in the dying seconds and posted her highest score of the matchup, but the score, unfortunately, fell short of the requirement. Fitzgibbons will move in the Semifinals and one step closer to claiming her first event win on the Gold Coast.
"Sage (Erickson) had the opportunity to put it all on the line and get the score, which makes the heat win pretty special. I know it seems really stressful but that's the fun part and why I love it," Fitzgibbons said. "I really love coming down here and being apart of the energy on the beach. I've been working hard over the summer so it's just humbling to jump back on the board and get the jersey back on and do what you've been visualizing. All the waves on the Gold Coast are so dreamy, I'll be ready to suit up and jump out wherever they say."
John John Florence Takes Down Filipe Toledo
One of the heats to watch so far in 2019 did not disappoint as two-time WSL Champion John John Florence (HAW) squared off against the ever-explosive Filipe Toledo (BRA). Florence's first wave set the tone of what to expect and he did not relinquish that early lead despite a ferocious Toledo on his heels throughout the battle.
"It's nerve-racking going up against a guy like Filipe (Toledo)," Florence said. "It's sort of anyone's game out there, it was just about who could be in the spot for the peak. It's scary when there are 12 minutes to go and he only needed a 6.00. You can't really give him any room because he could just take off on an insider and do a huge air. I felt like there were a lot of unknowns going into this year, since I only started surfing and training about a month ago, so it's a big confidence boost."
Florence will take on the powerful style of Conner Coffin (USA) in the Quarterfinals after the Santa Barbara native eliminated Kanoa Igarashi (JPN) today.
"I felt fired up this morning," said Coffin. "Kanoa's so good in these kinds of waves so I knew I had to step it up and push myself to beat him. This is our fourth year on Tour together and that was our first ever head-to-head matchup, so that was fun and great to get the win."
Coffin's fellow Californian Kolohe Andino (USA) showcased his prowess in hunting down scores over former event winner Owen Wright (AUS).
Reigning WSL Champion Gabriel Medina (BRA) had to fight back against fellow countryman Yago Dora (BRA) after Dora's quick start. But Medina wasn't to be outdone and quickly took the lead despite Dora notching the heat's highest single-wave score of a 7.33 (out of a possible 10).
Rookie Report: Seth Moniz Still Standing
2019 CT rookie Seth Moniz (HAW) is on a tear in his debut event with yet another heat win, this time eliminating Gold Coast standout Reef Heazlewood (AUS) and now represents the sole rookie remaining after Jordy Smith (ZAF) defeated Mikey Wright (AUS) in their bout.
"I can't believe it," Moniz said. "This morning I had a slow start with a sore back and my board had a buckle on the tail. But, once you're out in the water you're just focused on the heat and whatever's on the beach, you just leave it there. My goal was to make the Quarterfinals and on. I honestly just wanted to have a good performance in my first couple heats so I'm excited."
2018 Rookie of the Year Wade Carmichael (AUS) laid down a brilliant showing against CT veteran Michel Bourez (PYF) to finish out Round 4 after Italo Ferreira (BRA) narrowly edged out fellow countryman Willian Cardoso (BRA) in a second all-Brasilian battle.
"It's pretty cool, 'Wade's World' back in full force with all the support and my family here," Carmichael said. "It just keeps getting better and better, and I'm excited to keep getting some good waves. I don't like keeping it close, it just makes you work all the way to the last second. When you can get two good scores you can let go a little bit and do some better surfing."
The next call for the Quiksilver Pro and Boost Mobile Pro Gold Coast will be tomorrow morning when event organizers will reassess the conditions to decide the event's location and schedule. For updates on the call, please visit WorldSurfLeague.com.

The Quiksilver Pro and Boost Mobile Pro Gold Coast will be broadcast LIVE on WorldSurfLeague.com and Facebook.com/WSL. Also check local listings for coverage from the WSL's broadcast partners.

Boost Mobile Pro Gold Coast Quarterfinal Results:
Heat 1: Caroline Marks (USA) 16.80 DEF. Stephanie Gilmore (AUS) 8.77
Heat 2: Malia Manuel (HAW) 13.16 DEF. Tatiana Weston-Webb (BRA) 11.27
Heat 3: Sally Fitzgibbons (AUS) 14.27 DEF.  Sage Erickson (USA) 12.50
Heat 4: Carissa Moore (HAW) 16.33 DEF. Johanne Defay (FRA) 10.83

Boost Mobile Pro Gold Coast Semifinal Matchups:
Heat 1: Caroline Marks (USA) vs. Malia Manuel (HAW)
Heat 2: Sally Fitzgibbons (AUS) vs. Carissa Moore (HAW)

Quiksilver Pro Gold Coast Round 4 Results:
Heat 1: John John Florence (HAW) 14.06 DEF. Filipe Toledo (BRA) 13.27
Heat 2: Conner Coffin (USA) 12.27 DEF. Kanoa Igarashi (JPN) 12.06
Heat 3: Seth Moniz (HAW) 13.37 DEF. Reef Heazlewood (AUS) 10.97
Heat 4: Kolohe Andino (USA) 12.03 DEF. Owen Wright (AUS) 11.23
Heat 5: Gabriel Medina (BRA) 13.00 DEF. Yago Dora (BRA) 12.53
Heat 6: Jordy Smith (ZAF) 13.57 DEF. Mikey Wright (AUS) 11.07
Heat 7: Italo Ferreira (BRA) 12.70 DEF. Willian Cardoso (BRA) 11.30
Heat 8: Wade Carmichael (AUS) 14.43 DEF. Michel Bourez (PYF) 10.70

Quiksilver Pro Gold Coast Quarterfinal Matchups:
Heat 1: John John Florence (HAW) vs. Conner Coffin (USA)
Heat 2: Seth Moniz (HAW) vs. Kolohe Andino (USA)
Heat 3: Gabriel Medina (BRA) vs. Jordy Smith (ZAF)
Heat 4: Italo Ferreira (BRA) vs. Wade Carmichael (AUS)