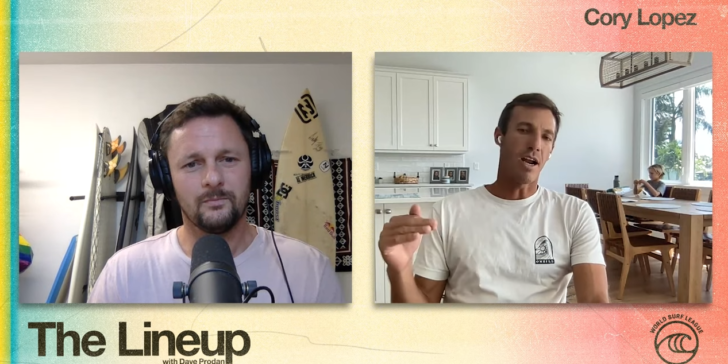 Check out the Vids below, too…
If you have some time check this interview with a top tier tour surfer in the 90's…Cory Lopez (43) was born on March 21, 1977 in Dunedin, FL.  He's considered by many to be one of the best 'Free Surfers' on the planet; known for his prolific career in the ASP World Surfing circuit. He began surfing around the age of 2. He began competing as an amateur, pre-professional in the Eastern Surfing Association (ESA). Cory's sponsors include: O'Neill; Rockstar Energy Drink; Anarchy Eyewear; Freestyle/Shark Watches; Placebo/Mayhem Surfboards, WaveJet and Nekton Surf Shop.
Aside from surfing, Cory Lopez is also a motivational speaker and special needs teacher (Wikipedia).
WSL/Dave Prodan: "Former Championship Tour star Cory Lopez looks back at his successful career on tour, including surfing in the famous 2006 event at Barra De La Cruz, his success at Teahupo'o, pushing the sport forward with airs, the expectations versus the reality of being a pro, and his World Title chances.
He talks about some of the main figures who influenced him along the way, from his brother and fellow pro surfer Shea Lopez, to his close friend Andy Irons, to Shane Beschen and longtime shaper Matt Biolos.
Cory also shares stories of how he helped put Skeleton Bay on the map, homeschooling while on surf trips in Indonesia, growing up in Florida, experimenting with new types of surfboards, and his favorite Andy Irons story.
Below 2008!
LOST.TV – CORY'S LEFT. Cory Lopez on his first wave during a historical session at "the new Cape St. Francis".
Cory went to this spot a month earlier but had to bail before he scored it on a good swell but he vowed to return.
This is the first wave of that return session and the first time this wave has been recorded on video.
Lots of seals, lots of rubber and lots of things that eat seals.
Cory's riding a quad "Monk Fish" Biolos shaped specifically for this wave.
Look for the rest of Cory's epic session – along with Ian Walsh and Alek Parker – in our upcoming movie 5'5″ x 19 1/4″ Redux.
We're saving the rest of the waves for the movie.
This wave wouldn't have even made the final cut if it wasn't for the novelty of being his first wave.

2003 was an epic year for the FIJI PRO. Andy Irons took down Cory Lopez in an epic battle to win the event.
Andy was ripping the entire contest and put the world on watch that he was coming for his second world title.
Watch the full episode of THE WSL VAULT at www.worldsurfleague.com!
Andy and Cory It happens a lot on tour, friends who travel and stay together end up in the same heat surfing against each other.
Sometimes 'friendship' stays on the beach and other times they go out and see who can get the best waves and have a fun surf.
Andy got on a roll on the Final day of the contest, throwing down 9's and 10's through the Quarter, Semi and Final.
He had a perfect 10 and backup 9 point rides before good mate Cory had even put a score on the board.
There were three perfect 10 point scores handed out during this Quiksilver Pro Fiji and Andy scored them all.
It was Andy at his best in a year when he won 5 out of the 12 CT events and a second World Title.

Cory Lopez eats sh*t on a bomb then paddles back out and gets shacked before the 2007 Teahupoo WCT. Audio commentary from the boat by Kalani Chapman and Jason Frederico.