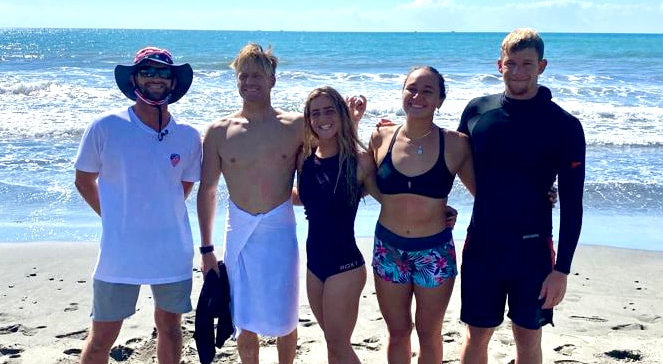 Surfing to make a BIG splash at Olympics & escape historic stereotypes
Surfers have been frustrated for decades about outdated attitudes toward their 'extreme vs mainstream' sport.
Now the best Women and Men on planet earth will showcase their talent and gift of surfing…on the Biggest 'mainstream' sports stage: The 2021 Olympics!
Additionally, as if to show her support for this groundbreaking event, Mother Nature is bringing a rare and perfectly timed gift: A swell from large tropical cyclone for the opening days.
Here's the list below of All Surfers to make their mark on History for the Sport of Kings go.(For full story and list go to ISA HERE)
For Team USA Pre-Game in Makinohara GO HERE
Tokyo 2020 Olympic Qualifiers (20 men, 20 women):
Women:
2019 WSL Championship Tour  
Carissa Moore (USA)
Caroline Marks (USA)
Tatiana Weston-Webb (BRA)
Silvana Lima (BRA)
Brisa Hennessy (CRC)
Sally Fitzgibbons (AUS)
Stephanie Gilmore (AUS)
Johanne Defay (FRA)
2021 World Surfing Games
Yolanda Sequeria (POR)
Teresa Bonvalot (POR)
Daniella Rosas (PER)
Leilani McGonagle (CRC)
Mahina Maeda (JPN)
Amuro Tsuzuki (JPN)
Pauline Ado (FRA)
2019 World Surfing Games
Anat Lelior (ISR)
Bianca Buitendag (RSA)
Ella Williams (NZL)
Sofia Mulanovich (PER)
2019 Pan Am Games 
Dominic Barona (ECU)
Men:
2019 WSL Championship Tour:
Gabriel Medina (BRA)
Italo Ferreira (BRA)
Kolohe Andino (USA)
John John Florence (USA)
Owen Wright (AUS)
Julian Wilson (AUS)
Jeremy Flores (FRA)
Michel Bourez (FRA)
Kanoa Igarashi (JPN)
Jordy Smith (RSA)
2021 World Surfing Games 
Leon Glatzer (GER)
Miguel Tudela (PER)
Lucca Mesinas (PER)
Manuel Selman (CHI)
1 spot TBD between Shun Murakami (JPN) and Hiroto Ohhara (JPN)
2019 World Surfing Games
Rio Waida (INA)
Frederico Morais (POR)
Billy Stairmand (NZL)
Ramzi Boukhiam (MAR)
2019 Pan Am Games
Leandro Usuna (ARG)
Women hold a special place for this Olympics…they've already been breaking down the door for decades…they've shown the greatest performance growth over the past several  years especially…and now, this is their chance to inspire the World!
Women have been riding waves since the 17th century. At the 2021 Tokyo Summer Olympics, they'll finally be represented!
Check out REPRESENT is a docu-series following four female Olympic hopefuls, Carissa Moore, Lakey Peterson, Caroline Marks & Courtney Conlogue as they strive through qualification events and trials.
Peek behind the curtain into each athlete's life and training regime as they compete for a coveted spot on the first-ever Team USA Olympic surf team.
Recently Premiered Thursday May 6th, only on Fictoapp! Download at https://represent.ficto.tv/ to watch free!