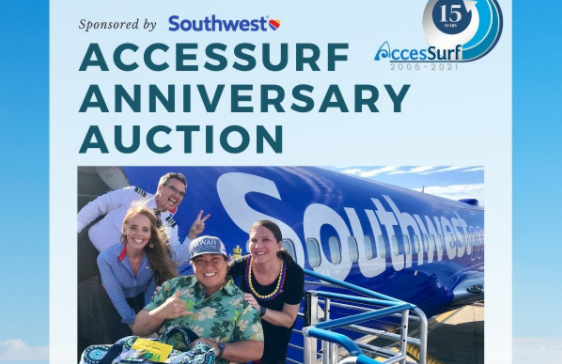 This time last year, Southwest Airlines brought our Hawaii Adaptive Surf Team to the World Adaptive Surfing Championships in San Diego and went above and beyond with their support.
When you're traveling as a person who may be paralyzed and needs specialized equipment, it takes a lot physically and financially.
Southwest was able to cover that which was huge on impact on team Hawai'is presence in the World Adaptive Surfing Championships possible.
This year, Southwest Airlines has donated 15 flights in honor of our 15th Anniversary.
You can BID NOW till May 31st on what could be your next flight on Southwest while supporting AccesSurf!
 In celebration of our 15th Anniversary, we are auctioning off 15 roundtrip flights on Southwest Airlines to raise funds for our adaptive surf, paddling, and ocean programs.

The auction is live NOW at
https://www.32auctions.com/AccesSurf-Southwest
and is open through May 31, 2021.

All proceeds will go toward AccesSurf's virtual and in person programs for people with disabilities. Since the start of COVID-19, we have expanded our program offerings to include an international photo surf contest and more than 100 virtual programs, clinics and events. Under current regulations, we offer weekly virtual programs along with small in-person ocean paddling, surfing, and wounded warrior events.

Auction winners can choose from any published Southwest flight within the United States, and each ticket is valued up to $400. The tickets can be redeemed for domestic travel through June 1, 2022.
Jump on board and fly away to one of the many destinations Southwest Airlines serves! Southwest has also recently announced more flights to Hawai'i which include Las Vegas, Phoenix and Los Angeles as a direct flight to Honolulu!
Bid now and your next trip could support us at the same time!