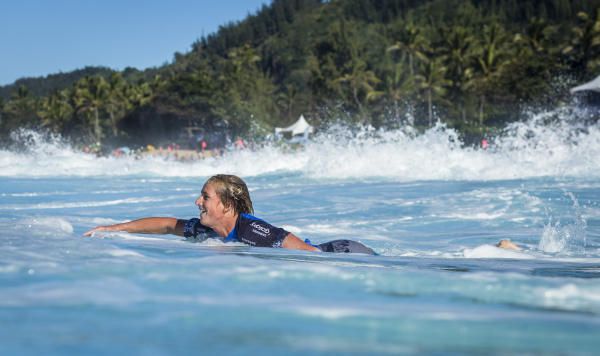 Finn Thunders,  mid-Pipe Invitational. – WSL / Poullenot/Aquashot
WSL STORY/BEAU FLEMISTER.
The first time I saw 16-year-old Finn McGill surf was in Samoa. It was a couple of years ago and Finn was one of five groms on the trip, but out of a group of young surfers you can always tell which one is from Hawaii. Sure, they're more used to waves with push and juice, but it's the way they handle that power that sets them apart. Finn wasn't just "going for it" on the meatier set waves — he was harnessing that juice.
Finnegan Thunders McGill, or Finn for short, weaving his way into our collective consciousness. – WSL / Tony Heff
Indeed, I watched the tow-headed blonde sit deep, stalk sets and hook into slabby right-handers under the lip with a flare and confidence well beyond his years.
Finn Steps It Up
The North Shore local lucks into a last-minute tube at Backdoor to break through the Semifinals in the Pipe Trials.
Two and a half years later, surrounded by a few hundred bystanders on the beach at Pipeline, I'm watching that same kid pulling into Backdoor growers, getting spat out with a jersey on at the Men's Pipe Invitational. I also watched multiple folks not in the know turn to their friend and mumble, "Who is this kid again?"
That "kid" ended up winning the entire comp (a frighteningly stacked one, at that) and a slot in the Billabong Pipe Masters. But in case any of those folks are reading, I'll tell you who Finn is.
Finnegan Thunders McGill — yes, his actual name — was born in California but moved to the North Shore when he was three.
CATCH THE REST OF THE WSL STORY BY BEAU FLEMISTER HERE