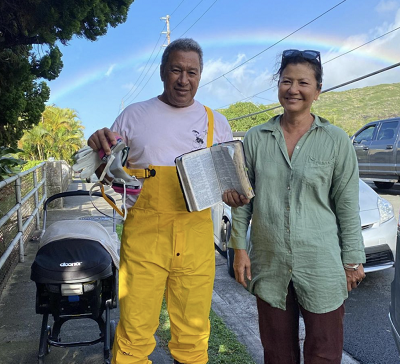 It's been a week; the prayers -and the hard work- continues…
GOFUNDME FOR THE MONIZ OHANA HERE MAHALO
View this post on Instagram
View this post on Instagram
Hawaii house fire destroys most everything in legendary Moniz family's home except Bible…and a couple Tony's Dukes Trophies from over 40 years ago.
Tho' the devastating house fire took their home and belongings on Tuesday night March 16th, the Moniz family FAITH is even stronger now.
The two-alarm fire broke out at around 8 p.m. at the single-family home on Summer Street, near Kuliouou Beach Park.
Ten HFD units staffed with nearly 40 firefighters arrived to find heavy smoke and flames from the garage that quickly spread through the entire home.
The fire caused an estimated $568,000 in loss and damage.
HFD said there was no sprinkler system, but the smoke alarms did activate.
The fire was extinguished just after 9 p.m.
Tammy and Tony were home at the time, but both were able to safely evacuate.
Thank God, no injuries.
Usually, the entire family, which includes five siblings and four grandchildren, would have been gathered inside during the time the fire started.
Last Wednesday the 18th, professional surfer Kelia Moniz posted to Instagram that her parents' home in Hawaii had burned down overnight, incinerating everything inside.
"My parents house, my childhood home went up into flames. Very crazy you have quickly things can change," she wrote alongside a carousel of photos showing the house's charred foundation and her parents, Tony and Tammy Moniz.
"So last nights scenario could have had a much different outcome," she wrote. "Today we remember a house full of love, and so many (memories) thanking God we have my Mom and Dad here with us."