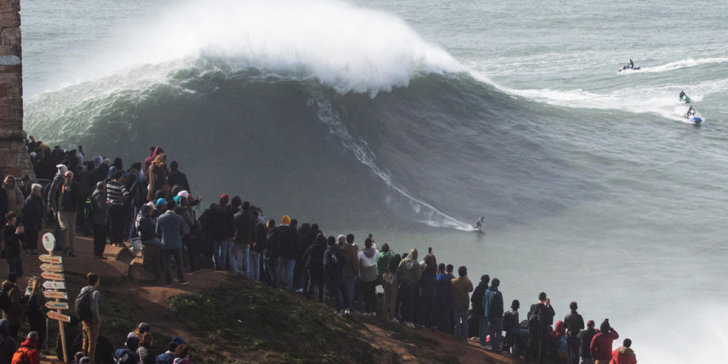 The translated statement from the Harbor Captain:
"In the current context of the pandemic in Portugal, as determined by the regional health delegate and the regional health administration, Free Surf and Tow-in surfing are banned at Praia do Norte, due to the promotion of the public agglomeration, which constitutes an increased risk for the public health.
Failure to comply with this determination incurs in a criminal offence punished by law."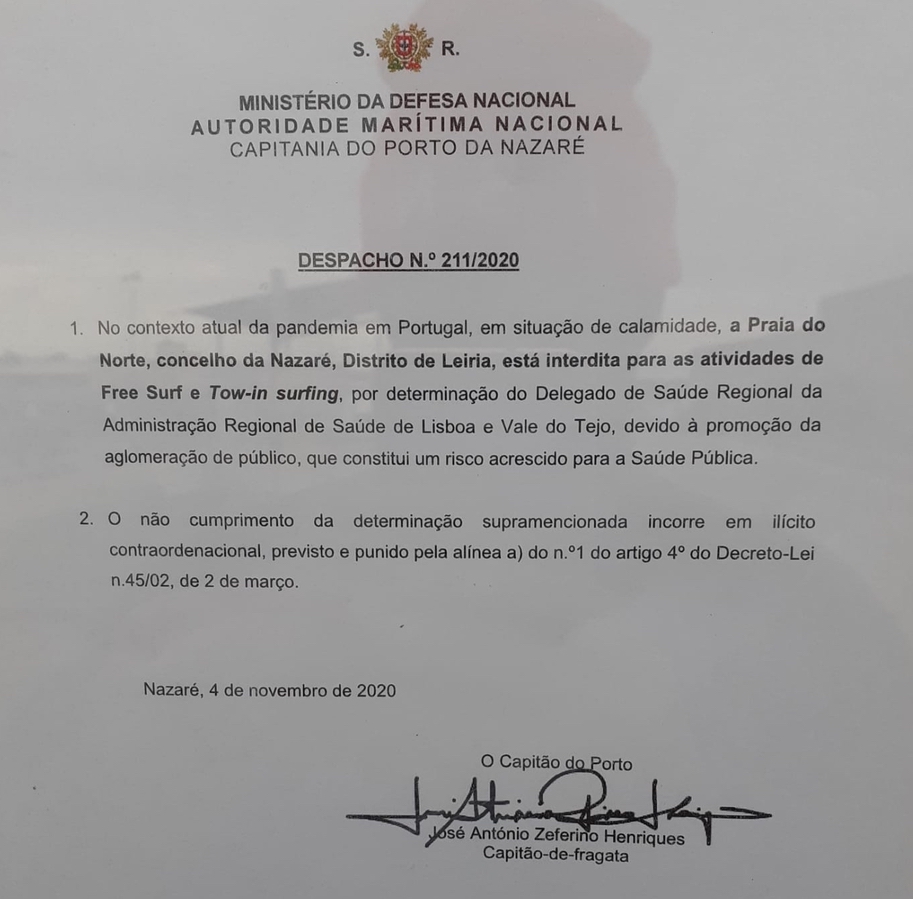 Garrett McNamara, the man who basically put the wave at Nazaré on the map, understands why the decision was made. He feels, however, that it might be a little too extreme.
"On the small days, there's no reason at all," he said. "It's totally unnecessary unless it's 60-feet or bigger. Nobody comes for those days."
McNamara thinks that officials are reacting to what happened on October 29, when the beach and the cliff were packed shoulder-to-shoulder with spectators.
"They're trying to make up for what they did," he continued. "They're making irrational decisions.
Thousands and thousands of people were on the cliff, and they could have prevented that.
Now they're making decisions based on what happened instead of making decisions on everyday life."
(30 Oct 2020)
Thousands of surf lovers flocked to the shore of Nazare beach on Thursday for the first big swell of the season amidst the coronavirus pandemic.
The famous Portuguese hotspot attracts surfers and tourists alike since big wave surfer Garrett McNamara broke the world record for the biggest wave ever surfed there in 2011.
Masks have become mandatory outside in Portugal this week with most people seen complying, but not all of them.
Madeleine Algotsson, a Swede living in Portugal, said despite the crowds she felt safe.
"It's a lot of people but it's ok, people are nice if you say please stay away they stay away. I'm completely safe in this country," she said. Natalia Nazare also watched on and said seeing that many people was "a bit scary", but the landscape was "very beautiful and very rare to see".
In recent days Portugal has broken its national daily record of COVID-19 cases more than once, with Thursday's total of 4,222 cases a new high.
Portugal boasts 800 kilometres of coast, braving the winds and tides of the Atlantic Ocean.
But here storms are a bonus as they bring big waves and big revenue from the region's growing surf industry.
Each winter the resort of Nazare on the north Portuguese coast welcomes professional surfers from around the world who come in search of extreme waves, as it plays host to a leg on the World Surf League Big Wave Tour, the Nazare Challenge.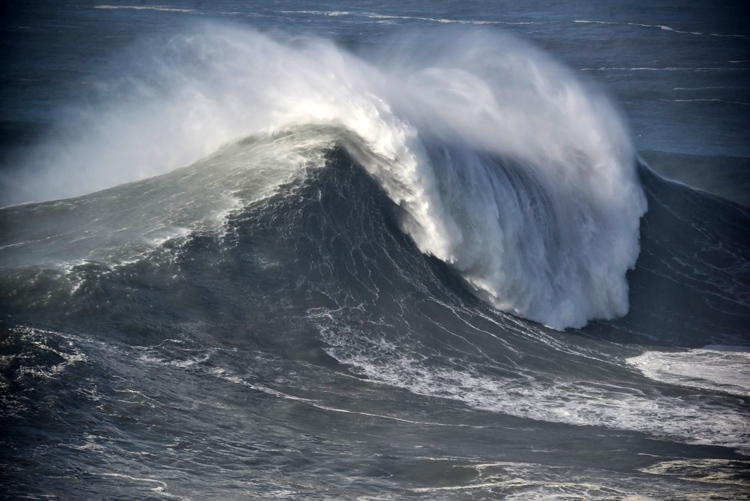 A thing of beauty…and terror.