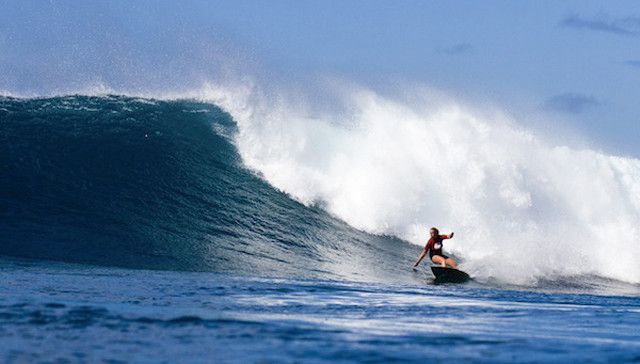 Photo: Dax McGill, Sunset Beach © Sean Reilly/Freesurf Magazine.
Sunset Beach Pro Junior
World Surf League JP 1000
Sunset Beach, Oahu Hawaii
26 – 28 January 2015
Dax in the double+-overhead power of Sunset Beach today
Surf News Network 27 January, 2015 – Sunset Beach –  Dax McGill (Sunset Beach) has won the Sunset Beach Pro Junior Women's on the North Shore of Oahu with a powerful performance in firing 6-8 foot surf and the highest heat score of the event. Runner-up after a spirited exchange that included two tube rides was Honolua Blomfield (Haleiwa, HI); Summer MacEdo (Maui, HI) was third; and Brisa Hennessy (Kailua, HI) fourth.
The final scoreline showed 16.5 points out of 20 for McGill's top two waves (8.83, 7.67); 10.83 for Blomfield (6.0, 4.83); 4.66 for MacEdo (4.23, 0.43); and 4.13 for Hennessy (3.0, 1.13).
Just 16 years of age, McGill is garnering a lot of attention as one of Hawaii's emerging stars in professional surfing. Today's conditions required a true depth of experience and courage, confirming her ability at one of the most challenging and technical surfing conditions on the planet. Her performance today was world class and bodes well for her future.
"I finished second here last year, so it feels so good to win," said McGill. "Ultimately my goal is to qualify for the women's Championship Tour and win a world title, but for now I just want to score some great waves and get the experience."
Blomfield, 16, is better known internationally for her longboard surfing prowess, having won the 2013 women's ISA World Junior title in that discipline. But her experience in solid Hawaiian surf on all styles of surfboard make her an ever-present threat.
MacEdo, 14, and Hennessy, 15, were equally impressive today and earned major respect for their performances in the solid surf.
The Junior Men's division still has one day of competition to run and will wrap up tomorrow with the Final. Noe Mar McGonagle (Costa Rica), and Australians Riley Laing and Soli Bailey were standouts of Round 3. Top local contenders included Kain Daly and Seth Moniz.
With waves expected to rise further to heights of 10-12 feet and improve in consistency tomorrow, it's sure to be a solid day. Heats 13 through 16 of Round 3 will commence at 8am tomorrow morning, followed by Round 4, Quarters, Semi's and Final.
Mahalo to Cholo's; Xcel; Pakaloa Bikinis; and HIC for their support of this event.
FINAL:
1. Dax McGill (HAW) – 16.5 points – $900, 1000 points
2. Honolua Blomfield (HAW) – 10.83 – $400, 750 points
3. Summer MacEdo (HAW) – 4.66 – $160, 560 points
4. Brisa Hennessy (HAW) – 4.13 – $140, 525 points
Semi Finals:
H1: D McGill (HAW) 9.57; H Blomfield (HAW) 8.67; M Jones (HAW) 5.67; F Harrer (USA) 4.3
H2: S MacEdo (HAW) 12.4; B Hennessy (HAW) 10.56; M Collins (USA) 8.9; L Riccobuano (USA) 2.93
Quarter Finals:
H1: M Jones (HAW) 12.0; H Blomfield (HAW) 9.4; M Maeda (HAW) 6.77; S Kerson (USA) 0.0
H2: D McGill (HAW) 6.73; F Harrer (USA) 5.4; Z Clarke (AUS) 3.73; G Bryan (HAW) 2.63
H3: S MacEdo (HAW) 11.74; B Hennessy (HAW) 11.34; I Gomez (USA) 10.17; Bailey Nagy (HAW) 6.0
H4: L Riccobuano (USA) 6.3; M Collins (USA) 5.66; M Osterkamp (USA) 4.4; Z McDougall (HAW) 4.34
Junior Men:
Round 3:
H1: T Bisso (GLP) 11.5; J Marshall (USA) 10.83; T Tudela (PER) 8.1; T Gunter (USA) 4.17
H2: R Laing (AUS) 16.16; L Saldivar (PER) 12.6; A Correa (PER) 8.7; T Wakita (HAW) 5.83
H3: N Rapoza (USA) 13.17; L Ng (HAW) 9.23; C Gittner (USA) 5.98; K Kobayashi (USA) 4.33
H4: S Moniz (HAW) 14.5; H Johnson (HAW) 7.27; F McGill (HAW) 7.2; J Collins (USA) 5.76
H5: G Colapinto (USA) 13.83; J Johnston (HAW) 12.67; N Mizuno (HAW) 7.67; A Jacobson (USA) 4.28
H8: N Hdez (USA) 10.86; K Yan (HAW) 9.73; E Stewart (HAW) 7.64; C Young (HAW) 3.73
H7: NM McGonagle (CRI) 15.87; L Silveira (BRA) 15.5; J Kelley (USA) 12.66; W McHale (HAW) 8.84
H8: P Coffin (USA) 14.76; L Bediamol (HAW) 9.94; E Fox (HAW) 6.84; K Smith (HAW) 0.0
H9: C Richards (USA) 14.17; A Pendleton (USA) 4.9; C Bluthard (HAW) 4.33; L McNamara (HAW) Inj.
H10: S Bailey (AUS) 15.43; D Glenn (USA) 9.83; P Curren (USA) 7.4; K Brown (USA) 2.57
H11: K Daly (HAW) 13.57; LM Novaro (PER) 11.83; L Gordon (USA) 5.3; M Self (CAN) 5.24
H12: K David (HAW) 7.17; C Ward (USA) 2.43; U Napeahi (HAW) 1.9; P Schmidt (USA) 0.83