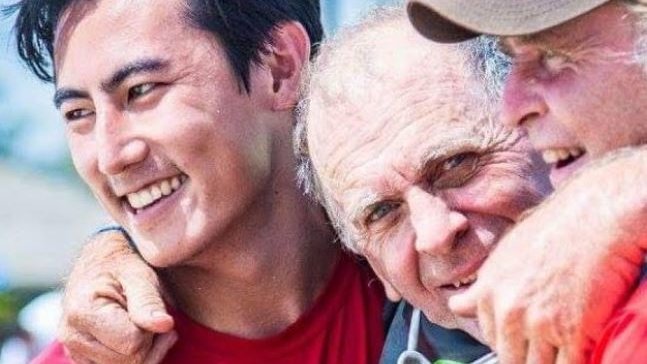 AccesSurf Annual Party Wave Fundraiser at Dave & Busters on the Rooftop Lanai Saturday March 21, 2020 4:30-7:30 pm IS OFF.
Dear AccesSurf 'Ohana,
We must sadly announce that we are postponing the Party Wave event that was scheduled for March 21.
A new date will be announced at a later time. Additionally, we are cancelling any programs through March and April 'Day at the Beach' due to COVID-19 concerns.
The number one concern of AccesSurf Hawai'i is the health and safety of our participants, volunteers, staff, and family.
With this in mind, we feel that it is proper for us to do our due diligence and cancel our upcoming events until further notice.
Tickets already purchased for the Party Wave will be honored at the new date event.
We appreciate your understanding in this unprecedented matter
Sincerely
Cara
Recent Happier News:
ACCESS SURF Volunteer of Month: Ryan Kohara!
We are extremely fortunate to have some of world's most dedicated volunteers who give endlessly of their time and support.
This month's volunteer of the month is not only a volunteer who has been attending our programs for many years he is also an integral part of our operation and leadership behind the scenes.
Ryan Kohara is one of our leads for water safety at events, a member of our Leadership Committee, has helped us with some amazing graphic design work, helps with our special events and fundraisers and the list goes on and on what Ryan does for AccesSurf.
We are so very grateful to have Ryan be such a big part of AccesSurf and love to hear him share about what it means to him…
"I showed up to A Day at the Beach to meet some friends one day, and there I found some of the biggest smiles ever in one place! These were unrestrained, salty, tears of joy smiles. There was a child catching her first wave and a woman who was just getting back into the ocean for the first time after over a decade apart. At the time I thought, "What an amazing thing to witness." I come to find out that amazing AccesSurf moments happen on the regular! I find myself at White Plains each month, and that was about 8 years ago now. I maintain that one of life's purest joys is rediscovering experiences through the eyes of another."
"AccesSurf means a lot to me in a large part because of what it means to so many. One of the great privileges of living in Hawaii is sharing in our outdoor playground, yet it is surprisingly inaccessible to a whole bunch of people. By focusing on inclusion, AccesSurf has created a loving community centered around the shared and healing experience of the ocean. There are so many things that need to come together to make a day at the beach possible: a real need, the swell, and hundreds of passion-hours. I'm just grateful to support this community."
Ryan Kohara, AccesSurf Volunteer