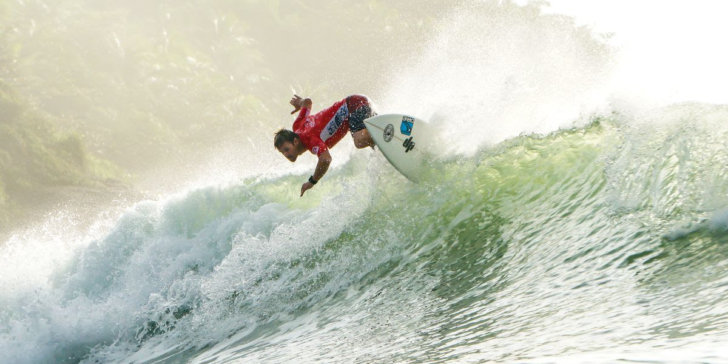 …Decisive Day Unfolds at Corona Open China hosted by Wanning
Keanu Asing, Ian Gentil, Joshua Moniz,

Robert Grilho are the Hawaiian's left.

Duru Overpowers Riyue Bay, Heads Round 2 Forefront
Gudauskas, Murakami Raise the Bar
Latin Americans Mesinas and Corzo Thrive Far From Home
 Former Championship Tour (CT) competitor Joan Duru started Round 2 off with a bang at the Corona Open China hosted by Wanning.
Credit: © WSL / Tim Hain
RIYUE BAY, Wanning/China (Wednesday, January 8, 2020) – The men's Qualifying Series (QS) contingent took over Riyue Bay once more at the World Surf League (WSL) Corona Open China, a men's and women's QS 5,000, and continued their assault on the left point lineup. A slight decrease in swell still pulsed with two-to-three foot (1 – 1.5 metre), occasional plus, surf making its way for competitors to take advantage of and those who showed their patience excelled. Round 2 was finished in its entirety as the women's competition was called off for the day.
A few of the former Championship Tour (CT) elite are present and accounted for and Joan Duru (FRA) made that presence known in today's proceedings. The Frenchman overpowered the left point with his decimating forehand attack to accrue the day's best heat total, an impressive 14.50 (out of a possible 20), on the way to his Round 2 Heat 1 win. Now Duru has his eyes set on the horizon moving forward after surviving a decisive day of competition. (Interview in video)
The Japanese contingent also continued to impress with Shun Murakami accruing the day's best of a 14.93 heat total along with Shuji Nishi and Hiroto Ohhara both delivering the goods. Josh Moniz (HAW) matched Ohhara's  top single-wave score of the day with an excellent 8.17 as the event moved into tough afternoon conditions.
Positive Vibe Warrior Turns it Up A Notch
 Duru's fellow former CT competitor found his next gear in the smaller conditions and relished his heat win.
Credit: WSL/ HainPatrick Gudauskas (USA) is known around the world as one of the "Positive Vibe Warriors" along with his brothers Dane and Tanner, and brought that mentality to China for this event. The 33-year-old was most recently on the elite CT in 2018 after competing among the world's best for four years between 2010-2013 and now looks to rejoin the Tour by getting things started early in 2020. Gudauskas overtook the lead from an in-form Ohhara with his pre-studied knowledge of Riyue Bay as he looks to improve further."I'm really excited to be here on Hainan (Island) and the wave is really beautiful," Gudauskas said. "I've been enjoying my surfs out there. It kind of reminds me of Churches near where I live if you go left there but it's surprisingly powerful here with all the reef. That heat was pretty slow but I got my two waves, Hiroto got that eight and didn't get a second one so today's a good day to make it through."Keanu Asing (HAW) rounded out the former CT elite in attendance with another clutch heat win as he heads into Round 3 with plenty of momentum.Latin Americans Thrive in Round 2 Showdowns
 Mexican competitor Jhony Corzo came back from a close Round 1 heat and left no doubt in a big Round 2 performance.
Credit: WSL/ HainOne of Mexico's most esteemed surfers Jhony Corzo (MEX) delivered their first-ever Gold Medal in surfing nearly three years ago and brought that form into his Round 2 heat here with a 14.00 heat total. Hailing from Puerto Escondido, Mexico, Corzo is able to train at a nearby left point known as La Punta and showed that training paid off as he progresses forward."You just have to wait for the good waves, there's always a set so I just tried waiting for that good one," said Corzo. "Luckily I got one that let me pass through to the next round and I'm feeling super confident. Where I live is a left too so I trained a lot on that wave before coming. It's great seeing more Mexicans on the QS like Alan Cleland at these events. There's not many of us traveling around but hopefully we can break the ice and become the first-ever Mexican on the CT."
 Peru's Lucca Mesinas felt right at home on the running lefts on offer in both his Round 1 on opening day (pictured) and Round 2 today.
Credit: © WSL / Tim Hain2018 North America Regional QS Champion Lucca Mesinas (PER) has a big year ahead of after nearly finding his way into the Top 100 last season and also prepares for the 2020 Olympic Games Tokyo. This notes Mesinas' second visit to Riyue Bay after competing in the QS and ISA events, and showed that experience with notching the two best scores in his Round 2 heat using smart wave selection."This wave is very similar to my hometown so it's really nice to be surfing here," said Mesinas. "It's smaller than yesterday but there's still a lot of power so you can still hit all the waves. I wanted to start really quick since it was slower and then wait for a good one and hopefully it would work so I'm happy it did. Last year I qualified for the Olympics and this year that's my goal is to my best there and also have the focus on the QS as well to get a better ranking than last year."
Event organizers will convene at 6:45 a.m. CST to determine a possible start to either men's Round 3 or women's Round 3 of competition.

CLICK HERE FOR CORONA OPEN CHINA ROUND 2 RESULTS

The Corona China Open QS 5,000 hosted by Wanning will run at Riyue Bay, Wanning, Hainan Island, China in the best conditions between January 6 – 12. Tune in live throughout the event window via www.WorldSurfLeague.com, Facebook Live or the WSL App.
About the WSL 
The World Surf League (WSL) is dedicated to celebrating the world's best surfing on the world's best waves through a variety of best-in-class audience platforms. The organization, headquartered in Santa Monica, is a global sport with regional offices in Australia, Africa, North America, South America, Hawaii, Japan and Europe.The WSL has been championing the world's best surfing since 1976, annually running more than 180 global events across the Men's and Women's Championship Tours, the Big Wave Tour, Qualifying Series, Junior and Longboard Championships, as well as the WSL Big Wave Awards. The League possesses a deep appreciation for the sport's rich heritage while promoting progression, innovation and performance at the highest levels, and in doing so crowns the undisputed Men's and Women's World Champions across all tours.Showcasing the world's best surfing on its digital platform at WorldSurfLeague.com, the WSL has a passionate global fan base with millions tuning in to see world-class athletes like Kelly Slater, Stephanie Gilmore, Tyler Wright, John Florence, Lakey Peterson, Paige Alms, Kai Lenny, Steven Sawyer, Soleil Errico, Carissa Moore, Gabriel Medina, Courtney Conlogue and more battle on the most dynamic field of play of any global sport.For more information, please visit WorldSurfLeague.com