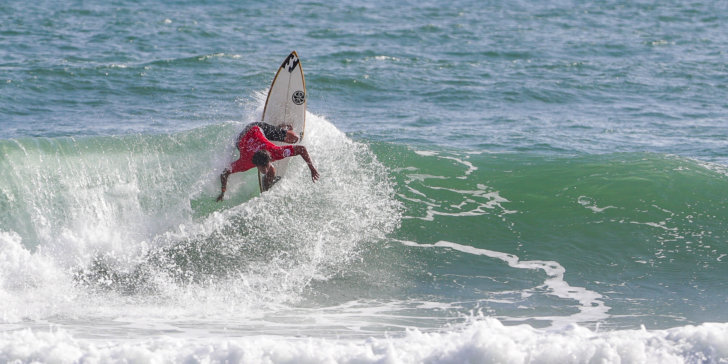 men's and women's QS 5,000…hosted by Wanning
Zhuo Notches Milestone for Chinese Surfing
Moniz, Houshmand, Ohhara, Light Up Riyue Bay
Asing Leads World-Class Contingent On Hand in Debut
 China's own Qiu Zhuo performed brilliantly in his debut and set a momentous morning at the Corona Open China hosted by Wanning QS 5,000.
Credit: © WSL / Tim Hain
RIYUE BAY, Wanning/China (Monday, January 6, 2020) – Competition flurried into action on opening day of the World Surf League (WSL) Qualifying Series (QS) Corona Open China hosted by Wanning, a men's and women's QS 5,000-level event, with men's Round 1 taking center stage. Two-to-four foot (1 – 2 metre) swell pulsed into Riyue Bay's left-hand point throughout the day and provided a brilliant canvas for some of the top QS threats on hand. Women's competition was called off for the day with a likely start when the event resumes.

Chinese Contender Breaks Through
Qiu Zhuo (CHN) notched a milestone feat for his country as the first Chinese competitor to advance in a major WSL QS event. The 16-year-old edged past Jackson Butler (USA), needing a 4.27 (out of a possible 10) and earning a 4.50, in the final minutes. Zhuo looks to capitalize on the opportunity at hand with 5,000 points in his home country and surfing alongside some of the world's best.
"I feel so happy right now and I'm so excited this being the first time WSL has had a big (QS) contest here," said Zhuo. "I just want to represent my country and it feels good to make it past the first heat. (I was) a little bit (nervous) but I talked to my coach and it feels way better when they tell me what to do – catch better waves and just do what you can do. (Surfing against these guys) gives me more experience. I want to be on the CT when I'm older and it's something I'll try my best at."
Cole Houshmand and Josh Moniz Light Up Riyue Bay
Some surfers stood apart from their follow contenders and San Clemente, California's, Houshmand did just that with a dominant forehand attack. The 19-year-old's variety of major maneuvers garnered an excellent 8.33 (out of a possible 10) and finished with the day's highest heat total of a 15.16 (out of a possible 20). 2019 was a breakout year for Houshmand and the young QS competitor now looks to go bigger in 2020. (Interview in video above)

"That was probably the best scenario for the first heat of the year and stoked to carry the momentum forward," said Houshmand. "I really had no idea what to expect other than a few friends telling me it's tropical, so I came in open-minded and I'm just excited to surf a little left-hand point. Last year my goal was to finish in the Top 100 and I finished at 75 so now that I'm in the Challenger Series I just want to give it my all and get a good result here."
 Moniz came out swinging and blasted the day's highest single-wave score in his Riyue Bay debut.
Credit: WSL/ HainSwell continued to deliver stunning moments with Moniz finding the day's best single-wave score of an 8.50 to put himself all but out of reach from his opponents. The Hawaiian's backhand looked in great rhythm during Round 1 Heat 20's afternoon hours as day one of competition neared its end. A fresh year ahead, Moniz hopes to join his younger brother Seth among the world's best and showed he's up to the challenge right out of the gates – hoping to join his sister Kelia as a Riyue Bay victor [a two-time WSL Longboard Champion at this location]."We have so many waves like this at home so it's pretty easy to surf knowing my boards all work," said Moniz. "The pace of the wave is really nice and once you connect with the first turn you just keep going up and down. It's so different from what we travel to but this wave is way better than a lot of the stops we have and I'm stoked I can. I'm happy to have an event right away after doing the Pipe trials then just enjoying some holidays with family."Former CT Elite Shine in Early Goings
Keanu Asing separated himself from his fellow former CT competitors including Joan Duru (FRA) and Patrick Gudauskas (USA), all advancing, with an excellent performance. The Kewalos, Hawaii, native showcased his world-renowned backhand that helped put him among the world's best for three-career years and now looks to get back there once more.

"It's pretty cool to get an early start to the year and I think last year was a tough year for me just learning about myself," said Asing. "I'm coming to the back end of my twenties and now just trying to better my craft and nothing better than to get started in January. I've never been here before and it's a bit of a journey but it's a cool place and just embracing the different challenges that come with it."

Ohhara Leads Strong Japanese Front 
 Hiroto Oharra looks to regain his form heading into 2020 and started brilliantly in China.
Credit: WSL/ NicholsOne of Japan's top competitors Hiroto Ohhara came out firing on all cylinders and led the way among his fellow compatriots traveling from just off mainland Asia. Ohhara's solid 2019 season unraveled in the final events of the year but the work he put in early helped keep him among the Top 50 heading into the early season start here at Riyue Bay. The 23-year-old unleashed a defiant backhand strike throughout his 2020 debut to notch an impressive 15.00 heat total."This is my first time here in China and it's totally different than Japan but it's still Asia so I feel comfortable here," said Ohhara. "When I saw the schedule come out I thought 'Gosh, it's super early' (laughs) but because last year I didn't do well at the end of the year I wanted to start early and start working for a lot of points. I saw the footage from five or six years ago and it looked really fun so I thought it'd be good trip with some of the boys."Ohhara is joined by a plethora of Japanese contenders including Joh Azuchi, Kato Arashi, Shuji Nishi, Yuri Ogasawara, Keanu Kamiyama, Keijiro Nishi and Rinta Ooto each winning their respective heats, among more joining them.Early Exits Ensue
Australia's Nicholas Squiers began the shift of upsets in taking out renowned waterman Kai Lenny.
Credit: WSL/ HainDespite some brilliant performances from some of the top QS threats, one of the world's most well-rounded waterman Kai Lenny (HAW) witnessed firsthand the QS grind with one of its warriors Nicholas Squiers (AUS) dismantling the heat. Lenny joined a handful of top-seeded competitors to face early elimination as one of Europe's top upcoming competitors Justin Becret (FRA) fell in his debut as well alongside 2019 WSL Junior Championship runner-up Kade Matson (USA), standout competitor Kauli Vaast (FRA) and more.Event organizers will convene at 6:45 a.m. CST to determine a possible start to either men's Round 2 or women's Round 1 of competition.The Corona China Open QS 5,000 hosted by Wanning will run at Riyue Bay, Wanning, Hainan Island, China in the best conditions between January 6 – 12. Tune in live throughout the event window via www.WorldSurfLeague.com, Facebook Live or the WSL App.CLICK HERE FOR CORONA OPEN CHINA ROUND 1 RESULTSFor more information, please visit WorldSurfLeague.com.
About the WSL 
The World Surf League (WSL) is dedicated to celebrating the world's best surfing on the world's best waves through a variety of best-in-class audience platforms. The organization, headquartered in Santa Monica, is a global sport with regional offices in Australia, Africa, North America, South America, Hawaii, Japan and Europe.The WSL has been championing the world's best surfing since 1976, annually running more than 180 global events across the Men's and Women's Championship Tours, the Big Wave Tour, Qualifying Series, Junior and Longboard Championships, as well as the WSL Big Wave Awards. The League possesses a deep appreciation for the sport's rich heritage while promoting progression, innovation and performance at the highest levels, and in doing so crowns the undisputed Men's and Women's World Champions across all tours.Showcasing the world's best surfing on its digital platform at WorldSurfLeague.com, the WSL has a passionate global fan base with millions tuning in to see world-class athletes like Kelly Slater, Stephanie Gilmore, Tyler Wright, John Florence, Lakey Peterson, Paige Alms, Kai Lenny, Steven Sawyer, Soleil Errico, Carissa Moore, Gabriel Medina, Courtney Conlogue and more battle on the most dynamic field of play of any global sport.For more information, please visit WorldSurfLeague.com