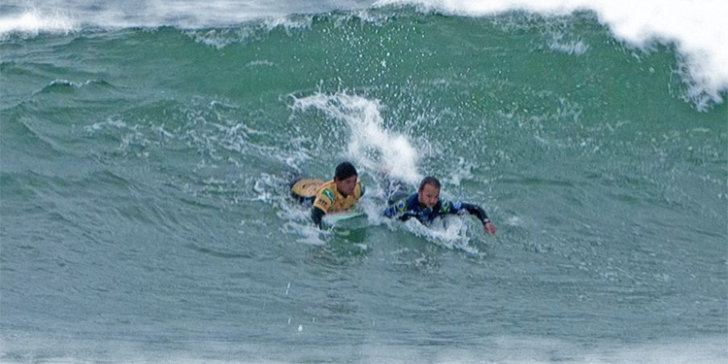 WSL Reveals Their Side Of The Medina/Ibelli Priority Scandal
Bottom line: "No re-surf. Caio was in the lineup first, further down the beach, and was rightfully rewarded priority."
Medina didn't listen or hear the priority on speaker nor look to see priority.

"No resurf. Caio was in the lineup first, further down the beach, and was rightfully rewarded priority. We can clearly hear the beach announcer say 'Priority is with blue."
The clip then cuts to the beach announcer, who says, "Caio with the first priority in blue, chasing a 9.37 for the lead."
Just two minutes passed when Medina got tangled up with Ibelli in a paddle-battle, leading to Medina's interference and eventual loss.
The WSL cuts to time-coded footage, showing Medina and Ibelli paddling out simultaneously after their rides.
Ibelli clearly gets past the impact zone before Medina. Caio even sits down on his board for a moment, before heading north toward the peak where Medina was settled.
"First, thank you very much for the support messages! Today I woke up in the morning and, thank God, my inbox was very different from when I went to sleep. It was overflowing with good messages," said Ibelli Opens in New Window this morning. "What happened in our heat was not nice to me either. I left totally quiet, respecting Medina, his team and the situation. My family and I were sleepless and the attacks we received during that time were very sad, often by people who do not surf or are not fans of the sport. We received all kinds of messages. It was very sad to see my mother like that reading the comments about her son.Thank God everything is changing and the good messages are coming. At no time did I want to cause interference or attempt to harm my opponent. I just followed what the judges and the priority board showed me. WSL has posted the official version of why the ruling was upheld for anyone who wants to see or have questions. I'm just a pro surfer doing what I love most in life and I'll be in the third quarterfinal heat trying my best to go far in this event. Thank you all for the affection."
Caio's fiancé and former CT surfer, Alessa Quizon said:
"It's unfortunate how much heat @caioibelli has already taken from this situation. I'm glad that clarity was justified on the interference. It is what it is. But what I found disappointing to me, was how some fans reacted to the call. At the end of the day both athletes are born and bred from the same country. Where I come from in Hawaii, we support our locals equally and back them 100%. one should never be pitted against the other. regardless of the situation. Caio's been taking some unnecessary hits/ comments that no human deserves. It's amazing to see how much passion fans have for their idols but it should come from a good place. No hate or malice. Both athletes are fighting for their dream/place on tour. The perspectives are different but both severe and equally important. Wishing all the athletes this year good vibes and positive energy from here on out. Thank you @wsl for giving us surfers the chance to make the dream happen."