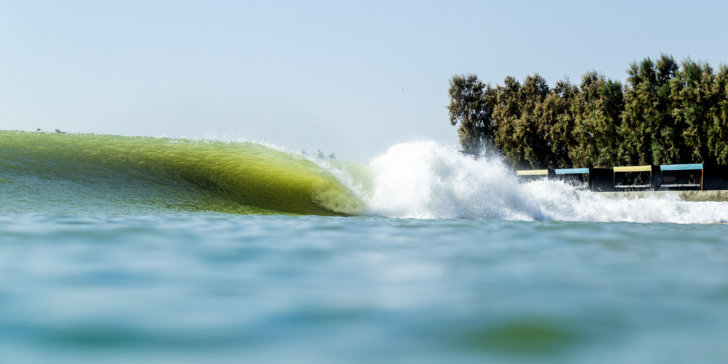 Men's Round 1 Starts at 8:12am PDT

Women's Round 1 Heat 1 Set to Follow
 Surf Ranch perfection for the world's best to shine as the Freshwater Pro pres. by Outerknown is on.
Credit: WSL/ Cestari
LEMOORE, California/USA (Thursday, September 19, 2019) – The World Surf League (WSL)  Freshwater Pro presented by Outerknown, the seventh stop on the women's Championship Tour (CT) and eighth stop of the men's CT has been called ON for an 8:12am PDT start. Men's Round 1 will start the day's action with heats 1, 2, 3, and 4 are all getting in the water before women's Round 1 finishes off opening day.
First up for the men, Soli Bailey (AUS) looks to regain his form he started with at the beginning of his rookie season at 8:12am PDT and will share the ski with CT sophomore Griffin Colapinto (USA) to start off Heat 1 alongside Michael Rodrigues (BRA), Jeremy Flores (FRA), recent Tahiti Pro Teahupo'o winner Owen Wright (AUS), and current World No. 7 Kanoa Igarashi (JPN).

Heat 2 features reigning WSL World Junior Champion Mateus Herdy (BRA) joining fellow countrymen Italo Ferreira and Yago Dora alongside Santa Barbara, California's, Conner Coffin, rookie sensation Seth Moniz (HAW), and three-year CT veteran Joan Duru (FRA) before the break.

Following the intermission, wildcard threat Barron Mamiya (HAW) joins 11-time WSL World Champion Kelly Slater (USA), reigning, two-time WSL World Champion Gabriel Medina (BRA) and his countrymen Jesse Mendes (BRA), Deivid Silva (BRA) and Peterson Crisanto (BRA).

Heat 4 concludes men's action with current World No. 3 Kolohe Andino (USA) alongside fellow San Clemente, California, native and wildcard Crosby Colapinto, Australian trio Julian Wilson (AUS), Wade Carmichael (AUS), and Ace Buchan (AUS) as well as CT veteran Jadson Andre (BRA).

Opening day finishes with women's Round 1 Heat 1 featuring seven-time WSL World Champion Stephanie Gilmore (AUS) and Santa Barbara's own Lakey Peterson (USA) alongside CT veterans Malia Manuel (HAW), Silvana Lima (BRA), and Paige Hareb (NZL).
Ticket Packages
General admission tickets are available for Saturday, September 21, for $55 each for adults. VIP passes will grant exclusive access to attend on Friday, September 20, as well as Saturday, September 21. VIP passes are available from $299 (single-day) to $499 (two-day). Grom tickets are free to kids under 10 years old. Please note, fans must either purchase a VIP pass or a general admission Saturday pass to access The Raconteurs concert. There are no concert-only tickets available. For current ticket holders (VIP or GA), there is no additional charge to attend the concert.Grab a group and share a private cabana for a memorable experience. Contact ticketing@worldsurfleague.com to coordinate Cabana packages. For more information and to purchase tickets, visit: wslfreshwaterpro.com.
About Outerknown 
Outerknown is a coastal men's and women's lifestyle brand made For People and Planet. Every decision at Outerknown is made with the highest regard for the hands that craft our clothes and the world we call home. From seeds to suppliers to circular design, the mission is to not only craft beautiful, lasting wardrobe staples, but to protect natural resources, empower the people crafting our clothes, and inspire change within the industry and beyond by being completely transparent about our process. From our launch, we have created trusted partnerships with companies such as Fair Trade USA, bluesign® and Econyl®. By patterning our supply chain processes around the Fair Labor Association guidelines, we reached full accreditation by the FLA in two and a half years, faster than any other clothing brand ever. Outerknown proves that sustainability and style can be synonymous and neither has to be sacrificed for the other.Outerknown has partnered with the WSL to create special edition merchandise for the Freshwater Pro Presented by Outerknown! Grab your merchandise online or at the event!
About the WSL 
The World Surf League (WSL), established in 1976, is the enablement platform for surfing and surfers worldwide. The WSL is dedicated to changing the world through the inspirational power of surfing by creating authentic events, experiences, and storytelling to inspire a growing, global community to live with purpose, originality, and stoke.The WSL is a global organization, headquartered in Santa Monica and with regional offices in North America, Latin America, Asia Pacific, and EMEA. The WSL possesses a deep appreciation for the sport's rich heritage while promoting progression, innovation, and performance at the highest levels.The WSL is comprised of Tours & Events, celebrating the world's best surfers across all disciplines and annually running more than 180 global contests and crowning the undisputed World Champions across all divisions; WSL WaveCo, where innovation meets experience; and WSL Studios, which offers best in class storytelling across competition, lifestyle, and conservation.For more information, please visit WorldSurfLeague.com