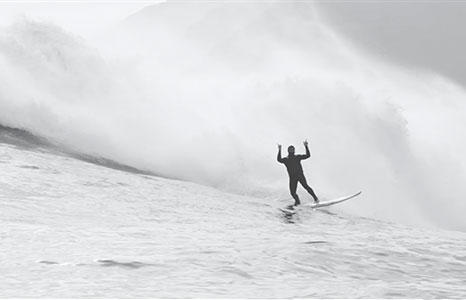 About the Film:
Part of Honolulu Surf Film Festival 2019.
Directed by Rick Wall. 2018. South Africa. 53 min.
Satori documents a close-knit group of surfers who have dedicated their lives to the ocean and riding the huge waves on the shores of picturesque Cape Town, South Africa. Their passion is riding huge waves at two surf breaks situated in South peninsula, the infamous Dungeons below the sentinel mountain in Hout Bay and Sunset Reef 1km out to sea off the small seaside village of Kommetjie. While each surfer is surfing these waves for different reasons, the film discovers that there is a connection that they all feel and believe in.
-preceded by-
Guardian Angel
Directed by Mikey Corker and Alex Laurel. 2019. Portugal. 13 min.
Award-winning filmmakers Mikey Corker and Alex Laurel teamed-up with The Red Bulletin and spent the winter documenting an unknown hero of the world's most famous big wave venue—Praia do Norte, Nazaré, Portugal. His name is Sérgio Cosme and he's been a professional driver his whole life, beginning with motocross and ending with rally car racing. But in the last five years, Cosme has focused on being a rescue jet ski driver on the biggest days at Nazaré. Out-running 20+ meter mountains of swell to save up the surfers attempting to ride them, Cosme has placed himself in one of the highest stakes positions in sport—and all of it for little money or accolades. Why risk so much for so little?
Honolulu Surf Film Festival 2019.