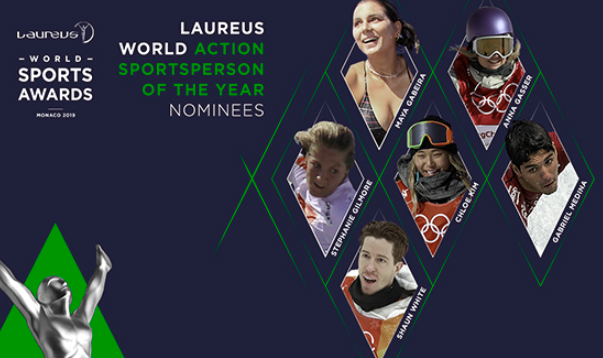 The full list of Laureus World Action Sportsperson of the Year nominations is here.
What a shortlist!
Surfing and snowboarding superstars lead the nominations for the Laureus Action Sportsperson of the Year Award.
Australian surfing great Stephanie Gilmore, who won her record-equaling 7th world title in Hawaii last Dec, is nominated alongside two Brazilians: men's 2X world champion Gabriel Medina and record-breaking big-wave surfer Maya Gabeira.
Also in contention in the category are US Winter Olympic snowboard champions Chloe Kim and Shaun White and Austrian Big Air gold medalist Anna Gasser.
The Laureus World Sports Awards is the world's annual leading international sports recognition.
It will be for Action Sportsperson of the Year, so any one of the three WSL surfers who have been recognized for this title could win.
Stephanie Gilmore, Gabriel Medina and Maya Gabeira all received the nod from the organization that supports over 100 community projects around 40 countries.
Winners, as voted for by the 66 members of the Laureus World Sports Academy, to be unveiled at the 2019 Laureus World Sports Awards in Monaco on February 18.
To learn more about the Laureus, please visit the Laureus Website.