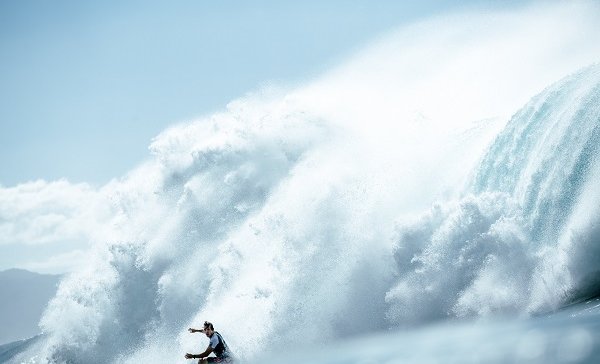 Vans Triple Crown of Surfing Race Narrows to Final Four
Only 12 Competitors Remain at Men's Championship Tour Finale
2012 WSL Champion Parkinson Not Yet Finished at Career-Ending Event
More Available at WorldSurfLeague.com
Pictured: World Title contender Julian Wilson (AUS) advances to Round 4 at the Billabong Pipe Masters in Memory of Andy Irons.
Credit: © WSL / Sloane
Billabong Pipe Masters Round 4 Matchups:
Heat 1: Ryan Callinan (AUS), Jordy Smith (ZAF), Conner Coffin (USA)
Heat 2: Michel Bourez (PYF), Sebastian Zietz (HAW), Gabriel Medina (BRA)
Heat 3: Yago Dora (BRA), Julian Wilson (AUS), Joel Parkinson (AUS)
Heat 4: Jesse Mendes (BRA), Joan Duru (FRA), Kelly Slater (USA)
BANZAI PIPELINE, Oahu/Hawaii (Sunday, December 16, 2018) – The Billabong Pipe Masters in Memory of Andy Irons, the final stop on the 2018 World Surf League (WSL) Men's Championship Tour (CT) and final jewel of the Vans Triple Crown of Surfing (VTCS), saw a climactic day of competition as Rounds 2 and 3 were called on in excellent Pipe conditions with wave face heights reaching 15-to-20 feet.

The shocking elimination of World No. 2 Filipe Toledo (BRA) saw the Brazilian's hope for a world title dissolve at the hands of 11x World Champion Kelly Slater (USA) in the final heat of the day (Round 3 Heat 12). Meanwhile, World No. 1 Gabriel Medina (BRA) also endured heavy heats, but ultimately survived to continue his fight for the prestigious World Title alongside Julian Wilson (AUS).
11x WSL Champion Slater Eliminates World Title Hopeful Toledo 
Pictured: Filipe Toledo of Brasil has been eliminated from the 2018 World Title race and the Billabong Pipe Masters by 11x World Champion Kelly Slater.
Credit: © WSL / Cestari
The day's final heat carried huge repercussions as 11-time World Champion Slater took on the World Title hopeful Toledo. The Floridian put a first good score on the board with a decent backdoor tube but the excitement reached an all-time high when both surfers started on back-to-back bombs on the 10-minute mark. Slater found the exit for an 8.67 (out of a possible 10) and Toledo looked like he was coming out of a perfect ride until the lip clipped him at the very last second. The result remained unchanged and Slater advanced into Round 4, ending Toledo's World Title campaign, just shy of the final competition day of the season.

"I shared a little lineup stuff with Filipe," Slater said. "I wanted to see a good battle come down. And just as a fan, I wanted to see a come from behind victory, at least a good battle in the end. We just had a couple of texts back and forth, you know, I really did want to help him out, but I didn't I guess. It was fun, there was a lot of action out there. I saw a lot of good waves go unridden, I feel like I got lucky. Filipe didn't go into a really good backdoor wave, it's just experience, he didn't quite see what they were going to do."
Pictured: 11x WSL Champion Kelly Slater (USA) upsets the 2018 World Title race and advances to Round 4.
Credit: © WSL / Cestari
In his sixth season among the world's best surfers, Toledo put on a great fight and claimed two event wins at the Oi Rio Pro and the Corona Open J-Bay earlier this summer, to arrive in Hawaii tied for second place on the rankings with Wilson. Unfortunately, his run for a maiden World Title came to an abrupt end in Round 3 when he could not defeat Slater.

"I took a really bad wipeout at the end of that wave and everything went black for a few seconds," Toledo said. "This is surfing, we put in so much work all year long, sometimes going away from the family on a trip to get better in waves like this, so this is hard. But I'm definitely proud of myself. I've had an amazing year as a father, as a son, as a professional surfer, it was really amazing. I'm definitely sad right now but at the same time it was an honor to surf perfect, heavy Pipe with Kelly in the water."
World Title Showdown Between Medina and Wilson Continues to Elimination Round 4
Pictured: 2014 WSL Champion Gabriel Medina (BRA) will face Michel Bourez (PYF) and Sebastian Zietz (HAW) in Round 4 Heat 2.
Credit: © WSL / Sloane (Top, Bottom Left), Cestari (Bottom Right)
Medina's World Title hopes were on the line this afternoon in Round 3 when the Brazilian faced lethal replacement surfer Seth Moniz (HAW) in pumping surf. The Hawaiian was first to put a serious number on his scorecard with a good barrel at Backdoor for a 6.33 that pressured Medina to answer. The current Jeep Frontrunner stuck to the lefts and rode a critical tube for a 7.70 to turn the situation but Moniz kept chasing waves and once again jumped in the lead with a 5.50 on his backhand. With six minutes on the clock, the 2014 World Champion dropped into a final Pipe bomb and made it out clean for a 6.60 and the win into Round 4.

"I was really excited to wake up and finally see the waves," Medina said. "I thought it was going to be bigger but it's still pretty good. It's really fun when you find the good ones but it's challenging out there, it's not easy. I'm really focused on my next round. It's going to be a good one and hopefully, I can find more barrels."

With the dual-heat system in play, Julian Wilson (AUS) entered the water while Medina was still surfing and witnessed his advancing. After a couple of unsuccessful tries, the current No. 2 in the world rode a solid right and laid into a good carve for a 6.00 and the lead over Miguel Pupo (BRA). Pupo answered with a 5.83 for a good left-hand barrel but Wilson kept the lead. In the dying seconds of their matchup, both surfers started on the same wave, splitting the peak, Wilson going right and Pupo on the left. The wave shut down and the situation remained unchanged with Wilson advancing into Round 4 to keep his World Title hopes alive.

"I just took all the experience I have and I let Pipe and Backdoor decide my destiny there," Wilson said. "I just put myself in position, gave myself chances and never gave up. I feel like my injury and my year is kind of all coming together at the right time and I'm excited to put on a good performance."

The Men's World Title Scenarios at the Billabong Pipe Masters:

– If Gabriel Medina finishes 1st or 2nd at the Billabong Pipe Masters, he wins the World Title;
– If Gabriel Medina finishes 3rd at the Billabong Pipe Masters, Julian Wilson will need to finish 1st;
– If Gabriel Medina finishes 5th-25th, Julian Wilson will need a 2nd or 1st at Pipe.
2012 WSL Champion Parkinson Still Advancing at Career-Ending Event
Pictured: 2012 World Champion Joel Parkinson (AUS) advances at the Billabong Pipe Masters, the final event of his career.
Credit: © WSL / Sloane (Top), Heff (Bottom Left), Cestari (Bottom Right) 
Former Pipe Master and 2012 World Champion Joel Parkinson (AUS) advanced through one more heat in the last professional surfing event of his career with a clinic on forehand barrel riding.

The Australian started on a big Backdoor set and locked in deep, exiting right before the whole wave collapsed, posting an excellent 8.77 in the process. While Kanoa Igarashi (JPN) struggled to find any wave of consequence, Parkinson stayed in tune with the lineup and scored another good barrel on his backhand, this time for a win into Round 4.

"Tomorrow will be my last day of competitive surfing ever in my life so I'll enjoy it," Parkinson said. "I've made it to the last day of the year and no matter what I'll never surf another WSL event for purpose again. I was expecting a right at any time, I was up for anything, I was just lucky that right came in and I got barreled and I just backed it up with a small four. 8.77, guys are winning heat totals with that and I was just lucky to get it all in one wave and just get a little score after."
Vans Triple Crown of Surfing Race Narrows to Final Four
Pictured (Top): VTCS leader Jesse Mendes (BRA). Credit: © WSL / Sloane. Pictured (Bottom Right): VTCS contender Joan Duru (FRA). Credit: © WSL / Cestari. Pictured (Bottom Left): 2017 VTCS winner Griffin Colapinto (USA). Credit: © WSL / Sloane
At this stage, only four surfers remain in contention for the prestigious VANSTriple Crown of Surfing title. Jesse Mendes (BRA) leads the rankings and is closely followed by Parkinson, Jordy Smith (ZAF) and Joan Duru (FRA). 2017 Vans Triple Crown of Surfing winner, Griffin Colapinto (USA), was eliminated in Round 3 Heat 5 by Sebastian Zietz (HAW).

While the day was filled with jaw-dropping action and a few scary wipeouts from the world's best surfers, only two athletes tasted the near-perfection of Pipeline, namely Ryan Callinan (AUS) and VTCS contender Duru. In their Round 2 heats, both surfers found incredible rides and posted the day's highest numbers, Callinan on top with a near-perfect 9.17 and a 7.67 to back it up. Duru's best ride came in as an 8.93 for a deep and foamy left-hand barrel. While Callinan's future is sealed – the Australian officially qualified for the CT in 2019 – Duru's career is on the line as the Frenchman currently sits in 23rd position on the rankings, and has a final chance to move up the ranks in this event.

With a 13th place result in this event and the elimination of his last opponents today, Wade Carmichael (AUS) has officially built a strong enough lead to claim the 2018 Rookie of the Year award.
Billabong Pipe Masters Round 2 Results:
Heat 1: Filipe Toledo (BRA) 12.70 def. Benji Brand (HAW) 11.76
Heat 2: Seth Moniz (HAW) 12.77 def. Owen Wright (AUS) 10.00
Heat 3: Wade Carmichael (AUS) 2.93 def. Caio Ibelli (BRA) 1.36
Heat 4: Kanoa Igarashi (JPN) 5.16 def. Keanu Asing (HAW) 4.06
Heat 5: Miguel Pupo (BRA) 10.06 def. Kolohe Andino (USA) 5.00
Heat 6: Kelly Slater (USA) 8.00 def. Willian Cardoso (BRA) 1.63
Heat 7: Ryan Callinan (AUS) 16.84 def. Adrian Buchan (AUS) 6.10
Heat 8: Jeremy Flores (FRA) 5.56 def. Ian Gouveia (BRA) 1.90
Heat 9: Jesse Mendes (BRA) 5.40 def. Ezekiel Lau (HAW) 3.93
Heat 10: Sebastian Zietz (HAW) 4.27 def. Patrick Gudauskas (USA) 3.83
Heat 11: Connor O'Leary (AUS) 6.17 def. Frederico Morais (PRT) 2.47
Heat 12: Joan Duru (FRA) 16.60 def. Tomas Hermes (BRA) 1.26Billabong Pipe Masters Round 3 Results:
Heat 1: Ryan Callinan (AUS) 8.77 def. Italo Ferreira (BRA) 2.43
Heat 2: Jordy Smith (ZAF) 10.16 def. Michael February (ZAF) 2.56
Heat 3: Conner Coffin (USA) 13.00 def. Matt Wilkinson (AUS) 6.40
Heat 4: Michel Bourez (PYF) 11.70 def. Connor O'Leary (AUS) 7.36
Heat 5: Sebastian Zietz (HAW) 8.00 def. Griffin Colapinto (USA) 5.24
Heat 6: Gabriel Medina (BRA) 14.30 def. Seth Moniz (HAW) 11.83
Heat 7: Yago Dora (BRA) 5.27 def. Jeremy Flores (FRA) 2.64
Heat 8: Julian Wilson (AUS) 8.43 def. Miguel Pupo (BRA) 7.00
Heat 9: Joel Parkinson (AUS) 13.20 def. Kanoa Igarashi (JPN) 1.10
Heat 10: Jesse Mendes (BRA) 7.17 def. Wade Carmichael (AUS) 2.84
Heat 11: Joan Duru (FRA) 8.20 def. Michael Rodrigues (BRA) 4.86
Heat 12: Kelly Slater (USA) 15.60 def. Filipe Toledo (BRA) 6.77