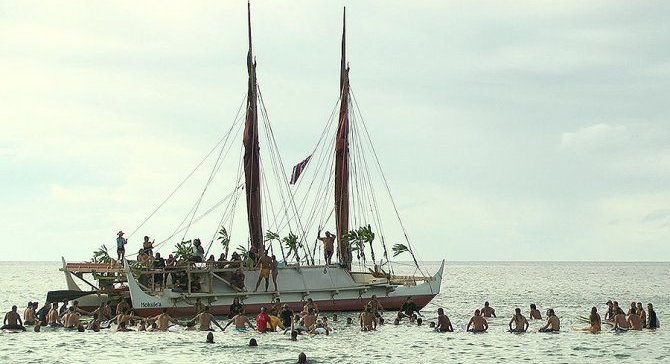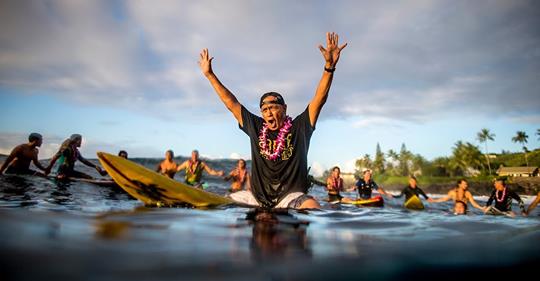 Younger Brother Clyde has held up Eddie's honor for decades.
Front Page: Surfers and ceremony attendees gathered around Hokule'a for the traditional start of the Eddie Aikau Big Wave Invitational. (Image: Hawaii News Now)
The celebrated opening ceremony for the Eddie Aikau Big Wave Invitational took place at Waimea Bay Thursday, Nov 27, just four days after one of the Biggest NW swells in ages.
The ceremony featured the Legendary Aikau family, invited Big Wave Riders, along with Hokulea and throngs of admirers, young and old.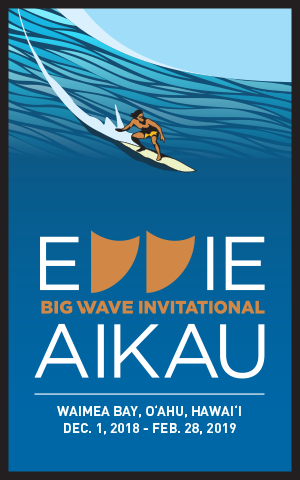 "We're so privileged to share that with the public and the world, and with Hokulea in the background, it's just chicken skin," claimed Eddie's younger brother, Clyde Aikau.
The last time the Eddie was held was in 2016, in the largest surf the event had ever seen, and John John Florence Won.
The cultural and athletic contest faced some challenges in recent years, but thanks to the amazing support of three new sponsors.
Special Thanks goes to these people wanting to "acknowledge and align with Eddie's Hawaiian roots".
The Aikau family now has support from Kamehameha Schools, Office of Hawaiian Affairs (OHA), and Waimea Valley.
"The Aikaus have partnered with new sponsors to celebrate and honor the life and legacy of our brother, Eddie," said Solomon Aikau.
Opening Ceremonies kicked-off off the waiting period Thursday, November 29th at 2:00 pm.
Surfers will get a shot at the coveted title: Eddie Will Go…Surf permitting.
SNN outlook. So far models suggest a BIG 12-18+' NW on the way for Wednesday and Thursday of next week Dec 5 & 6. It fills in Wednesday but again it seems as though the size may be just a notch too small for The Eddie standard of 15-25′ average during one full day. Indeed, the waves on this next one will not be as big as the XXL we just had Monday 11/24. SNN.
The one-day event can only take place if and when waves meet a 20-foot minimum height during the holding period of Dec. 1, 2018, through Feb. 28, 2019.
Twenty-eight surfers and nearly 60 alternates were invited this year:
Invitees
Grant Baker
Lucas Chianca
Ross Clarke-Jones
Danilo Couto
Shane Dorian
Nathan Fletcher
John John Florence
Nathan Florence
Sunny Garcia
Aaron Gold
Mark Healey
Mason Ho
Bruce Irons
Billy Kemper
Keala Kennelly
Ekeziel Lau
Kai Lenny
Greg Long
Keali'i Mamala
Garrett McNamara
Jamie Mitchell
Jamie O'Brien
Joel Parkinson
Makuakai Rothman
Koa Rothman
Kelly Slater
Takayuki Wakita
Ian Walsh
Dave Wassel
Alternates
Kyle Shipman
Michael Ho
Landon McNamara
Luke Shepardson
Ramon Navarro
Reef McIntosh
Kohl Christensen
Chris Owens
Tyler Laron
Ben Wilkinson
Kala Alexander
Rodrigo Koxa
Tom Carroll
Paige Alms (for Keala Kennelly)
Mark Mathew
Jamie Sterling
Shawn Dollar
Carlos Burle
Gabriel Villaran
Kahea Hart
Damien Hobgood
Kalani Chapman
Ryan Hipwood
Danny Fuller
Nic Lamb
Anthony Tashnick
Rusty Long
Derek Dunfee
Jeremy Flores
Noah Johnson
Peter Mel
Andrew Cotton
Duane DeSoto
Kainoa McGee
Ikaika Kalama
Tyler Fox
Brad Gerlach
Vincent Lartizen
Mike Parsons
Axi Muniain
Benjamin Sanchis
Damien Warr
Sebastian Steudtner
Eric Akiskalian
Dan Corbett
Francisco Porcella
Antonio Silva
Gautier Garanx
Antonio Balau
Mick Corbett
Jarryd Foster
Lance Hoʻokano
Rusty Keaulana
Hugo Vau
Pedro Scooby
Yuri Soledade
Trevor Sven Carlson