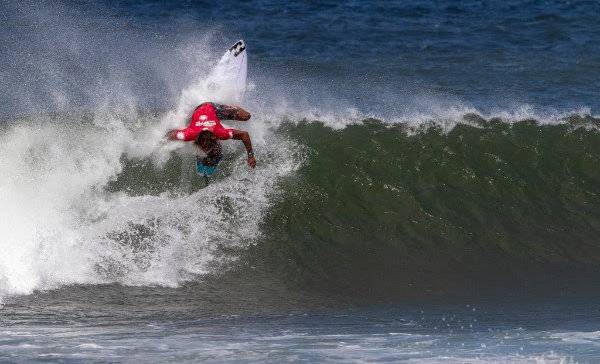 – MIXES LOCAL AND INTERNATIONAL TALENT 
– HIC PRO WINNER KIRON JABOUR (HAW) ONTO ROUND 2
– VICTOR BERNARDO (BRA) SCORES HIGHEST WAVE SCORE OF THE DAY

THE FIRST JEWEL SAW HIGH-PERFORMANCE 2-4ft. NNW + SOME NEW SMALL NW SURF MIXING. ENE TRADES HELPED IMPROVED THE EARLY BUMPY CONDITIONS AS THE DAY WENT ON. SURF FADED ON THE CURRENT NNW TO 3′  TUESDAY AM. ANOTHER LARGER NNW INCREASES BUT LATE 2ND HALF OF THE DAY UP TO ABOUT 4-6′ (DBL OVERHEAD) BY EVENING AT ALI'I BEACH PARK. WATCH FOR DAY 2 TO GO AT THIS SIZE. TRADES WILL BE LIGHT WITH A CHANCE OF LIGHT ONSHORE SEABREEZES TOWARD MIDDAY-AFTERNOON. AN EVENING GLASS OFF IS LIKELY.   SNN/GQ
Victor Bernardo stamped out the day's highest single wave score, an 8.33, on the opening day of the Hawaiian Pro Men's QS 10,000 at Haleiwa Ali'i Beach Park. 
Credit:
 © WSL / Keoki
Event / Rating:      Hawaiian Pro, Men's QS 10,000
Window:                 November 12 – 24
Today's Call:          Round 1 Heats 1- 16, Completed
Conditions:           Haleiwa, Oahu/HAWAII — (Monday, November 12, 2018) – 
The 36th Annual 
Vans Triple Crown of Surfing
 fired into action on opening day of the holding window, as Round 1 of the 
Hawaiian Pro 
saw North Shore standouts like 
Kiron Jabour (HAW)
, 
Finn McGill (HAW)
 and 
Mason Ho (HAW)
claim their stake in Round 2 alongside international Qualifying Series (QS) hopefuls 
Victor Bernardo (BRA)
, 
Noe Mar McGonagle (CRI)
 and 
Adin Masencamp (ZAF)
. The Hawaiian Pro is a World Surf League (WSL) Men's QS 10,000 event and will count toward 2019 Championship Tour (CT) qualification, plus an early lead on the Vans Triple Crown of Surfing (VTCS) Champion title.Jabour is riding high with confidence after his recent win at the 
HIC Pro
 Men's QS 3,000, which took place at Sunset Beach as the local qualifying event for the VTCS, and easily surfed his way into first advancing position with a combined heat total of 11.00 (out of a possible 20). He applied keen wave selection while tallying four waves and earned the highest score of the heat, a 6.50, utilizing stylish and committed surfing.Jabour's win on home turf instilled a renewed confidence in the surfer after a year of competing on the QS with mediocre results. Ahead of the Hawaii season, he spent time in Portugal and enjoyed preparing for an above-average winter of waves, which is expected thanks to a trending El Niño weather pattern.
Jabour jumped to No. 56 on the QS after his victory at the HIC Pro two weeks ago. Credit: © WSL / Keoki
"(Portugal) is great practice for over here with all the reef breaks, I got to paddle Nazaré before I came here and I got to even feel a big board, big energy," said Jabour. "It's perfect pre-season for the winter over here. I love it." He and Big Island athlete 
Torrey Meister (HAW)
 will surf in Round 2 once competition resumes.Brazil's 
Victor Bernardo
 posted the day's highest single wave score, an 8.33 for excellent power surfing in Round One Heat 9. Bernardo attacked his final wave of the heat with a solid snap off the top and then flowed into a big, wrapping turn and completed the ride with a committed closing maneuver. He and fellow advancing competitor 
David Van Zyl (ZAF)
 eliminated two local athletes – 
Noah Hill (HAW)
 and 
Sheldon Paishon (HAW)
 – on their hunt for points and prestige.Bernardo arrived early to Hawaii for a competitive warm up at the HIC Pro; 2018 marks his third consecutive showing in the VTCS. Currently ranked No. 67 on the QS, he will improve his standings if he can maintain rhythm and forge a strong finish at the Hawaiian Pro."I just try to come here and stay as long as I can and surf here, get used to the waves," said Bernardo. "It's way more powerful and it gets bigger, I'm not used to that in Brazil so I always take advantage of the opportunity to come here."
Tahitian powerhouse Massin carried his momentum from Sunset Beach to Haleiwa for a Round 1 win. Credit:

 © WSL / Heff
Freshly crowned 2018 WSL Hawaii/Tahiti Nui Regional QS Winner, 
O'Neill Massin (PYF)
, moved onto the next round after advancing behind 
Jack Robinson (AUS)
 in an internationally mixed, competitive heat. Robinson was able to secure two mid-range scores – a 5.17 and 6.33 – while Massin earned second after scoring a 6.07 on his final ride. Massin won the regional QS circuit at the HIC Pro after a runner-up finish to Jabour, which was his goal for 2018, and now looks forward to enjoying his time competing in the VTCS."I feel confident, just have fun, no pressure," said Massin. "I did my job, I said my goal was the regional, so I'm stoked to be here in Haleiwa and in the Triple Crown… I think for next year my goal will be to win the Triple Crown and qualify for the CT."
Robinson displayed a well-rounded repertoire today and switched up his usual big wave game with the smaller surf on offer at Haleiwa. With good wave selection and consistency, Robinson moved one step closer to his ultimate goal.

Robinson stayed busy in the lineup during Heat 13 and displayed clean backhand surfing to advance in first. Credit: © WSL / Heff
"That's the whole goal is to get to the tour," said Robinson. "When I come here and see these two events, get to the end of the year, I can't do anything else other than just go out and surf, and that's when I do my best. Just go out and try to find the best waves and let it all go from there. Whoever gets the best waves gets to show what they've got and that's who you're sparring against. Can't do much else other than just surf, that's what it's all about in these events for me."
Many athletes took to the air in the ramp-like waves today, but the flying standout was Tahiti's Mihimana Braye (PYF) who earned a 7.00 on a tail-high air reverse – his highest and cleanest aerial maneuver of Heat 4.
"I've been training at my home break of Papara and the left is kind of similar to this," said Braye. "I'm feeling confident, I have some good boards, my DHD works good. I'm feeling good and can't wait for the next one." Braye went against a stacked heat that included Hawaiian phenom Mason Ho (HAW), Maui's upstart Cody Young (HAW) and Gatien Delahaye (FRA).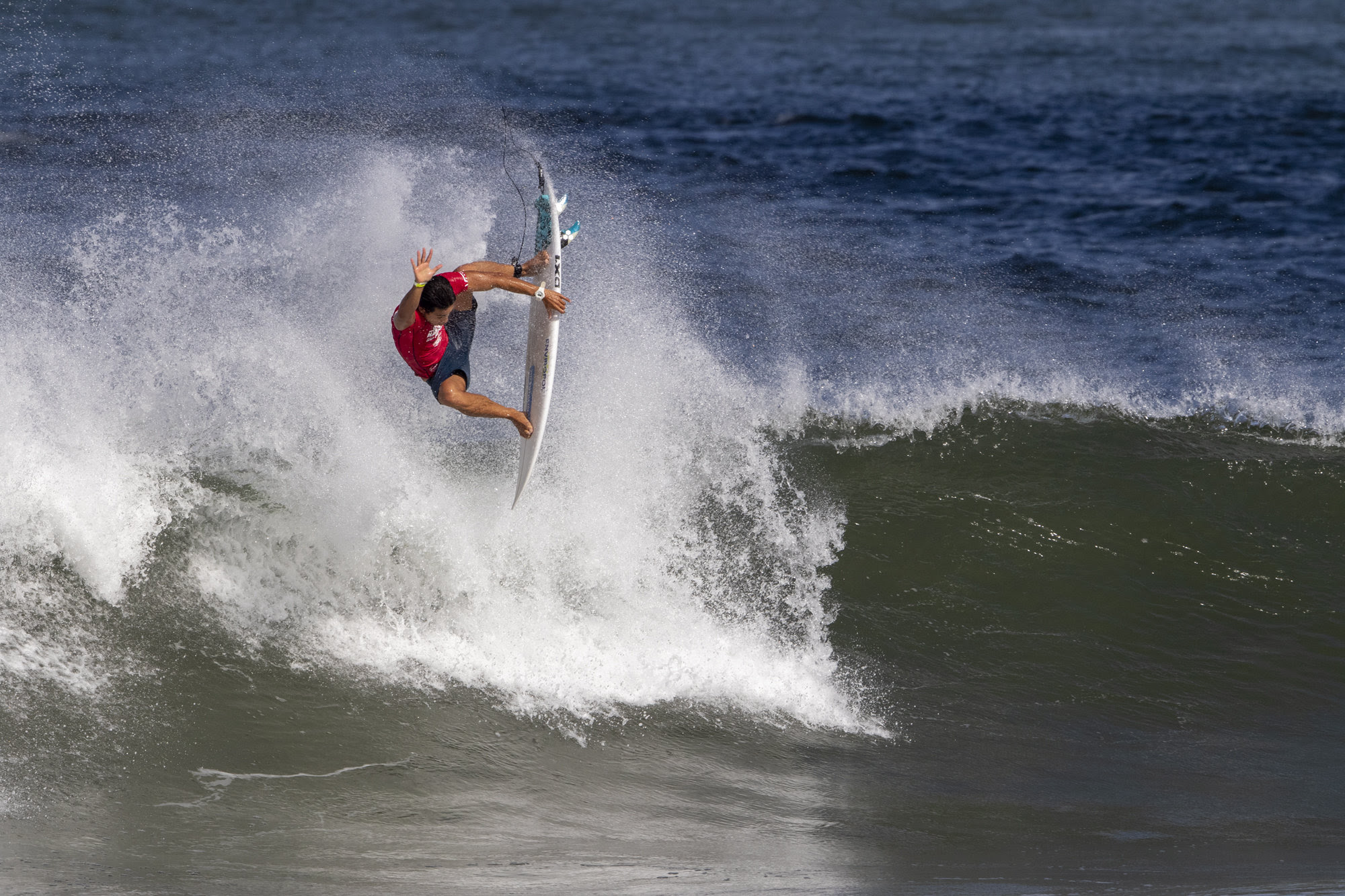 With a mix of aerial maneuvers and power surfing, Braye looked in-form at Haleiwa. Credit: © WSL / Keoki
"It was a hard one actually, first heat is always the hardest one," Braye continued. "You want to get your rhythm going so I'm pretty stoked to make this heat. I felt a little bit stressed at the beginning catching some waves, but after I was like, 'okay I need to go for it. I need to boost if I want to get some scores.' It's a 10,000 so you have to step up your game and show your real level."
Each event of the 2018 Vans Triple Crown of Surfing will run on the four best days of surf within the event's holding window. LIVE streaming is available on WorldSurfLeague.com, VansTripleCrownOfSurfing.com, Facebook.com/wsllive and the WSL and Facebook apps (Facebook login required for mobile viewing). Or tune into Spectrum SURF Channel, which will televise the action LIVE and in replay on digital channels 20 and 1020HD, across the state of Hawaii.
Hawaiian Pro Results
Athletes listed in 1st through 4th
Round 1 (1st and 2nd advance, 3rd = 97th place, 4th = 113th place)
H1: Jeronimo Vargas (BRA), Mateus Herdy (BRA), Lahiki Minamishin (HAW), Leandro Usuna (ARG)
H2: Liam O'Brien (AUS), Ramzi Boukhiam (MAR), Luel Felipe (BRA), Eala Stewart (HAW)
H3: Finn McGill (HAW), Lucas Silveira (BRA), Flavio Nakagima (BRA), Ocean Macedo (HAW)
H4: Mihimana Braye (PYF), Mason Ho (HAW), Cody Young (HAW), Gatien Delahaye (FRA)
H5: Elijah Gates (HAW), Kei Kobayashi (USA), Imaikalani deVault (HAW), Koa Smith (HAW)
H6: Jacob Willcox (AUS), Benji Brand (HAW), Joh Azuchi (JPN), Kainehe Hunt (HAW)
H7: Santiago Muniz (ARG), Noe Mar McGonagle (CRI), Kekoa Cazimero (HAW), Ragael Teixeira (BRA)
H8: Adin Masencamp (ZAF), Aritz Aranburu (ESP), Ulualoha Napeahi (HAW), Ian Gentil (HAW)
H9: Victor Bernardo (BRA), David Van Zyl (ZAF), Noah Hill (HAW), Sheldon Paishon (HAW)
H10: Joshua Burke (BRB), Oney Anwar (IDN), Beyrick De Vries (ZAF), Vehiatua Prunier (PYF)
H11: Kiron Jabour (HAW), Torrey Meister (HAW), Logan Bediamol (HAW), Tomas Tudela (PER)
H12: Skip McCullough (USA), Jackson Baker (AUS), Cole Alves (HAW), Jamie O'Brien (HAW)
H13: Jack Robinson (AUS), O'Neill Massin (PYF), Marco Fernandez (BRA), Michael O'Shaughnessy (HAW)
H14: Makai McNamara (HAW), Shayden Pacarro (HAW), Wiggolly Dantas (BRA), Reo Inaba (JPN)
H15: Cooper Chapman (AUS), Tereva David (PYF), Kalani Ball (AUS), Dylan Lightfoot (HAW)
H16: Ian Crane (USA), Noa Mizuno (HAW), Evan Valiere (HAW), Davey Cathels (AUS)
About Vans
Vans®, a VF Corporation (NYSE: VFC) brand, is the original action sports footwear, apparel and accessories brand. Vans® authentic collections are sold in 84 countries through a network of subsidiaries, distributors and international offices. Vans® has over 2,000 retail locations globally including owned, concession and partnership doors. The Vans® brand promotes creative self-expression in youth culture across action sports, art, music and street culture and delivers progressive platforms such as the Vans Park Series, Vans Triple Crown of Surfing®, Vans Pool Party, Vans Custom Culture, and Vans' cultural hub and international music venue, House of Vans.
The rights to the images attached or accessed by link within this email are granted by the Association of Surfing Professionals LLC ("World Surf League") for editorial use only. No commercial rights are granted to the Images in any way. The Images are provided on an "as is" basis and no warranty is provided for use of a particular purpose. Rights to individuals within the Images are not provided. The copyright is owned by World Surf League. Sale or license of the Images is prohibited. ALL RIGHTS RESERVED.The rights to the audio/visual content attached or accessed by link within this email ("Footage") are granted by the Association of Surfing Professionals LLC ("World Surf League") to you (the email recipient) and any entity you forward the same to pursuant to the terms and conditions below ("Footage License"): By opening or accessing the Footage, you accept the terms of this Footage License. The rights to the Footage (or any part of it) are royalty-free and granted for editorial use or news service use only and this Footage License will expire one (1) week from the date the event subject to this Footage License concludes. No rights for commercial use or modification of the Footage are granted in any way, including any association made with a commercial brand or message. Where the Footage is used in any way online, a link to www.worldsurfleague.com must exist where the Footage is visible. The Footage is provided, and must be used on an "as is" basis and no warranty is provided for its use by you. Rights to individuals or brands (except WSL) within the Footage are not granted. World Surf League owns all rights, including copyright to the Footage. ALL RIGHTS NOT SPECIFICALLY PROVIDED ABOVE ARE RESERVED BY WORLD SURF LEAGUE.
---
About the WSL
The World Surf League (WSL) is dedicated to celebrating the world's best surfing on the world's best waves through a variety of best-in-class audience platforms. The organization, headquartered in Santa Monica, is a global sport with regional offices in Australasia, Africa, North America, South America, Hawaii, Japan and Europe.The WSL has been championing the world's best surfing since 1976, annually running more than 180 global events across the Men's and Women's Championship Tours, the Big Wave Tour, Qualifying Series, Junior and Longboard Championships, as well as the WSL Big Wave Awards. The League possesses a deep appreciation for the sport's rich heritage while promoting progression, innovation and performance at the highest levels, and in doing so crowns the undisputed Men's and Women's World Champions across all tours.Showcasing the world's best surfing on its digital platform at WorldSurfLeague.com, the WSL has a passionate global fan base with millions tuning in to see world-class athletes like Kelly Slater, Stephanie Gilmore, Tyler Wright, John Florence, Lakey Peterson, Paige Alms, Kai Lenny, Taylor Jensen, Honolua Blomfield, Carissa Moore, Gabriel Medina, Courtney Conlogue and more battle on the most dynamic field of play of any global sport.