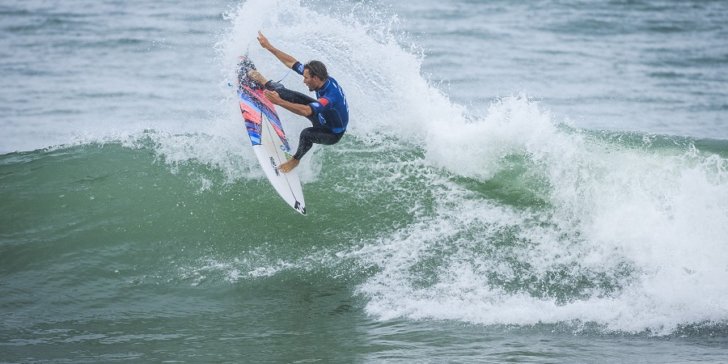 – ROOKIES FEBRUARY, COLAPINTO, DORA ELIMINATED EARLY– DE SOUZA SUFFERS KNEE INJURY, WITHDRAWS FROM COMPETITION– MORAIS KEEPS HOME TURF CAMPAIGN ALIVE INTO ROUND 3

| | |
| --- | --- |
| Location:    |    Peniche, Portugal |
| Event window: |    October 16 – 27, 2018 |
| Today's Call: |    Round 2 complete |
| Conditions: |    3 – 4 foot (1 – 1.2 metre) |
PENICHE, Portugal (Wednesday, October 17, 2018) –The MEO Rip Curl Pro Portugal, Stop No. 10 of 11 on the Men's World Surf League (WSL) Championship Tour (CT), completed the remaining heats of Round 2 in three-to-four foot (1 – 1.2 metre) waves and said goodbye to six more competitors by the day's end.
To requalify for the men's Championship Tour, current competitors on the CT have to be ranked 22nd or better on the Jeep Leaderboard or they must finish 10th or better on the WSL Qualifying Series (QS), excluding those who have already qualified through the CT Rankings. With only two events remaining on the men's 2018 CT – the MEO Rip Curl Pro Portugal and the Billabong Pipe Masters in December – limited opportunities remain for lower-ranked surfers to secure their positions for next year's elite Tour.
Ezekiel Lau (HAW) posted the day's highest combined heat total with a good 7.33 leading score (out of a possible 10) with two powerful forehand snaps on a set wave. Connor O'Leary (AUS)started on the previous wave of the set but couldn't quite capitalize as much on his backhand, with a 4.83 for two softer turns. Lau quickly defended his best score with a small aerial rotation on another right and sealed his win into Round 3.
"Some of the waves I went on weren't exactly what I was looking for but I figured I'd try to make something of them," Lau said. "Each wave got a little better and better and I was able to build. I've felt a little sick these last couple of days but I thought this is the last one before going home so I wanted to give all of myself for thirty minutes no matter what."
2017 Rookie of the Year O'Leary had a tough time confirming his status on the Top 34 this season and currently sits outside the requalification zone at 23rd on the Jeep Leaderboard heading into the last stop in Hawaii.
Heat 10 quickly turned into an air-fest as Patrick Gudauskas (USA) launched and landed a rodeo on his first wave, posting a 7.00 for a quick lead. Griffin Colapinto (USA) watched as his opponent pulled the trick and answered with a forehand full rotation of his own, for a 5.83 to stay in the fight. The heat came down for both surfers to the next exchange, seeing Gudauskas starting on a small right and Colapinto on a bigger left. Both waves did not offer huge potential, and even though Colapinto got the better of the exchange, Gudauskas' heat total was enough to advance him into Round 3.
"It was fun having Griffin (Colapinto) in the water and we were having a sick time," Gudauskas said. "After doing well in Bells, I was thinking about rankings and then it slowly went downhill. For this leg, it's just all about performing well and staying in my zone, but I'm not thinking about them anymore. I was stoked to have a good heat and stick a rodeo."
Colapinto, currently ranked No. 17,  will now turn his attention to defending his Vans Triple Crown of Surfing title, the iconic three-event surfing series that hosts the Hawaiian Pro, Vans World Cup, and Billabong Pipe Masters.
Jeremy Flores (FRA) had a quick start in his Round 2 heat against Michael February (ZAF), finding two good rights to post a 12.50 total (out of a possible 20) to apply pressure on the South African. Flores could not find any waves with scoring potential in the opening round yesterday and was relieved to finally showcase his surfing in a heat. Rookie February found opportunities to fight back but couldn't complete his waves and fell short, eventually placing Equal 25th. The Frenchman, on the other hand, will march through to the next round.
"I liked that today was a lot more manageable," Flores stated. "As much as I love the barrels, I'd rather surf this than waves like yesterday.  At least there are more opportunities and we can surf. France and here for me are the hardest events of the year. Everyone's tired and it's hard to keep your focus and motivation year-round. At this point, I'll take any win and I hope I'll get a shot in the next rounds."
In his rookie season, February only made it out of Round 3 three times and will be hoping for a huge finish at Pipeline in December if he wishes to keep his spot amongst the world's best.
Matt Wilkinson (AUS) matched up with Sebastian Zietz (HAW) in Heat 8. The surfer from Hawaii got the better start and continued building momentum early to push Wilkinson against the ropes. But the Australian never lost faith and came from behind in the last five minutes to post a 5.90 for a combination of four backhand turns to turn the heat and eliminate Zietz in 25th place.
"It was kind of stressful but when there's a lot of waves it's always more fun," Wilkinson said. "I'd seen a few smaller runners on the inside so I knew they were there if I needed them. I was happy to get that done with the little reverse and, hopefully, it gets bigger and better and we get barreled."
The last heat of the day featured Portugal's favorite Frederico Morais (PRT) up against rookieYago Dora (BRA). The Portuguese wasted no time to put two scores on the board while his opponent struggled to find any potential in the bumpy lineup of Supertubos. With time winding down and virtually no score for Dora, Morais made sure to keep his priority and keep his opponent off of the best waves. Dora did react on the three-minute mark with a progressive move for a 6.23 but he never found a last opportunity and Morais kept his Portuguese campaign alive on home turf.
"Having this flag on my shoulder and all these people supporting me on the beach is ridiculously amazing," Morais said. "This is a super special event, we've been having it for a few years now and I was lucky enough to surf it as a wildcard and make some heats. Last year as a CT resident for the first year it was a crazy ride and even more this year. I'm in a tough spot so this Round 2 win was super important for me and having everyone supporting me was important."
Earlier in the day, 2015 WSL Champion Adriano de Souza (BRA) withdrew from the competition after sustaining a knee injury prior to his heat. The Brasilian tried to compete against CT sophomore Joan Duru (FRA) but had to exit the water after his second effort as the pain was too strong. Duru got twenty-five minutes on his own in the Supertubos lineup and found good waves to stay in rhythm.
Event organizers will reconvene tomorrow morning at 7:45 a.m. WEST to reassess the conditions and potentially call the competition on at 8:05 a.m. WEST.
When competition resumes, all eyes will be on the three World Title contenders, Gabriel Medina (BRA), Filipe Toledo (BRA) and Julian Wilson (AUS), in the next knockout round.
Toledo needs to win his Round 3 matchup against Duru in order to stop Medina from winning the World Title in Peniche and to push the World Title race to the Billabong Pipe Masters this December.
The Men's World Title scenarios are as follows:
– Only Medina can claim the title in Portugal by winning the event.
– If Medina wins the event, Toledo will need a 9th or better and Wilson a 3rd or better to take the World Title decision to Hawaii;
– If Medina finishes 2nd or worse in Portugal, the WSL Title will be decided in Hawaii.
MEO Rip Curl Pro Portugal Remaining Round 2 (H7-12) Results:
Heat 7: Joan Duru (FRA) 12.83 def. Adriano de Souza (BRA) 4.50
Heat 8: Matt Wilkinson (AUS) 11.33 def. Sebastian Zietz (HAW) 10.83
Heat 9: Jeremy Flores (FRA) 12.50 def. Michael February (ZAF) 9.84
Heat 10: Patrick Gudauskas (USA) 11.10 def. Griffin Colapinto (USA) 10.66
Heat 11: Ezekiel Lau (HAW) 13.26 def. Connor O'Leary (AUS) 8.36
Heat 12: Frederico Morais (PRT) 11.44 def. Yago Dora (BRA) 9.16
MEO Rip Curl Pro Portugal Round 3 Matchups:
Heat 1: Italo Ferreira (BRA) vs. Jesse Mendes (BRA)
Heat 2: Kolohe Andino (USA) vs. Ezekiel Lau (HAW)
Heat 3: Jordy Smith (ZAF) vs. Matt Wilkinson (AUS)
Heat 4: Conner Coffin (USA) vs. Frederico Morais (PRT)
Heat 5: Michel Bourez (PYF) vs. Michael Rodrigues (BRA)
Heat 6: Gabriel Medina (BRA) vs. Ryan Callinan (AUS)
Heat 7: Filipe Toledo (BRA) vs. Joan Duru (FRA)
Heat 8: Kanoa Igarashi (JPN) vs. Jeremy Flores (FRA)
Heat 9: Wade Carmichael (AUS) vs. Tomas Hermes (BRA)
Heat 10: Owen Wright (AUS) vs. Patrick Gudauskas (USA)
Heat 11: Willian Cardoso (BRA) vs. Adrian Buchan (AUS)
Heat 12: Julian Wilson (AUS) vs. Ian Gouveia (BRA)
---
About the WSL
The World Surf League (WSL) is dedicated to celebrating the world's best surfing on the world's best waves through a variety of best-in-class audience platforms. The organization, headquartered in Santa Monica, is a global sport with regional offices in Australasia, Africa, North America, South America, Hawaii, Japan and Europe.The WSL has been championing the world's best surfing since 1976, annually running more than 180 global events across the Men's and Women's Championship Tours, the Big Wave Tour, Qualifying Series, Junior and Longboard Championships, as well as the WSL Big Wave Awards. The League possesses a deep appreciation for the sport's rich heritage while promoting progression, innovation and performance at the highest levels, and in doing so crowns the undisputed Men's and Women's World Champions across all tours.Showcasing the world's best surfing on its digital platform at WorldSurfLeague.com, the WSL has a passionate global fan base with millions tuning in to see world-class athletes like Kelly Slater, Stephanie Gilmore, Tyler Wright, John Florence, Lakey Peterson, Paige Alms, Kai Lenny, Taylor Jensen, Honolua Blomfield, Carissa Moore, Gabriel Medina, Courtney Conlogue and more battle on the most dynamic field of play of any global sport.
For more information, please visit WorldSurfLeague.com
© 2018 World Surf League,,
All rights reserved.You are receiving this email because you want to be updated on World Surf League News.You are receiving this message because you have signed up to our distribution list
or have applied for media accreditation for a World Surf League event.
Click Here to unsubscribe from receiving future messages.
World Surf League,
147 Bay Street,
Santa Monica,, CA 90405
| | |
| --- | --- |
| | |