Darby (SW of Maui) weakens and along with her, the waves. East shores averaging 2-4′ now. A High Surf Advsry still up for east facing shores. Darby is forecast to continue tracking to the west-northwest and northwest over the leeward waters south of Maui County and Oahu today, then pass near Kauai tonight.
Maximum sustained winds near 40 mph moving to the west-northwest at 9 mph. The tropical storm warning has been discontinued for the Big Island, but remains in effect for the other islands from Maui County through Kauai County.
Stormy weather to the state today and tonight as it tracks northwest over the leeward waters and passes near the smaller islands. More settled weather will begin to return to the eastern islands on Monday as Darby departs, leaving us in very warm and humid southeast flow. Locally heavy rainfall will remain possible over the western islands on Monday. Much more pleasant trade wind weather is expected to return beginning Tuesday and continuing for the rest of the week, as high pressure strengthens far northeast of the islands
Tropical Storm Warning for Niihau, Kauai, Oahu, Molokai, Lanai, Kahoolawe, Maui.
Flash Flood Watch through this afternoon for Big Island.  Molokai, Lanai, Kahoolawe, Maui. Oahu, Niihau, Kauai.
BROWN Water Advry for Maui and Big Is.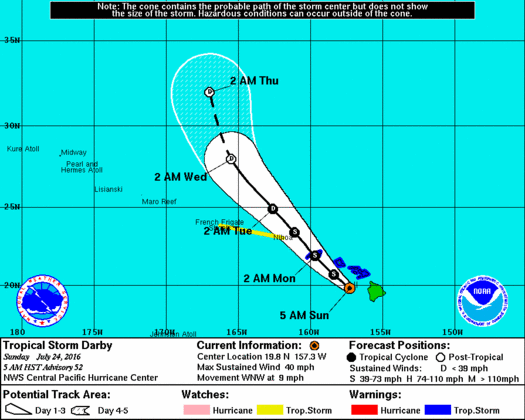 145 miles W of Hilo
80 miles W of Kailua-Kona
120 miles WNW of South Point
110 miles SW of Hana
90 miles SW of Kahului
90 miles SSW of Kaunakakai
70 miles SSW of Lanai City
115 miles SSE of Honolulu
115 miles SSE of Joint Base PHH
225 miles SE of Barking Sands
200 miles SE of Lihue
230 miles SE of Niihau
Winds will continue to be a secondary threat, but there will be localized areas of strong winds or gusts in areas of strong downsloping and acceleration through gaps, as well as with any deep convective bursts that develop. Not all locations will see tropical-storm-force winds, but there will likely be at least some pockets of wind damage associated with Darby.
Once Darby passes, expect muggy southeasterly flow on Monday. Locally heavy rains will remain a threat over the western islands, especially during the morning, as deep tropical moisture in the wake of Darby slowly departs the area. Improving conditions are expected over eastern sections of the state. Thereafter, warm but gradually less humid trade wind weather should return beginning Tuesday as Darby moves farther away from the state and high pressure builds far to the northeast. Pleasant and fairly dry trade wind weather should prevail from Wednesday through the remainder of the week. NWS.