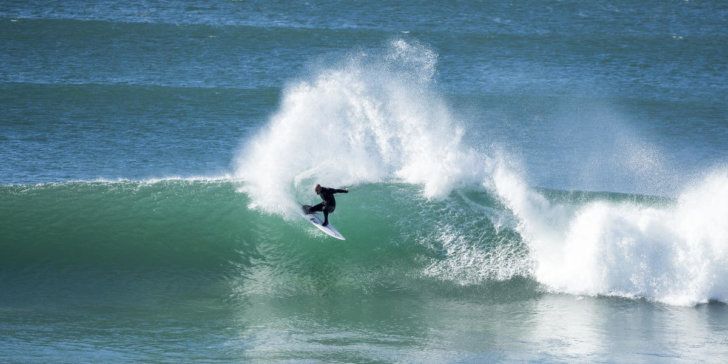 It's been a year since the Corona Open J-Bay. This is when Kelly Slater broke his foot badly during a freak free surf, thus forced to withdraw from the remainder of the event and most of 2018.
Now Slater is back. Let's hope we get to see some of this…
WSL: The severity of his 2017 injury was initially unclear, and it's since taken the 11x World Champ a year to return to the CT stage. The incident was an unfortunate setback for Slater who, at the time, had found his form and was planning on making a run for his twelfth World Title.
"It sucks but so many people deal with such horrible things around this world everyday that a broken foot is pretty minor in the scheme of things," Slater said. "Sometimes a bad thing is a good thing. I'll make the best of my time off."
The Champ has made a number of cameos over the last year, but has been unable to fully commit to the CT. His return to the place it all happened — at the Corona Open J-Bay — will be especially meaningful.
Prior to the injury, Slater was hitting his stride in J-Bay after taking down Kanoa Igarashi and Julian Wilson in Round 1. Slater will be looking to pick up where he left off.
"My gut feeling has been to use this injury as a platform to overhaul and reset my mind and body," continued Slater. The Floridian will meet current World No. 3 Italo Ferreira and Kanoa Igarashi in Round 1 once the event kicks off July 2.
John John Florence and Caio Ibelli have officially withdrawn from the Corona Open J-Bay due to their ongoing injuries sustained earlier this season.
Brazilian surfers Miguel Pupo and Wiggolly Dantas will be their replacements. Mikey Wright, who is currently sitting at No. 7 on the Jeep Leaderboard after a series of successful results, will also have a wildcard spot.
Watch the Corona Open J-Bay live daily July 2-13 on Facebook and World Surf League.