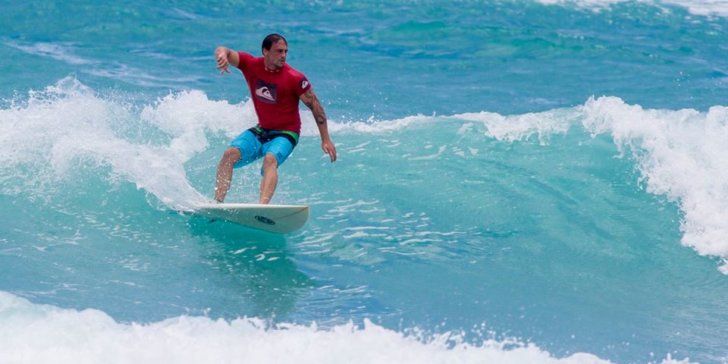 The 2018 HIC Quiksilver All-Military Surf Classic Presented by MWR Hawaii
Cover Shot: Army Vet Kyle Murden: Carving back into the energy source.
All Images: Mitch McEwen/HIC
Joseph Huggins helped Team Army win with his 2nd Place finish in Active Duty Men's Shortboard (30 & Over).
June 21, 2018 – Kailua, Hawaii

 

– The U.S. Army claimed the "Top Branch Award" this past Saturday at the HIC Quiksilver All-Military Surf Classic, presented by MWR Hawaii. The annual surf competition, held at White Plains Beach on the former Barber's Point Naval Air Station, included one hundred and twenty military personnel competing across thirteen divisions; including both Active-Duty and Department of Defense categories for shortboard and longboard surfing.

The coveted Top Branch Award goes to the military branch with the highest cumulative score, based on the top three placing competitors of each branch. The Army team clinched a decisive victory led by first place finishers Michael Gallahue (Longboard – 30 and up) and Mabel Requilman (Women's Longboard – 18 & up), edging the Coast Guard into a second place finish and the Air Force into third.
Team U.S. Army clinched the Top Branch Award with consistency across all Active Duty divisions.
The All Military Surf Classic received great surf for both days of the event, with a strong south swell running over two weekends, and light winds for the final day. Traditionally a one day surf event, this year's contest was forced into a second day due to a shark sighting during the final round on Saturday, June 9th, resulting in the water being cleared by the White Plains Lifeguard Staff. Another sighting on the morning of Sunday, June 10th, cleared the water once again, postponing the event until this past weekend. After receiving the "all clear" from beach officials, the final six heats wrapped-up this past Saturday, June 16th, in beautiful conditions at White Plains Beach.
Officials cleared the water during the Final Round of Day One, postponing the event until the next weekend.
The event is produced by Marvin Nuestro and the White Plains Lifeguard staff, with the support of MWR-Hawaii, whose mission it is to improve the lives of US Military Personnel and their families. A special MAHALO to Quiksilver and Roxy for their continued partnership with HIC, along with these brands for providing prizes for all division finalists:  All Good – Reef Friendly Sunscreen, Aqua Lung, Billabong, Bubble Gum Wax, Creature Of Leisure, Da Fin – Swim Fins, Dragon Sunglasses, FCS – Fins & Leashes, Fortress & Creed Sunglasses, Globe Skateboards, Go Pole, Manda Sunscreen, Matunas Wax, MS Science Bodyboards, Nixon Watches, On A Mission, Quiksilver, Ripcurl, Roxy, Reef, Sticky Bump Wax, Solarez, Sunbum Sunscreen, Surf Co – Nose Guard Hawaii, Vans, Volcom &  Xcel. Mahalo to Surf Factory Hawaii for providing a Steve Morgan Longboard as the Grand Prize in the raffle giveaway.

Hawaiian Island Creations and Quiksilver are honored to support the men and women of the U.S. Armed Forces who so proudly serve our country.  Stay safe, keep surfing and enjoy the ride!

Media Contact:
Mitch McEwen  mitch@hicsurf.com
Ashley Ahina, First Place finisher in DOD Women's Longboard. All photos: McEwen
ACTIVE DUTY DIVISIONS
TOP BRANCH AWARD
1.  ARMY
2.  COAST GUARD
3.  AIR FORCE
MEN'S SHORTBOARD – 17 to 29
1.  TREVOR LYNN
2.  SHANE LAWLOR
3.  KEVIN TAMAYO
4.  JARRED GREEN
5.  KYLE BALL
6.  GARRETT DAVIS
MEN'S SHORTBOARD – 30 & UP
1.  KUILEE MURPHY
2.  JOSEPH HUDGINS
3.  JEREMIAH STROMBECK
4.  ARI NELSON
5.  CASEY CONNORS
6.  KYLE STEWARD
WOMEN'S LONGBOARD – 18 & UP
1.  MABEL REQUILMAN
2.  MEGAN ROGERS
3.  MELISSA COOPER
4.  JULIE IMAGANE
5.  JENNIFER HEFFELFINGER
6.  EMILY SWANSON
MEN'S LONGBOARD – 17 to 29
1.  MARK KEISLER
2.  DAVID CAMACHO
3.  MICHAEL GALLAGHER
4.  KEVIN RADER
5.  CALLUM NELSON
6.  ANDREW CLEMSON
MEN'S LONGBOARD – 30 & UP
1. MICHAEL GALLAHUE
2.  MATTHEW KLEIN
3.  WENDELL VILLANUEVA
4.  DAVID MARKLE
5. PRAYOTT BUNMEEMA (Equal 5th)
5. EKAHI LEE (Equal 5th)
DEPARTMENT OF DEFENSE
MEN'S SHORTBOARD – 15 to 25
1.  NALU PAZ
2.  RYAN STEWART
MEN'S SHORTBOARD – 26 & UP
1.  DAVID JLONG
2.  CHARLES HEISEY
3.  BRANDON ROSA
4.  JONATHAN MURDEN
5.  ALLAN SCHMIDT
6.  ROB BACHSTEIN
WOMEN'S SHORTBOARD – 17 & UP
1.  LOGAN HARRIS
2.  BLYTHE GOYA
3.  ZOE SLAUGHTER
4.  JACKIE CHIMIAK
5.  ARIELLE PAZ
6.  SHANNON WADZINSKI
WOMEN'S LONGBOARD – 17 & UP
1.  ASHLEY AHINA
2.  KYLEE NORTON
3.  SOPHIA TUGAOEN
4.  DAZSHA SAUSA
5.  KYLEE KACZMAREK
6.  KIM DAY
MEN'S LONGBOARD – 34  & UNDER
1.  EMRICK ISIKAWA
2.  IAN POIHAMUS
3.  ISSAC STEWART
MEN'S LONGBOARD – 35 to 49
1.  NAUOLITO WOODARD
2.  ROBERT HEFFELFINGER
3.  ERIC SPICHER
4.  MATT POTHIER
5.  DANIEL MONETTE
MEN'S LONGBOARD – 50 to 59
1.  GINO BELL
2.  LAYNE FITZPATRICK
3.  DAMON LONSOD
4.  JEFF BRYSON
5.  PAUL MCGILLICUDDY
6.  JIM DUCLOS
MEN'S LONGBOARD – 60 & UP
1.  MICHAEL NII
2.  HENRY KIAAINA
3.  ROBERT GROVER
4.  BRYAN COBBLE
5. GODFREY AKAKA
6. JOHN WEIKUM
About HIC – Hawaiian Island Creations:
Since 1971 HIC has been providing Hawaii's best selection of quality surfboards, skateboards, clothing and accessories. Locally owned and operated, the HIC retail chain includes seven stores on Oahu, three on Maui, four on Hawaii Island, and two in Japan. Through a commitment to quality, service and aloha spirit, the brand has built a reputation as an icon of Hawaiian surfing recognized throughout the world. Enjoy the ride!About Quiksilver:
Since it's beginnings in 1969, Quiksilver has combined function, fit, art and fashion to develop boardshorts and clothing for mountain and ocean lovers across the globe. While still sticking to the core roots of the mountain and the wave, Quiksilver has become recognized as the premium youth lifestyle and culture clothing brand within the action sports market. In addition to boardshorts, Quiksilver designs and produces an entire line of lifestyle apparel, wetsuits, and snow outerwear available across the globe. Our elite team of athletes have become icons throughout the world. Our mission is inspire the youth and progress as the world around us evolves.