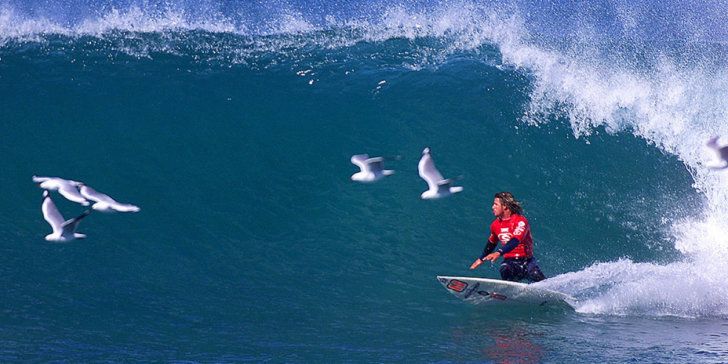 While we wait for the surf…. let's go back and remember what has made this event so unique with a special feature from WSL.
The best goofyfoot surfer ever at J-Bay, Mark Occhilupo.WSL / TOSTEE
"There have been many other moments that have been deemed incredible down in J-Bay, but these were deemed the most pivotal ones by our panel of experts"
1. 1984 – Occy's legendary win.
From the mouths of the people lucky enough to have watched Mark Occhilupo surf at Supertubes that incredible year, the one comment that stands out was that he seemed to be able to actually slow down the fastest wave in the world. Until that point, Supers had always been a mad speed run to the bottom of the section, but Occy found time to do radical turns and look good while doing it. His win was simply brilliant and it was the dawning of a new wave of young surfers on Tour.
2. 1999 – Parko's wildcard win.
To this day everyone uses a then 18 year old Joel Parkinson's win as a yardstick for what wildcards are capable of at J-Bay. It's always the same: "No excuses, remember what Joel did in 1999?" He made it look so easy, his surfing was sublimely matched to the nuances of Supertubes. And when he won, there was much joy in the land. The roar of the crowd after his final wave will be remembered forever.
3. 2003 – Kelly's return from retirement win
4. 2005 – Kelly's victory over Andy Irons.
5. 2008 – The Sandbank.
6. 2010 – When Sean Holmes became The Nemesis.
7. 2010 – Jordy's first win.
8. 2014 – Mick beats Joel in flawless conditions.
9. 2015 – Mick vs the Great White shark.
10. 2016 – Mick's heroic comeback.
Full Video/Summaries HERE