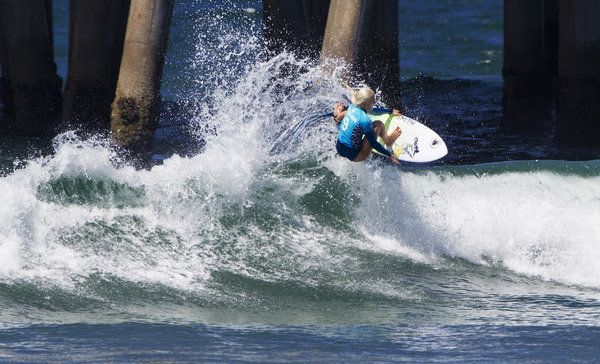 WOMEN'S CT WAS CALLED ON AT 

7:30 AM

 (430AM HI TIME)
MEN'S QS TO FOLLOW WOMEN'S COMPETITION 

Defending event winner Tatiana Weston-Webb (HAW) will be up against six-time WSL Champion Stephanie Gilmore (AUS) and Pauline Ado (FRA) in Round 1 Heat 5 of the Vans US Open of Surfing.
Credit: © WSL / Rowland
Location:   
   Huntington Beach, California, United States 
Event window:
   July 31 – August 6, 2017
Today's call:

| | |
| --- | --- |
|    Women's CT Rounds 1 & 2, Men's QS Round 2 (H9-13) called ON | |
Conditions:         4 – 5′
HUNTINGTON BEACH, California/ USA (Tuesday, August 1, 2017) – Stop No. 6 of the World Surf League (WSL) Championship Tour, the Vans US Open of Surfing, will kick off today with Rounds 1 and 2 called ON for a 7:30 a.m. start in four-to-five foot (1.2 – 1.5 metre) conditions in Huntington Beach. The Men's QS 10,000 event will follow the women's competition with Heats 9-13 of Round 2.
"We are excited to get started today as we've really seen the swell fill in," said WSL Deputy Commissioner, Jessi Miley Dyer. "We have great conditions today in Huntington Beach. We will begin at 7:30 a.m. with the first two rounds of the Women's CT, followed by the men's QS. For the men's, we will get Heats 9 through 13 of Round 2 finished by the end of the day. We are looking forward to a great event at the Vans US Open of Surfing."
The action will begin with current World No. 5 Johanne Defay (FRA) pitted against three-time WSL Champion Carissa Moore (HAW) and CT veteran Silvana Lima (BRA) in Round 1 Heat 1.
Hometown hero Courtney Conlogue (USA) follows in Round 1 Heat 2 to do battle with fellow Californian Sage Erickson (USA) and 2017 CT rookie Bronte Macaulay (AUS).
Six-time WSL Champion Stephanie Gilmore (AUS) will contest for a spot directly into Round 3 against Pauline Ado (FRA) and defending Vans US Open of Surfing winner Tatiana Weston-Webb (HAW).
Tyler Wright (AUS), reigning WSL Champion and current Jeep Rating Leader, will surf against Coco Ho (HAW) and Trials winner Maud Le Car (FRA) in Heat 3 of Round 1.
Current World No. 2 Sally Fitzgibbons (AUS) will take on 2016 Rookie of the Year Keely Andrew (AUS) and injury replacement Bianca Buitendag (ZAF) in Round 1 Heat 4.
The final heat of Round 1 will see Australians Nikki Van Dijk (AUS) and Laura Enever (AUS) up against Californian Lakey Peterson (USA) for an opportunity to skip through to Round 3.
The Vans US Open of Surfing will be broadcast LIVE from July 31 – August 6 via VansUSOpenofSurfing.com, WorldSurfLeague.com, the WSL app and on Facebook LIVE via the WSL's Facebook page. Also check local listings for coverage on CBS Sports Network in the U.S., Fox Sports in Australia, ESPN in Brazil, Sky NZ in New Zealand, SFR Sports in France and Portugal and as part of the EDGEsport Network.
Recognized as the largest professional sports competition and action sports festival in the world, the Vans US Open of Surfing is currently sanctioned and operated by the World Surf League under license from IMG, the event owner. Official partners of this year's event include Vans, Jeep, Airbnb, Michelob Ultra, Hydro Flask, G-Shock, LifeProof, CLIF Bar, D'Angelico Guitars, Red Bull, Frontier, Ralphs, Peet's Coffee, and 7-Eleven.
For more information, check out WorldSurfLeague.com and for continued updates and schedule for the Vans US Open of Surfing visit VansUSOpenofSurfing.com.
Vans US Open of Surfing Women's CT Round 1 Match-Ups:
Heat 1: Johanne Defay (FRA), Carissa Moore (HAW), Silvana Lima (BRA)
Heat 2: Courtney Conlogue (USA), Sage Erickson (USA), Bronte Macaulay (AUS)
Heat 3: Tyler Wright (AUS), Coco Ho (HAW), Maud Le Car (FRA)
Heat 4: Sally Fitzgibbons (AUS), Keely Andrew (AUS), Bianca Buitendag (ZAF)
Heat 5: Stephanie Gilmore (AUS), Tatiana Weston-Webb (HAW), Pauline Ado (FRA)
Heat 6: Nikki Van Dijk (AUS), Lakey Peterson (USA), Laura Enever (AUS)
Vans US Open of Surfing Men's QS 10,000 Round 2 Match-Ups:
Heat 9: Michael Dunphy (USA), Evan Geiselman (USA), Koa Smith (HAW), Hiroto Arai (JPN)
Heat 10: Jack Freestone (AUS), Marc Lacomere (FRA), Mihimana Braye (PYF), Marco Fernandes (BRA)
Heat 11: Nat Young (USA), Bino Lopes (BRA), Adam Melling (AUS), Dimitri Ouvre (FRA)
Heat 12: Filipe Toledo (BRA), Hizunome Bettero (BRA), Ian Crane, Shun Murakami (JPN)
Heat 13: Connor O'Leary (AUS), Torrey Meister (HAW), Gony Zubizarreta (ESP), Mikey Wright (AUS)
Heat 14: Keanu Asing (HAW), Yago Dora (BRA), Carlos Munoz (CRI), Tom Whitaker (AUS)
Heat 15: Ian Gouveia (BRA), Michael February (ZAF), Heitor Alves (BRA), Charly Martin (FRA)
Heat 16: Ezekial Lau (HAW), Michael Rodrigues (BRA), Beyrick De Vries (ZAF), Noe Mar McGonagle (CRI)
Heat 17: Conner Coffin (USA), Mitch Crews (AUS), Krystian Kymerson (BRA), Mateia Hiquily (PYF)
Heat 18: Jadson Andre (BRA), Tomas Hermes (BRA), Nathan Yeomans (USA), Wyatt McHale (HAW)
Heat 19: Miguel Pupo (BRA), Griffin Colapinto (USA), Diego Mignot (FRA), Dusty Payne (HAW)
Heat 20: Caio Ibelli (BRA), Ramzi Boukhiam (MAR), Maxime Huscenot (FRA), Finn McGill (HAW)
Heat 21: Italo Ferreira (BRA), Patrick Gudauskas (USA), Santiago Muniz (BRA), David do Carmo (BRA)
Heat 22: Leonardo Fioravanti (ITA), Soli Bailey (AUS), Marco Giorgi (URY)
Heat 23: Jesse Mendes (BRA), Tanner Gudauskas (USA), Billy Stairmand (NZL), Billy Kemper (HAW)
Heat 24: Frederico Morais (BRA), Brett Simpson (USA), Joshua Moniz (BRA), Kiron Jabour (HAW)