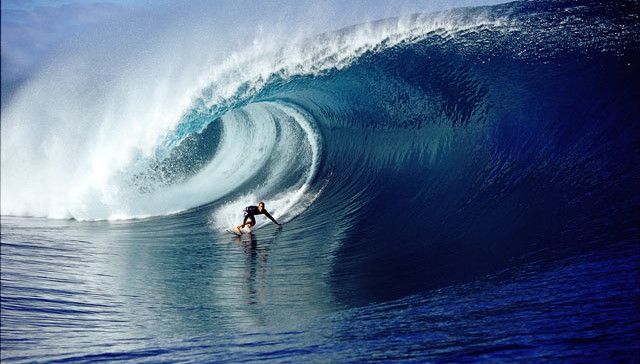 Pic: CJ Hobgood © MKM/Tom Servais
For nearly two decades CJ has been on the World Tour
Surf News Network, 20 July, 2015. Huntington Beach – Former World and U.S. Open Champion Clifton James "CJ" Hobgood is among a trio of distinguished surfers entering the 2015 Surfers' Hall of Fame.  Hobgood, who along with Gordon "Grubby" Clark whose Clark Foam was the leading producer of polyurethane foam blanks from the early 60s through 2005 and John Davis, the first captain of the Huntington Beach High School surf team in 1967, are being inducted into the nation's first imprint collection of legendary surfers.  All three will be immortalized in cement on Friday, July 31st at 10 a.m. in front of Huntington Surf & Sport.
"CJ Hobgood has been on the World Tour for nearly two decades and has brought endless amounts of pure stoked to the fans and to the Surfing World!," said Surfers' Hall of Fame founder Aaron Pai.  "He's an amazing surfer and amazing waterman along with being a great ambassador for our Sport of Surfing!  Honored and delighted to Induct CJ Hobgood into the Surfers' Hall of Fame!"
CJ and his twin brother Damien were born on July 6, 1979 in Melbourne, Florida and began riding waves together at an early age.  He entered his first local surfing contest in 1989 and made the open boys final.  Hobgood won the menehune division of the 1991 Eastern Surfing Association Championships setting up a long run at the top of the national amateur ranks.  He was the National Scholastic Surfing Association (NSSA) national juniors' champion in 1995 and in 1997 he became the NSSA East Coast men's champion.  And in 1998 he was selected as the model for the new NSSA logo.
Following his graduation from Satellite High School in 1997, CJ turned pro in 1998 and finished the 1999 season ranked 18th in the world, receiving Association of Surfing Professionals (ASP) Rookie-of-the-Year honors.  He quickly earned a reputation as an "all conditions" pro; a creative aerial technician in smaller waves and a fearless tube rider at places like Pipeline and Teahupoo.  CJ's first grand prix victory came at the 2000 Hossegor Rip Curl Pro and he finished the year ranked in the top 10 at number seven.  His myriad achievements at such a young age would yield the "Breakthrough Surfer of the Year" at the Surfer Magazine Awards.
In 2001 at age 22 despite not winning any WCT contests that year, Hobgood won his first and only World Title in a season shorted by three events following the 9/11 attacks.  One of professional surfing's true gentlemen the tenacious goofy-footer finished fourth in 2004, fifth in 2008 and seventh in 2009.  He notched memorable victories in the 2007 U.S. Open of Surfing in Huntington Beach and 2008 O'Neill World Cup of Surfing at Sunset Beach, part of the prestigious Van's Triple Crown of Surfing.  In 2011, he briefly dropped off the tour, but re-qualified in a matter of months even after turning down several wild-card invitations to WCT events.
Since 2003, CJ and Damien have held Camp Hobgood, a roving international surf retreat for rising young pros.  CJ has appeared in dozens of surf videos including Triple C (1996), Sacred Water (1999), Campaign (2003), A Brokedown Melody (2004), and Year Zero (2011).  He currently resides in Satellite Beach with his wife and daughter, near his younger brother Travis, his younger sister Marissa, and his parents.
Following 17 years on the pro tour and after flirting with retirement for the past few years, last month CJ announced that this would be his final year on the World Tour.  "The relationships with the people that I have met are the things that stick out in my mind most," said Hobgood to the Space Coast Daily.  "The people who have been most influential in my career have been (Kelly) Slater, Occy (Mark Occhilupo), Andy Irons, and most of all my brother who has also pushed me the hardest and made me the maddest."
When asked about his future plans Hobgood said, "Space Coast here I come.  It's always about giving back and finding those opportunities to give the gift I've been given to the next generation, and others who are stoked on surfing.  I get to spend more time in the place I love that laid the foundation of who I am and all the friends I have."
The Surfers' Hall of Fame induction ceremony pays tribute to those individuals who have made an indelible mark on the sport, industry and culture of surfing.  Annually, tens of thousands of visitors travel to Huntington Beach's downtown area and literally walk in the footsteps of surfing superstars and legends from several eras including Laird Hamilton, Andy Irons, Jack O'Neill, Robert August, Bob Hurley, Sean Collins, Kelly Slater, Lisa Andersen, Andy Verdone, Al Merrick, Shaun Tomson, Rob Machado, Rockin' Fig and Rabbit Kekai, who are already immortalized in cement.
The nation's first imprint collection of legendary surfers, the Surfers' Hall of Fame celebrated its first induction in 1997 inside of specialty retailer Huntington Surf & Sport where several slabs remain.  Four years later with the blessing of the City Council and a stunning bronze statue of Duke Kahanamoku serving as a backdrop, the ceremony moved outside to the corner of PCH and Main, less than 100 feet from the famed Huntington Beach Pier, site of the Vans U.S. Open of Surfing.