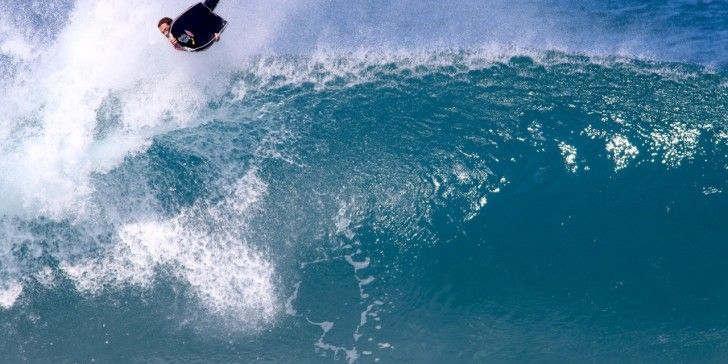 Day 2 is scoring great surf, too! FULL RESULTS & VID HI-LITES at bottom.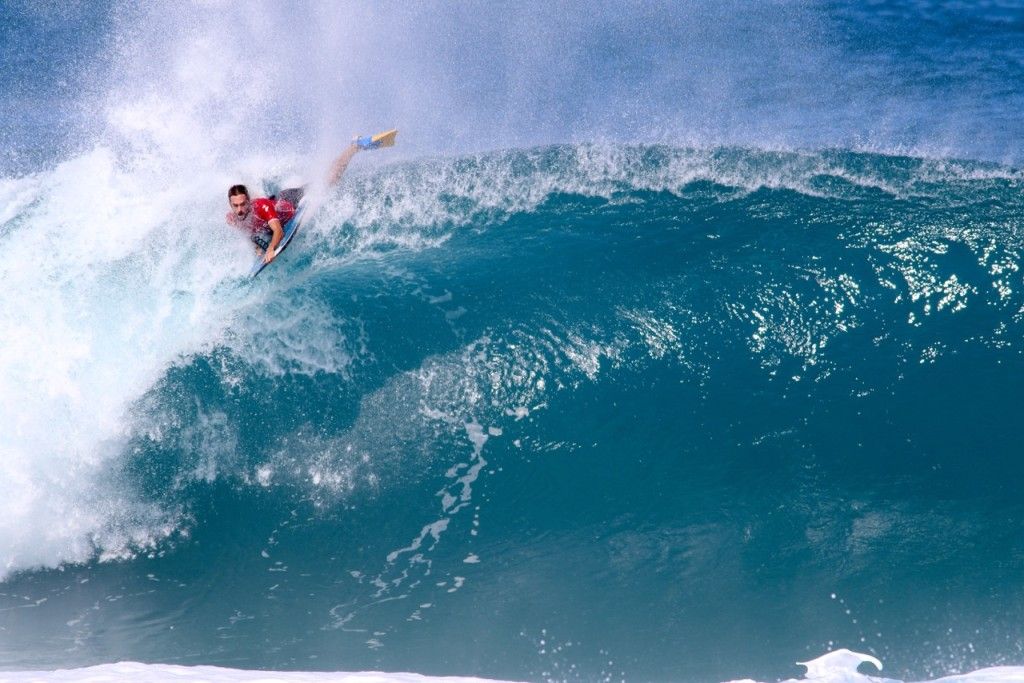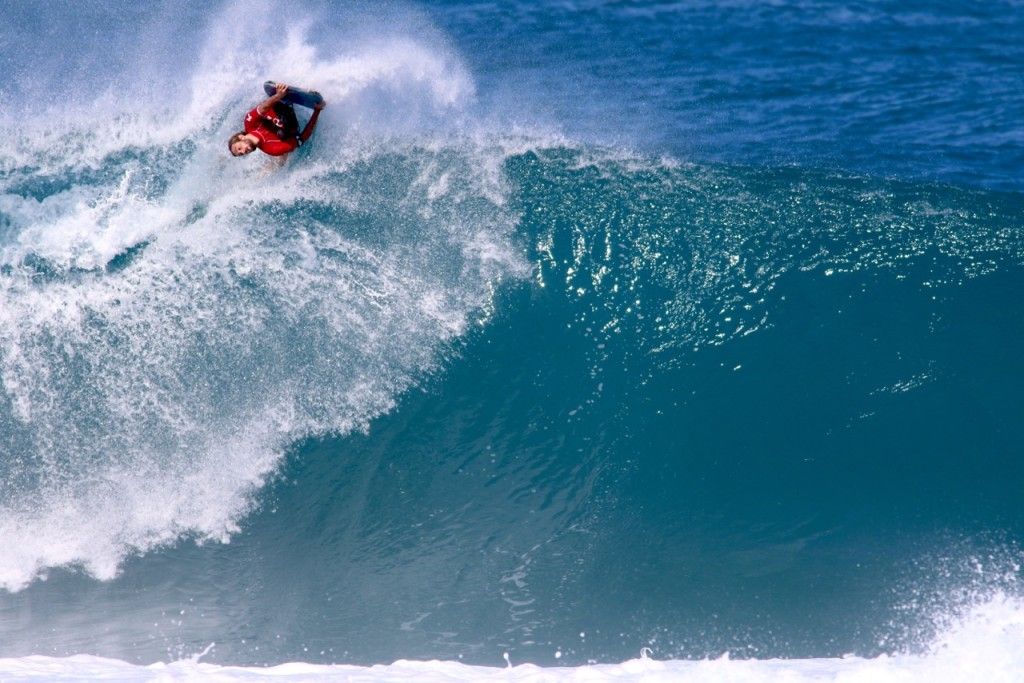 The Mike Stewart Pipe Invitational got underway in great conditions with surf hitting over 10′ at the peak in the first and second round of the competition on Saturday, February 27th. Waves were dropping after the recent massive swell and rights and lefts were still sizable for the invited surfers. All photos BANZAIBETTY.COM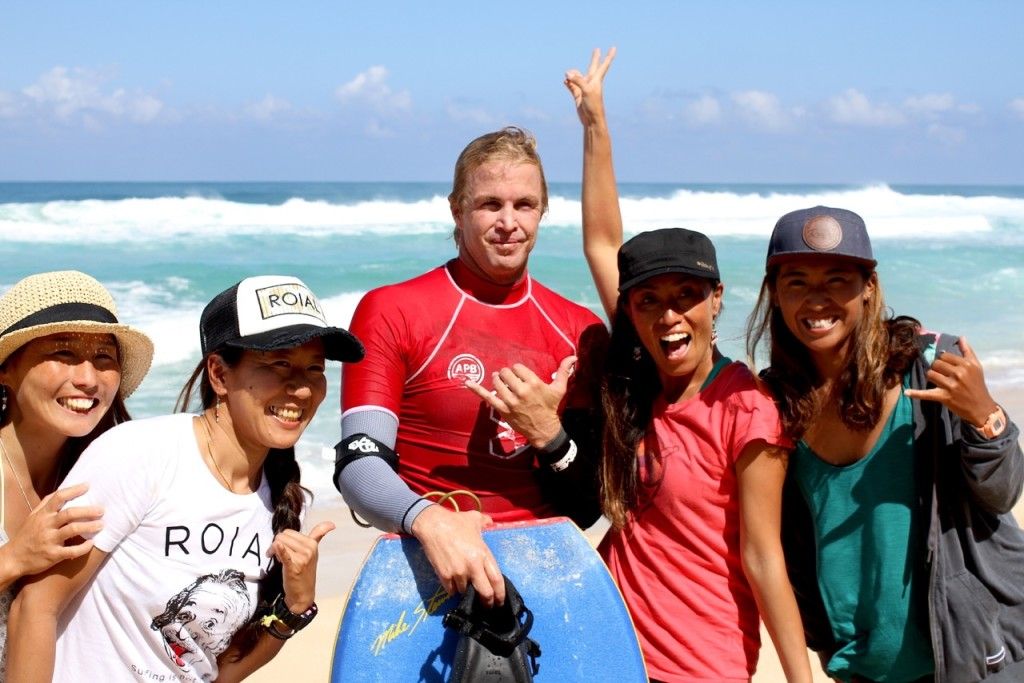 Wait is that…? Yep. A standout on any equipment.
01
Name
Pts
Rank
red
MAURO VIVANCO

(CHI)

5.9
2nd
yellow
WARREN FEINBEER

(AUS)

0.5
4th
black
MARK WATTS

(SAF)

4.17
3rd
blue
KEAHI PARKER

(HAW)

8
1st
02
Name
Pts
Rank
red
JULIEN MIREMONT

(TAH)

9.5
1st
yellow
BILLY THIEL

(SAF)

2.6
4th
black
PETER PIHO

(HAW)

5.96
2nd
blue
MACK CRILLEY

(HAW)

4.2
3rd
03
Name
Pts
Rank
red
GARTH MACGREGOR

(AUS)

12.17
1st
yellow
BRETT LILLYMAN

(AUS)

8.33
2nd
black
WESLEY LIQUORISH
3.34
4th
blue
DANIEL LOUIS

(HAW)

6.83
3rd
04
Name
Pts
Rank
red
NAKANA RIVERA

(HAW)

10.26
1st
yellow
GABRIEL BRANTES

(CHI)

5.16
4th
black
VIJAY MAHARAJ

(HAW)

8.83
2nd
blue
ALAN LAMPHERE

(HAW)

6.94
3rd
05
Name
Pts
Rank
red
FABIO AQUINO

(BRA)

3.83
3rd
yellow
JASON BITZER

(USA)

5.84
1st
black
NOA AUWELOA

(HAW)

5.17
2nd
blue
POHAKU KEKAUALUA

(HAW)

3.6
4th
06
Name
Pts
Rank
red
DION MYERS

(AUS)

4.14
3rd
yellow
CORDON STAPP

(HAW)

10.76
2nd
black
TSUYOSHI MAEYAMA

(JAP)

3.2
4th
blue
SAMMY MORRETINO

(HAW)

14.83
1st
07
Name
Pts
Rank
red
RYAN SEWELL

(AUS)

8.63
3rd
yellow
PATRICK ORR

(HAW)

13.5
1st
black
KEONI HAINA

(HAW)

6.67
4th
blue
DAVID PHILLIPS

(HAW)

12.27
2nd
08
Name
Pts
Rank
red
TIM HAMILTON

(HAW)

9.76
2nd
yellow
DANIEL ZIMBRA

(HAW)

8.44
3rd
black
EDSON VIERA

(BRA)

4.27
4th
blue
TREVOR KAM

(HAW)

10.17
1st
09
Name
Pts
Rank
red
JAMIE O BRIEN

(HAW)

5.47
2nd
yellow
SHANE MEEHAN

(IRE)

4.9
3rd
black
ROY OVERSTREET

(USA)

6.5
1st
blue
WADE ASATO

(HAW)

3.97
4th
10
Name
Pts
Rank
red
JERRETT LAU

(HAW)

3.6
3rd
yellow
EULICES SUAREZ

(PR)

2.67
4th
black
MATT HOLZMAN

(HAW)

11.07
1st
blue
MARK GERVACIO

(HAW)

4.8
2nd
11
Name
Pts
Rank
red
JOSH GARNER

(AUS)

10
3rd
yellow
ALEX KINIMAKA

(HAW)

2.26
4th
black
JB HILLEN

(HAW)

14.5
1st
blue
WILL PETROVIC

(HAW)

10.44
2nd
12
Name
Pts
Rank
red
STORM PRESWICH

(SAF)

8.34
4th
yellow
CHRISTIAN RIGUCCINI

(AUS)

12.67
2nd
black
ABNER D'ARCE

(PR)

13.6
1st
blue
KAHEKILI LABATTE

(HAW)

11.83
3rd
MEN MAIN EVENT

Round 02
13
Name
Pts
Rank
red
KEAHI PARKER

(HAW)

10.5
1st
yellow
BRETT LILLYMAN

(AUS)

3.2
4th
black
VIJAY MAHARAJ

(TAH)

5.57
3rd
blue
JULIEN MIRAMONT

(HAW)

9.3
2nd
14
Name
Pts
Rank
red
GARTH MACGREGOR

(AUS)

10.24
2nd
yellow
MAURO VIVANCO

(CHI)

3.7
3rd
black
NAKANA RIVERA

(HAW)

2.83
4th
blue
PETER PIHO

(HAW)

11
1st
15
Name
Pts
Rank
red
JASON BITZER

(USA)

3.43
4th
yellow
DAVID PHILLIPS

(HAW)

8.4
2nd
black
SAMMY MORRETINO

(HAW)

7.43
3rd
blue
TIM HAMILTON

(HAW)

10.84
1st
16
Name
Pts
Rank
red
PATRICK ORR

(HAW)

13.5
2nd
yellow
NOA AUWELOA

(HAW)

5.93
3rd
black
TREVOR KAM

(HAW)

14.1
1st
blue
CORDON STAPP

(HAW)

3.2
4th
17
Name
Pts
Rank
red
ROY OVERSTREET

(USA)

4.26
3rd
yellow
WILL PETROVIC

(HAW)

8.83
1st
black
MATT HOLZMAN

(HAW)

3.23
4th
blue
CHRISTIAN RIGUCCINI

(AUS)

8.5
2nd
18
Name
Pts
Rank
red
JB HILLEN

(HAW)

9.43
1st
yellow
JAMIE O BRIEN

(HAW)

4.77
3rd
black
ABNER D'ARCE

(PR)

5.27
2nd
blue
MARK GERVACIO

(HAW)

3.73
4th
MEN MAIN EVENT

Round 03
19
Name
Pts
Rank
red
DAVIS BLACKWELL

(AUS)

9.33
3rd
yellow
LACHLAM CRAMSIE

(AUS)

14.66
1st
black
PAULO BARCELLOS

(BRA)

1.83
4th
blue
KEAHI PARKER

(HAW)

14
2nd
20
Name
Pts
Rank
red
TAHURAI HENRY

(TAH)

0
4th
yellow
SHAUN PYNE

(AUS)

5.33
3rd
black
PETER PIHO

(HAW)

10.1
1st
blue
JULIEN MIRAMONT

(HAW)

5.5
2nd
21
Name
Pts
Rank
red
ANGELO FARAIRE

(TAH)

13.34
2nd
yellow
DAVID TAURAU

(TAH)

1.9
4th
black
GUILHERME TAMEGA

(BRA)

14.17
1st
blue
DAVID PHILLIPS

(HAW)

13.16
3rd
22
Name
Pts
Rank
red
DAVE WINCHESTER

(AUS)

13.66
1st
yellow
FRED TEMORERE

(TAH)

1.74
4th
black
TIM HAMILTON

(HAW)

1.77
3rd
blue
GARTH MACGREGOR

(AUS)

6.5
2nd
23
Name
Pts
Rank
red
ALISTAIR TAYLOR

(SAF)

yellow
MICHAEL OSTLER

(SAF)

black
TREVOR KAM

(HAW)

blue
CHRISTIAN RIGUCCINI

(AUS)
24
Name
Pts
Rank
red
KAINOA MCGEE

(HAW)

yellow
GEORGE HUMPHRIES

(AUS)

black
RYAN HARDY

(AUS)

blue
PATRICK ORR

(HAW)
25
Name
Pts
Rank
red
SPENCER SKIPPER

(HAW)

yellow
RUSTY FRIESEN

(USA)

black
WILL PETROVIC

(HAW)

blue
ABNER D'ARCE

(PR)
26
Name
Pts
Rank
red
MAGNO PASSOS

(BRA)

yellow
JACOB VANDERVELDE

(HAW)

black
DUDU PEDRA

(BRA)

blue
JB HILLEN

(HAW)
MEN MAIN EVENT

Round 04
27
Name
Pts
Rank
red
LEWY FINNEGAN

(AUS)

yellow
MAXIME CASTILLO

(FRA)

black
LACHLAM CRAMSIE

(AUS)

blue
JULIEN MIRAMONT

(HAW)
28
Name
Pts
Rank
red
IAIN CAMPBELL

(SAF)

yellow
DAVE HUBBARDÂ 

(HAW)

black
PETER PIHO

(HAW)

blue
KEAHI PARKER

(HAW)
29
Name
Pts
Rank
red
TANNER MCDANIEL

(HAW)

yellow
SACHA DAMJANIC

(CHI)

black
GUILHERME TAMEGA

(BRA)

blue
GARTH MACGREGOR

(AUS)
30
Name
Pts
Rank
red
JARED HOUSTON

(SAF)

yellow
CHARLY CHAPELET

(REU)

black
DAVE WINCHESTER

(AUS)

blue
ANGELO FARAIRE

(TAH)
31
Name
Pts
Rank
red
PIERRE LOUIS COSTES

(FRA)

yellow
SOCRATES SANTANA

(BRA)

black
1.23
blue
2.24
32
Name
Pts
Rank
red
DIEGO CABRERA

(CAR)

yellow
JEFF HUBBARD

(HAW)

black
1.24
blue
2.23
33
Name
Pts
Rank
red
AMAURY LAVERNHE

(REU)

yellow
BEN PLAYER

(AUS)

black
1.25
blue
2.26
34
Name
Pts
Rank
red
JACOB ROMERO

(HAW)

yellow
MATIAS DIAZ

(CHI)

black
1.26
blue
2.25
MEN MAIN EVENT

QUARTER-FINAL
| 35 | Name | Pts | Rank |
| --- | --- | --- | --- |
| red | 1.27 | | |
| yellow | 2.28 | | |
| black | 1.29 | | |
| blue | 2.30 | | |
| 36 | Name | Pts | Rank |
| --- | --- | --- | --- |
| red | 1.28 | | |
| yellow | 2.27 | | |
| black | 1.30 | | |
| blue | 2.29 | | |
| 37 | Name | Pts | Rank |
| --- | --- | --- | --- |
| red | 1.31 | | |
| yellow | 2.32 | | |
| black | 1.33 | | |
| blue | 2.34 | | |
| 38 | Name | Pts | Rank |
| --- | --- | --- | --- |
| red | 1.32 | | |
| yellow | 2.31 | | |
| black | 1.34 | | |
| blue | 2.33 | | |
MEN MAIN EVENT

SEMI-FINAL
| 39 | Name | Pts | Rank |
| --- | --- | --- | --- |
| red | 1.35 | | |
| yellow | 2.35 | | |
| black | 1.36 | | |
| blue | 2.36 | | |
| 40 | Name | Pts | Rank |
| --- | --- | --- | --- |
| red | 1.37 | | |
| yellow | 2.37 | | |
| black | 1.38 | | |
| blue | 2.38 | | |
MEN MAIN EVENT

FINAL
| 41 | Name | Pts | Rank |
| --- | --- | --- | --- |
| red | 1.39 | | |
| yellow | 2.39 | | |
| black | 1.40 | | |
| blue | 2.40 | |   |
MEN TRIALS

Round 01
| 01 | Name | Pts | Rank |
| --- | --- | --- | --- |
| red | KAINOA LONO | 9 | 2nd |
| yellow | ROB KEYSER | 5.16 | 3rd |
| black | TSUYOSHI MAEYAMA | 9.86 | 1st |
| blue | | 0 | 4th |
| 02 | Name | Pts | Rank |
| --- | --- | --- | --- |
| red | KEONI HAINA | 11.5 | 1st |
| yellow | DAN SKAJAROWSKI | 2.77 | 3rd |
| black | ANGEL PEREZ | 11.17 | 2nd |
| blue | | 0 | 4th |
| 03 | Name | Pts | Rank |
| --- | --- | --- | --- |
| red | MARK WATTS | 9.17 | 2nd |
| yellow | NOA AUWELOA | 9.17 | 1st |
| black | CLINTON MUNOZ | 6.67 | 3rd |
| blue | | 0 | 4th |
| 04 | Name | Pts | Rank |
| --- | --- | --- | --- |
| red | LUIS LINARES | 8.77 | 2nd |
| yellow | BOOBOO CAZIMERO | 6.67 | 3rd |
| black | ABNER D'ARCE | 13.66 | 1st |
| blue | | 0 | 4th |
| 05 | Name | Pts | Rank |
| --- | --- | --- | --- |
| red | MARSHALL ORR | 5.73 | 3rd |
| yellow | PETER PIHO | 11.67 | 1st |
| black | LANDON GASPAR | 8.13 | 2nd |
| blue | | 0 | 4th |
| 08 | Name | Pts | Rank |
| --- | --- | --- | --- |
| red | J B HILLEN | 17.16 | 1st |
| yellow | EDSON VIERA | 7.67 | 2nd |
| black | DYLAN SHORT | 4.87 | 3rd |
| blue | | 0 | 4th |
MEN TRIALS

THIRD-FINAL
| 07 | Name | Pts | Rank |
| --- | --- | --- | --- |
| red | TSUEYOSHI MAEYAMA | 9.1 | 1st |
| yellow | KAINOA LONO | 7.33 | 3rd |
| black | KEONI HAINA | 8.03 | 2nd |
| blue | ANGEL PEREZ | 7.1 | 4th |
| 08 | Name | Pts | Rank |
| --- | --- | --- | --- |
| red | NOA AUWELOA | 8.5 | 3rd |
| yellow | MARK WATTS | 10.53 | 2nd |
| black | ABNER D'ARCE | 12.9 | 1st |
| blue | LUIS LINARES | 5.07 | 4th |
| 09 | Name | Pts | Rank |
| --- | --- | --- | --- |
| red | PETER PIHO | 13 | 1st |
| yellow | LANDON GASPAR | 7.3 | 3rd |
| black | JB HILLEN | 12.6 | 2nd |
| blue | EDSON VIERA | 4.9 | 4th |
MEN TRIALS

SEMI-FINAL
| 10 | Name | Pts | Rank |
| --- | --- | --- | --- |
| red | KAINOA LONO | 12.94 | 2nd |
| yellow | ANGEL PEREZ | 10.16 | 3rd |
| black | NOA AUWELOA | 13 | 1st |
| blue | | 0 | 4th |
| 11 | Name | Pts | Rank |
| --- | --- | --- | --- |
| red | LUIS LINARES | 10.93 | 1st |
| yellow | LANDON GASPAR | 8.27 | 3rd |
| black | EDSON VIERA | 8.8 | 2nd |
| blue | | 0 | 4th |
MEN TRIALS

FINAL
| 12 | Name | Pts | Rank |
| --- | --- | --- | --- |
| red | NOA AUWELOA | 12.33 | 1st |
| yellow | LUIS LINARES | 6 | 4th |
| black | KAINOA LONO | 7.03 | 3rd |
| blue | EDSON VIERA | 11.5 | 2nd |
JR

Round 01
| 01 | Name | Pts | Rank |
| --- | --- | --- | --- |
| red | CORDON STAPP | 9.93 | 2nd |
| yellow | KEONE HORSWILL | 6.44 | 3rd |
| black | MILO DELAGE | 14.84 | 1st |
| blue | RT SERIKAWA | 6.1 | 4th |
| 02 | Name | Pts | Rank |
| --- | --- | --- | --- |
| red | KAWIKA KAMAI | 10.16 | 3rd |
| yellow | SOCRATES SANTANA | 14.1 | 2nd |
| black | MILES OBLEY | 6.57 | 4th |
| blue | JOAQUIN SOTO | 15 | 1st |
| 03 | Name | Pts | Rank |
| --- | --- | --- | --- |
| red | TANNER MCDANIEL | 13.43 | 1st |
| yellow | KAINOA LONO | 8.23 | 2nd |
| black | SPENCER HOLL | 7.5 | 3rd |
| blue | KAINOA MATTOS | 6.63 | 4th |
| 04 | Name | Pts | Rank |
| --- | --- | --- | --- |
| red | MATTHEW OROURKE | 5 | 1st |
| yellow | KELLEN YAMASAKI | 4.4 | 2nd |
| black | MICHAEL HUMPHRIES | 0 | x |
| blue | | 0 | x |
JR

SEMI-FINAL
| 05 | Name | Pts | Rank |
| --- | --- | --- | --- |
| red | MILO DELAGE | 16.6 | 1st |
| yellow | CORDON STAPP | 11.17 | 3rd |
| black | JOAQUIN SOTO | 10.67 | 4th |
| blue | SOCRATES SANTANA | 14.34 | 2nd |
| 06 | Name | Pts | Rank |
| --- | --- | --- | --- |
| red | TANNER MCDANIEL | 15.23 | 1st |
| yellow | KAINOA LONO | 11.6 | 2nd |
| black | MATTHEW OROURKE | 9.6 | 4th |
| blue | KELLEN YAMASAKI | 9.77 | 3rd |
JR

FINAL
| 07 | Name | Pts | Rank |
| --- | --- | --- | --- |
| red | MILO DELAGE | 16.4 | 1st |
| yellow | SOCRATES SANTANA | 12.36 | 3rd |
| black | TANNER MCDANIEL | 14.54 | 2nd |
| blue | KAINOA LONO | 10.73 | 4th |
DK

Round 01
| 01 | Name | Pts | Rank |
| --- | --- | --- | --- |
| red | MACK CRILLEY | 7.43 | 2nd |
| yellow | WILL PETROVIC | 10 | 1st |
| black | BOBBY KITHCART | 6.73 | 3rd |
| blue | NICOLAS PADOIS | 4.07 | 4th |
| 02 | Name | Pts | Rank |
| --- | --- | --- | --- |
| red | SAMMY MORRETINO | 12.2 | 2nd |
| yellow | LANDON GASPAR | 11.5 | 3rd |
| black | KAWIKA KAMAI | 13.6 | 1st |
| blue | | 0 | 4th |
| 03 | Name | Pts | Rank |
| --- | --- | --- | --- |
| red | COLE HANSEN | 11.17 | 2nd |
| yellow | JUSTIN MEDERIOS | 12.5 | 1st |
| black | ABE BALMORES | 9.6 | 3rd |
| blue | KAINOA LONO | 3.27 | 4th |
| 04 | Name | Pts | Rank |
| --- | --- | --- | --- |
| red | DAYTON WAGO | 9.46 | 2nd |
| yellow | DAVE HUBBARD | 14.5 | 1st |
| black | KENYAN IHARA | 5 | 3rd |
| blue | | 0 | 4th |
DK

SEMI-FINAL
| 05 | Name | Pts | Rank |
| --- | --- | --- | --- |
| red | WILL PETROVIC | 9.93 | 3rd |
| yellow | MACK CRILLEY | 15.6 | 2nd |
| black | KAWIKA KAMAI | 8.14 | 4th |
| blue | SAMMY MORRETINO | 16.76 | 1st |
| 06 | Name | Pts | Rank |
| --- | --- | --- | --- |
| red | JUSTIN MEDERIOS | 10.1 | 4th |
| yellow | COLE HANSEN | 10.5 | 3rd |
| black | DAVE HUBBARD | 15.27 | 1st |
| blue | DAYTON WAGO | 11.83 | 2nd |
DK

FINAL
| 07 | Name | Pts | Rank |
| --- | --- | --- | --- |
| red | SAMMY MORRETINO | 9.67 | 3rd |
| white | MACK CRILLEY | 8.9 | 4th |
| black | DAVE HUBBARD | 12.33 | 1st |
| blue | DAYTON WAGO | 10.9 | 2nd |
WOMAN

Round 01
| 01 | Name | Pts | Rank |
| --- | --- | --- | --- |
| red | MAYUMI KONDO | 10.77 | 2nd |
| yellow | KARLA COSTA | 10.9 | 1st |
| black | LINDA MOLINA | 4.1 | 3rd |
| blue | | 0 | 4th |
| 02 | Name | Pts | Rank |
| --- | --- | --- | --- |
| red | ALEXANDRA RINDER | 11.74 | 1st |
| yellow | HIROMI TAKASE | 9.34 | 2nd |
| black | YURI KAMO | 6.8 | 3rd |
| blue | TRACI EFFINGER | 5.8 | 4th |
| 03 | Name | Pts | Rank |
| --- | --- | --- | --- |
| red | JESSICA BECKER | 11.5 | 1st |
| yellow | MAHINA GERRITY | 2.53 | 4th |
| black | AYAKA SUZUKI | 11 | 2nd |
| blue | LINDSEY YASUI | 5.13 | 3rd |
WOMAN

SEMI-FINAL
| 04 | Name | Pts | Rank |
| --- | --- | --- | --- |
| red | KARLA COSTA | 9.96 | 2nd |
| yellow | MAYUMI KONDO | 7.2 | 3rd |
| black | ALEXANDRA RINDER | 14.8 | 1st |
| blue | | 0 | 4th |
| 05 | Name | Pts | Rank |
| --- | --- | --- | --- |
| red | HIROMI TAKASE | 9.5 | 3rd |
| yellow | JESSICA BECKER | 15.67 | 1st |
| black | AYAKA SUZUKI | 11.07 | 2nd |
| blue | | 0 | 4th |
WOMAN

FINAL
| 06 | Name | Pts | Rank |
| --- | --- | --- | --- |
| red | ALEXANDRA RINDER | 12.3 | 2nd |
| yellow | KARLA COSTA | 8.53 | 4th |
| black | JESSICA BECKER | 10.73 | 3rd |
| blue | AYAKA SUZUKI | 12.3 | 1st |
STAND UP

Round 01
| 01 | Name | Pts | Rank |
| --- | --- | --- | --- |
| red | LANDON GASPAR | 7.76 | 3rd |
| yellow | ROB KEYSER | 9.67 | 1st |
| black | ALAN LAMPHERE | 8.93 | 2nd |
| blue | | 0 | 4th |
| 02 | Name | Pts | Rank |
| --- | --- | --- | --- |
| red | SAMMY MORRETINO | 11.07 | 1st |
| yellow | KAI HOLT | 3.94 | 3rd |
| black | NOA AUWELOA | 8.6 | 2nd |
| blue | | 0 | 4th |
| 03 | Name | Pts | Rank |
| --- | --- | --- | --- |
| red | MACK CRILLEY | 15.33 | 1st |
| yellow | CONOR BALDWIN | 5.2 | 4th |
| black | JAMIE O'BRIEN | 12.27 | 2nd |
| blue | JEDIAH PACHECO | 10.07 | 3rd |
STAND UP

SEMI-FINAL
| 04 | Name | Pts | Rank |
| --- | --- | --- | --- |
| red | ROB KEYSER | 3.9 | 3rd |
| yellow | ALAN LAMPHERE | 6.33 | 2nd |
| black | SAMMY MORRETINO | 15.9 | 1st |
| 05 | Name | Pts | Rank |
| --- | --- | --- | --- |
| red | NOA AUWELOA | 11.17 | 3rd |
| yellow | MACK CRILLEY | 11.6 | 2nd |
| black | JAMIE O'BRIEN | 18 | 1st |
STAND UP

FINAL
| 06 | Name | Pts | Rank |
| --- | --- | --- | --- |
| red | SAMMY MORRETINO | 12.22 | 3rd |
| yellow | JAMIE OBRIEN | 18.6 | 1st |
| black | ALAN LAMPHERE | 7.93 | 4th |
| blue | MACK CRILLEY | 14.74 | 2nd |
JR PIPE FINAL

FINAL
01
Name
Pts
Rank
red
KAWIKA KAMAI

(HAW)

yellow
MILO DELAGE

(FRA)

black
TANNER MCDANIEL

(HAW)

blue
SOCRATES SANTANA

(BRA)
DK PIPE FINAL

FINAL
| 01 | Name | Pts | Rank |
| --- | --- | --- | --- |
| red | SAMMY MORRETINO | | |
| yellow | DAVE HUBBARD | | |
| black | DAYTON WAGO | | |
| blue | MACK CRILLEY | | |
WOMAN PIPE FINAL

FINAL
01
Name
Pts
Rank
red
KARLA COSTA

(BRA)

yellow
AYAKA SUZUKI

(JAP)

black
ALEXANDRA RINDER

(CAR)

blue
JESSICA BECKER

(BRA)

 
STAND UP PIPE FINAL

FINAL
01
Name
Pts
Rank
red
SAMMY MORRETINO

(HAW)

10.67
1st
yellow
JAMIE O'BRIEN

(HAW)

3.23
4th
black
MACK CRILLEY

(HAW)

4.83
2nd
blue
ALAN LAMPHERE

(HAW)

4.8
3rd