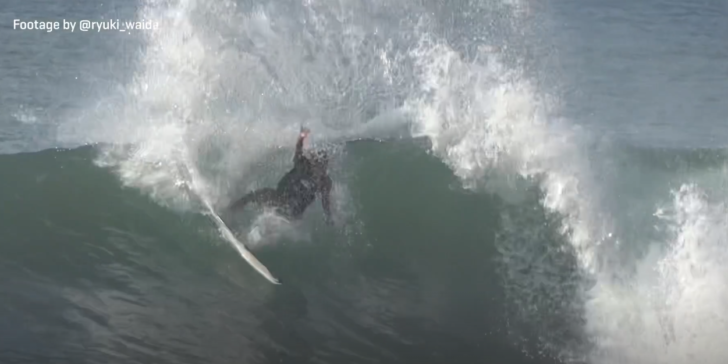 WHEN YOU HAVE ROSS WILLIAM'S MAKE A CLAIM LIKE THE ONE HE MAKES IN THE WSL FEATURE 'GETTING HEATED' WITH MICK FANNING …YOU KNOW YOU GOT TALENT.
IN FACT, BOTH WAIDA BROTHERS RIP AT A WORLD CLASS LEVEL. CHECK IT OUT. SNN.
Ques: Who's the best surfer -in the world-not currently on the CT?
Ross: Definitely my favorite surfer, not on tour right now…currently, lives in Bali. His name is Rio Waida. This kid is unbelievable….He surfs better than  half the guys on tour right now in my opinion. If he gets on tour he is just going to demolish guys. 
GO HERE FOR GETTING HEATED…(about 7 min into debate)
With a 28 combined years on Tour 17 for Mick and 11 for Ross) they know what they're 'getting heated' about…
RIO: This videos from Lakey, Lombok (0:00​~3:35​), and Bali(3:40​~).
Rio Waida did lockdown in Lakey for 3 months and scored some good waves.
And he went to desert for first time in his life and scored some fun waves.
And also at his home in Bali.
This is not all he's best clips.
He's planning to go for bigger stuffs for 2021.
So stay tune. Thank you all for support.
Video by: Mom, Ryuki, Junior Garcia, Victor, Surfers of Bali, Budi desert, Motto san
2020 was best year for me.
lot of trip last year like desert point, Java, mentawai. last year was lot of swell, like every week the swell was came. hopefully this year gonna be better than this.
Our Channel Rio Waida and Ryuki Waida surf everyday at the best wave points in Bali.
We can't travel to surf the world so we would like to go around Indonesia to get a good wave
We will be put in a video for surfers who can't come to Bali, We will do my best to improve as much as possible.
Enjoy watching in my channel.
Subscribe to this channel here:https://www.youtube.com/channel/UCyit…