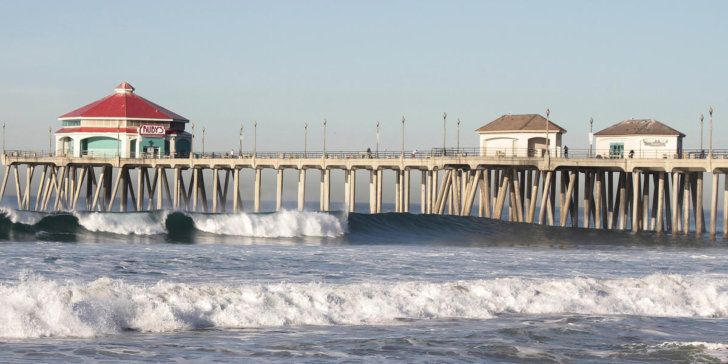 WSL Event: Vans US Open of Surfing, women's Championship Tour Stop No. 7 (of 10)
Event Window Friday, July 27 – August 5, 2018
Location Huntington Beach, California, USA
Cover shot: The Huntington Beach Pier, site of the surfing festival that is Stop No. 7.WSL / NILTZ
ATTITUDE: Electric. The US Open of Surfing draws thousands of people to downtown Huntington Beach and everywhere from the pier to the parking lot is standing-room only. Along with the surfing, the Open includes competition theater for BMX and skate, along with dozens of vendors and product demos packed on the sand — all of which transforms the beach into one of pro surfing's biggest parties.
THE WAVE: The beach break south of the Huntington Beach pier can be a bit tricky. It can start off steep on the outside and quickly back off before reforming closer to shore. The effect forces surfers to perfect the so-called Huntington Hop – an aggressive pumping maneuver to connect to the inside section. Still, the challenge is part of the fun and the fast, punchy wave can inspire creative maneuvers. Plus, the Surfline forecast for next week is — wait for it — stellar, which should only up the ante on performance.
WOMEN'S CHAMPIONSHIP TOUR HISTORY: Surf city has hosted elite women's competitions since the early '90s. Stop No. 7 is just past the halfway point in the CT season and marks the beginning of the U.S. leg of the Tour for the women (they'll head next to the Surf Ranch September 6). When the women's CT was in its denouement, HB was the season closer. But since 2013, as the women's CT has been built back up, it's become more of a momentum-builder (or -staller) in terms of the Title race, and it offers local fans relatively easy access to see their favorite surfers in person.
PAST EVENT CHAMPIONS:
2017: Sage Erickson (USA)
2016: Tatiana Weston-Webb (HAW)
2015: Johanne Defay (FRA)
2014: Tyler Wright (AUS)
2013: Carissa Moore (HAW)
2012: Lakey Peterson (USA)
2011: Sally Fitzgibbons (AUS)
Catch the Vans US Open live daily on the WSL website, app and Facebook from July 28 to August 5.
Plus: This year, VIP tickets are available.
For more details or to reserve your VIP passes today, email ticketing@worldsurfleague.com.