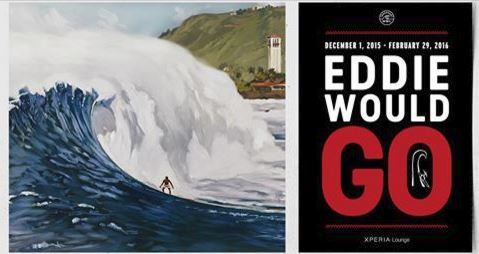 SNN: Thursday is a better call but not worth the risk. As the Bay Calls The Day' (George Downing). It's not close to matching the 'Eddie' standard. Lastest update 6am Wednesday. Bad news. WW3 models have shifted back to a late arrival for the GIANT NW-NNW Wednesday: As of 5am today we see 2′ 20 sec at the Bay Buoy. Hanalei buoy is 6′ 18 sec and the NW buoy is 14′ 16 sec. All buoys are still ramping fast! It is coming. Tho' about 15% less size that peak forecasts of the past days. More energy is passing to our NE than hoped for. WW3 model Forecasts show 7′ open ocean swell at 20 sec at 8am rising to a 13′ 18 sec peaking 17′ 16 sec around 8pm. These will not make the size needed for a start before noon. Waimea Bay may see waves up to 15-25′ this afternoon (40′ faces). Long lulls early but size and consistency will increase through out the day.
THE QUIKSILVER IN MEMORY OF EDDIE AIKAU
WILL MAYBE GO THIS WEDNESDAY MIDDAY. 
Monday story: North Shore, Oahu, HAWAII – (February 8, 2016) –  The Quiksilver In Memory of Eddie Aikau will GO this Wednesday, February 10, at Waimea Bay. Organizers gave the event the green light early this-morning after consulting the latest round of forecasting models. This will be the 9th "Eddie" in 31 years. The event was last held in December of 2009, and was won by California's Greg Long.
Organizers anticipate a solid day of surf that will meet the event's strict wave face height requirement of 40 feet, with favorable light winds in the morning, turning light trades by afternoon.
"It has taken us six years to pull the trigger, but this is the first swell we have seen that is truly lining up as an Eddie swell," said Event Director Glen Moncata.
Moncata and the organizing team continue to confer with event patriarch George Downing, who has made the call on every event since its inception.
"As George has famously said, 'The Bay Calls the Day' and that will be Wednesday," added Moncata.
There will be various platforms on which to view the Quiksilver In Memory of Eddie Aikau:
In Hawaii: Live on Oceanic Time Warner Cable channels 250 and 1250HD
Past 8 Winners:
1985/1986: Denton Miyamura (HAW)
1986/1987: Clyde Aikau (HAW)
1989/1990: Keone Downing (HAW)
1998/1999: Noah Johnson (HAW)
2000/2001: Ross Clarke-Jones (AUS)
2001/2002: Kelly Slater (USA)
2004/2005: Bruce Irons (HAW)
2009/2010: Greg Long (USA)
EVENT HEAT DRAW:
Heat 1:
Shane Dorian (HAW)
Kohl Christensen (HAW)
Greg Long (CA)
Ramon Navarro (CHI)
Sunny Garcia (HAW)
Ross Clarke-Jones (AUS)
Jamie Mitchell (AUS)
Heat 2:
Kelly Slater (FL)
David Wassell (HAW)
Grant Baker (ZAF)
Reef McIntosh (HAW)
Jamie O'Brien (HAW)
Aaron Gold (HAW)
Tom Carroll (AUS)
Heat 3:
John John Florence (HAW)
Mark Healey (HAW)
Clyde Aikau (HAW)
Nathan Fletcher (CA)
Noah Johnson (HAW)
Peter Mel (CA)
Takayuki Wakita (JPN)
Heat 4:
Bruce Irons (HAW)
Makuakai Rothman (HAW)
Ian Walsh (HAW)
Albee Layer (HAW)
Kala Alexander (HAW)
Garrett McNamara (HAW)
Jeremy Flores (FRA)
Alternates List
Mason Ho (HAW)
Danilo Couto (BRA)
Mark Mathews (AUS)
Koa Rothman (HAW)
Ben Wilkinson (AUS)
Jamie Sterling (AUS)
Billy Kemper (HAW)
Shawn Dollar (USA)
Carlos Burle (BRA)
Kealii Mamala (HAW)
Gabriel Villaran (USA)
Michael Ho (HAW)
Kai Lenny (HAW)
Kahea Hart (HAW)
Nathan Florence (HAW)
Damien Hobgood (USA)
Kalani Chapman (HAW)
Ryan Hipwood (AUS)
Danny Fuller (HAW)
Nic Lamb (USA)
Anthony Tashnick (HAW)
Rusty Long (HAW)
Derek Dunfee (USA)
Brock Little (USA)
The Quiksilver In Memory of Eddie Aikau is a
World Surf League
sanctioned Specialty Event.
About Eddie Aikau: 
Just 31 years of age when he was lost at sea during an ill-fated voyage on Hawaii's Hokule'a double-hull sailing canoe in 1978, Aikau was a young man at the height of a career equally dedicated to big-wave riding and lifeguarding at historic Waimea Bay. Filled with a pure passion to ride giant surf, take care of his fellow man, and uphold his Hawaiian culture and family values, Aikau became the benchmark by which all big wave riders are measured.
About Quiksilver: 
Quiksilver, Inc., one of the world's leading outdoor sports lifestyle companies, which designs, produces and distributes branded apparel, footwear and accessories. The company's apparel and footwear brands, inspired by a passion for outdoor action sports, represent a casual lifestyle for young-minded people who connect with its boardriding culture and heritage. The company's Quiksilver, Roxy, and DC brands have authentic roots and heritage in surf, snow and skate. The company's products are sold in more than 100 countries in a wide range of distribution, including surf shops, skate shops, snow shops, its proprietary Boardriders Club shops and other company-owned retail stores, other specialty stores, select department stores and through various e-commerce channels.
The 31st annual Quiksilver in Memory of Eddie Aikau has been put on green alert for this Wednesday, February 10. The prestigious big-wave invitational has a holding period set during the most active swell season on Hawaii's North Shore (Dec. 1 – Feb. 28) and requires waves more than 20 feet (40-foot faces) to run. This winter's El Niño weather pattern has been generating swell throughout the Pacific for months now and already provided contestable conditions for the Big Wave Tour's Pe'ahi Challenge and Todos Santos Challenge, not to mention numerous submissions for the Big Wave Awards.
The Quiksilver in Memory of Eddie Aikau will be broadcast LIVE on theWSL website.