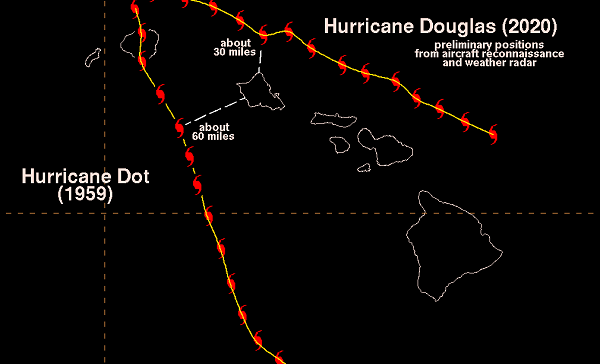 Hurricane Douglas is the closest a hurricane has come to Oahu since before Hurricane Dot in 1959 (nearly half a century).
The U.S. Air Force Reserve Hurricane Hunters and weather radars reveal that the center of Douglas passed about 30 miles north of Kahuku about 7 pm on Sunday, July 26th.
The last one to get this close was Hurricane Dot, that passed approx. 60 miles southwest of the Waianae Coast -twice the distance of Douglas- before making landfall on Kauai in August of 1959.
This short distance away (vs clipped us) allowed for a brief period of EPIC surf along isolated Windward shores….even the winds blew offshore (for a brief period even glassed off some).
The causes of the models to change their forecast -in under 4 hours- and keep the Hurricane further away, 1. Douglas encountered some wind shear as it approached us. Plus, 2. the islands were on the left side of the track of Douglas relative to its WNW Track. The combo of these two fortuitous outcomes kept the worst of Douglas's potential impact just offshore of all the islands.
All sources (Satellite, radar, and aircraft reconnaissance data) indicated that tropical-storm-force winds were just about 10 miles of the northern tip of Oahu during the closest approach.
See the image below…all that water could have dumped right on us…
G-Narly. Relief.
But note: Hurricane season lasts through Nov.
The NWS image:
"…radar-derived storm total precipitation from the weather radar on Molokai.
It shows cumulative rainfall estimated by the radar from 9:08 am HST Saturday 7/25 through 12:40 pm Monday 7/27.
Widespread rainfall was located along and to the north of the track of Douglas.
A maximum value of near 10 inches was located just 50 miles north of Oahu"