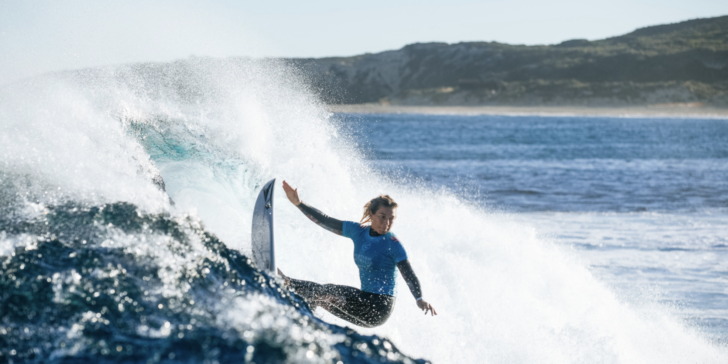 No Competition Wednesday (Hawaii), Next Call May 31 at 7:30 AM AWST
Slater Falls Behind Fellow World Champions' Success in Seeding Round
Local Favorites Lose in Seeding Round, Relegated to Elimination Round 2
Jordy Smith: 'You Can't Let the Hair in the Salad Spoil the Salad'
Front page: Coco Ho (HAW) earned the day's highest heat total to defeat seven-time Champion Stephanie Gilmore (AUS) and wildcard Mia McCarthy (AUS) in the Seeding Round of the Margaret River Pro. 
Credit: © WSL / Dunbar
MARGARET RIVER, West Australia/Australia (Wednesday, May 29, 2019) – Opening day of the Margaret River Pro, Stop No. 4 on the 2019 World Surf League (WSL) Championship Tour (CT), completed the women's and men's Seeding Rounds in fading four-to-six foot (1.2 – 1.8 metre) waves at Main Break. Today's opening round determined the top two finishers of the Seeding Round – who will go straight to either the women's Round of 16 or the men's Round of 32 – and the loser, who will surf again in the Elimination Round when competition resumes.

With unfavorable winds forecast to rip through the West Australia coastline tomorrow, event organizers have called competition OFF tomorrow. The next call will be Friday, May 31st, at 7:30 a.m. AWST for a possible 7:35 a.m. start.
Slater Falls Behind Fellow World Champions' Success in Seeding Round
Kelly Slater (USA) was the only competing World Champion who will surf in the dreaded Elimination Round 2 after losing his Seeding Round heat. The 11-time WSL Champion fell to two-time WSL Champion John John Florence (HAW) and Jadson Andre (BRA) in the Heat 1 of the men's opening round. Florence, 2017 event winner and current World No. 1, posted two 6-point rides (out of a possible 10), leaving Slater short of advancing with twin 5.17 scores. Slater will need to earn first or second in his next heat to avoid an early elimination from the Margaret River Pro.

"I'm just so happy to be back here," Florence said. "There's just so many waves here it's amazing. The water is so clean and it's just kind of pristine everywhere you go, so I love coming back here. That heat was super fun, Jadson (Andre) has been ripping this year and Kelly (Slater) had such a great performance in Keramas, so it's great to see him back but it was also a little nerve-racking because he's been so in form. It was a bit unfortunate that the waves were a bit small and the wind was on it in that heat, but I was stoked to get those early ones."

Seven-time WSL Champion Stephanie Gilmore (AUS) also progressed through her opening matchup, but it was in second place behind standout Coco Ho (HAW), who put on the most dominating performance of the morning with a two-wave total of 15.23 (out of a possible 20). Ho found incredible flow in the raw West Australian conditions, even posting an 8.00-point ride (out of a possible 10), the highest of the event so far to overcome one of her biggest inspirations in Gilmore along with local wildcard Mia McCarthy (AUS).
"Steph (Gilmore) has been so inspirational to me since day one," Ho said. "She encourages me, she pushes me and is just the best thing for me. It was really cool yesterday at the Rising Tides – WSL Girls Program, watching all of the little girls admiring her because her generation admires her, I admire her that much, so there is a lot of really special things to be said about her. I really enjoy it over here in Western Australia. We compare it a lot  to places at home and we get strong winds like this, so I feel comfortable here and enjoy riding these bigger boards."

Carissa Moore (HAW) scratched her way back from nearly being sent to the Elimination Round by delivering a clutch 14.43 (out of a possible 20) heat total to win her Seeding Round heat. Injury replacement Keely Andrew (AUS) and World No. 8 Nikki Van Dijk (AUS) had Moore on the ropes until the three-time WSL Champion unleashed a dominant showcase in the dying minutes. Andrew secured the second-place position, sending Van Dijk to Elimination Round 2.

"I think the most nerve-racking thing is not knowing if you're going to be in rhythm with the ocean," Moore said. "At the moment, that is the biggest thing I see myself needing to improve on from the first three events of the season so that was making me a little nervous. Once I got a decent wave I was really stoked. I love this wave and I love the vibes here in Western Australia."

Reigning WSL Champion Gabriel Medina (BRA) has yet to advance further than fifth place at the Margaret River Pro. His best result came in the same year that he won his maiden World Title in 2014. In 2019, having been eliminated from the Corona Bali Protected in 17th, Medina hopes to post his best result yet at Margaret River and move up the rankings out of the 10th spot. Today he got his campaign off to a great start by taking down local wildcard Jacob Willcox (AUS) and rookie Deivid Silva (BRA) with the second highest single wave score of the opening day, an 8.33 to progress into the Round of 32.

"That was a tough heat because the waves got a little bit small and slow, so I'm glad to have made it through," Medina said. "It felt good to get that big one and post an excellent score after Bali because my heats there were also slow, so I'm glad to make it. When I lost in Bali, I just came straight here. I've been trying my boards and getting used to the cold. We actually scored some good waves before the contest. I am feeling good. It feels good to be back."
Local Favorites Lose in Seeding Round, Relegated to Elimination Round 2
Mia McCarthy (AUS) Credit: © WSL / Dunbar
Hometown hero Bronte Macaulay (AUS) had a scoreless heat to open her campaign in Margaret River but will fight to redeem herself in Elimination Round 2 when competition resumes. Macaulay will be against fellow AustraliansNikki Van Dijk (AUS) and Macy Callaghan (AUS) in Heat 2.

Wildcard McCarthy will be against veteran Silvana Lima (BRA) and Johanne Defay (FRA), after losing in her Seeing Round matchup to Ho and Gilmore. The 20-year-old will have another shot on the elite stage to show her best surfing at her home break.

Along with Willcox, wildcard Jack Robinson (AUS) was also sent to the Elimination Round after failing to attend his heat in time. He will be against 2018 Rookie of the Year Wade Carmichael (AUS) and Jack Freestone (AUS) in Elimination Heat 2.
CT Contenders Charge Through Opening Day
Pictured: Jordy Smith (ZAF) Credit: © WSL / Dunbar
Last season Italo Ferreira (BRA) made his way into Margaret River donning the Jeep Leader Jersey but a Round 3 elimination halted his successful start. Ferreira, currently World No. 3, left nothing to chance in his debut with an impeccable 14.03 heat total utilizing a quick and powerful backhand attack.

World No. 2 Kanoa Igarashi (JPN) carried his momentum from the Corona Bali Protected straight into a Round 1 victory at Margaret River. The form surfer overcame 2019 CT rookie Soli Bailey (AUS) and CT sophomore Yago Dora (BRA). Igarashi continued his free-flowing approach to comfortably progress into the round of 32 as he looks to lock himself into the World Title conversation and Olympic qualification for the remainder of the season.

"It's so nice to be straight into another event," Igarashi said. "People think you'd want some time to soak up the win but I just want to play on my momentum and then enjoy it after this whole leg. For now, I just want to keep my mindset on the competition and go as far as I can in this one. For me, that heat was on until the very end as I knew they could get the scores they needed. I felt good out there but I know I've got a lot more to give so hopefully the waves will come to me and I can go back-to-back."
Jordy Smith (ZAF), World No. 6, is fresh off a disappointing finish at the Corona Bali Protected and is keen to wash it off with a decent result here in Margaret River. The South African powerhouse has a tight affinity with the waves of Western Australia and set a good pace in his opening heat to easily overcome Ricardo Christie (NZL) and Adrian Buchan (AUS).

"The loss in Keramas really hurt and was a rough one for me," Smith said. "I think I told Ronnie that 'you can't let the hair in the salad spoil the salad.' It's a long year so you have to keep your head up and keep fighting and focus on the next event. I was a little frustrated when they went on lay days in Bali because I just wanted to get this one started, but like I said, it's a really long year so you've just got to pace yourself."

Tatiana Weston-Webb (BRA), World No. 10, matched Ho's impressive single-wave score to defeat recent runner-up at Keramas Sally Fitzgibbons (AUS) and thwart Lima's momentum after an impressive comeback from injury.

17-year-old Caroline Marks (USA) is eager to reclaim the Jeep Leader Jersey from Gilmore. The current World No. 2 won the opening Seeding Round heat over Paige Hareb (NZL) and Defay, and puts herself straight into the Round of 16. Her opponent will be determined after the next eliminations.
Event organizers have called competition OFF tomorrow due to unfavorable winds. The next call will be Friday, May 31st, at 7:30 a.m. AWST for a possible 7:35 a.m. start. At this time, event organizers will reassess the conditions and decide the day's competition schedule.

The Margaret River Pro will be broadcast LIVE on WorldSurfLeague.com and Facebook.com/WSL .
Brief SL forecast Overview
Thu 30th: Smaller, leftover swell. Strong offshore to sideshore wind. Likely off day.
Fri 31st: Building swell with onshore wind AM, improving PM. Possible run in the PM.
Sat 1st: Solid W swell, likely offshore wind. Likely run day.
Sun 2nd: Dropping swell, offshore wind. Possible- and becoming likely- run day.
Mon 3rd: Rebuilding swell, offshore wind. Possible run day.
Margaret River Pro Women's Seeding Round (Round 1) Results:
Heat 1: Caroline Marks (USA) 11.83, Paige Hareb (NZL) 8.17, Johanne Defay (FRA) 7.76
Heat 2: Carissa Moore (HAW) 14.43, Keely Andrew (AUS) 11.10, Nikki Van Dijk (AUS) 8.93
Heat 3: Coco Ho (HAW) 15.32, Stephanie Gilmore (AUS) 12.50, Mia McCarthy (AUS) 8.06
Heat 4: Courtney Conlogue (USA) 12.77, Brisa Hennessy (CRI) 10.47, Macy Callaghan (AUS) 8.00
Heat 5: Tatiana Weston-Webb (BRA) 13.90, Sally Fitzgibbons (AUS) 12.67, Silvana Lima (BRA) 7.44
Heat 6:  Lakey Peterson (USA) 13.16, Malia Manuel (HAW) 9.26,  Bronte Macaulay (AUS) 0.00Margaret River Pro Women's Elimination Round (Round 2) Matchups:
Heat 1: Johanne Defay (FRA) vs. Silvana Lima (BRA) vs. Mia McCarthy (AUS)
Heat 2: Nikki Van Dijk (AUS) vs. Bronte Macaulay (AUS) vs. Macy Callaghan (AUS)

Margaret River Pro Men's Seeding Round (Round 1) Results:
Heat 1: John John Florence (HAW) 12.84 DEF. Jadson Andre (BRA) 11.64, Kelly Slater (USA) 10.34
Heat 2: Kanoa Igarashi (JPN) 12.73 DEF. Soli Bailey (AUS) 11.80, Yago Dora (BRA) 9.33
Heat 3: Peterson Crisanto (BRA) 10.56 DEF. Julian Wilson (AUS) 10.27, Caio Ibelli (BRA) 10.17
Heat 4: Italo Ferreira (BRA) 14.03 DEF. Joan Duru (FRA) 12.84, Frederico Morais (PRT) 11.90
Heat 5: Gabriel Medina (BRA) 14.70 DEF. Deivid Silva (BRA) 11.94, Jacob Willcox (AUS) 11.60
Heat 6: Filipe Toledo (BRA) 14.73 DEF. Sebastian Zietz (HAW) 12.00, Jack Robinson (AUS)
Heat 7: Jordy Smith (ZAF) 14.77 DEF. Ricardo Christie (NZL) 9.14, Adrian Buchan (AUS) 8.93
Heat 8: Kolohe Andino (USA) 11.70 DEF. Seth Moniz (HAW) 11.23, Jack Freestone (AUS) 10.73
Heat 9: Ryan Callinan (AUS) 11.57 DEF. Conner Coffin (USA) 9.77, Leonardo Fioravanti (ITA) 9.57
Heat 10: Ezekiel Lau (HAW) 13.53 DEF. Michael Rodrigues (BRA) 12.67, Wade Carmichael (AUS) 11.50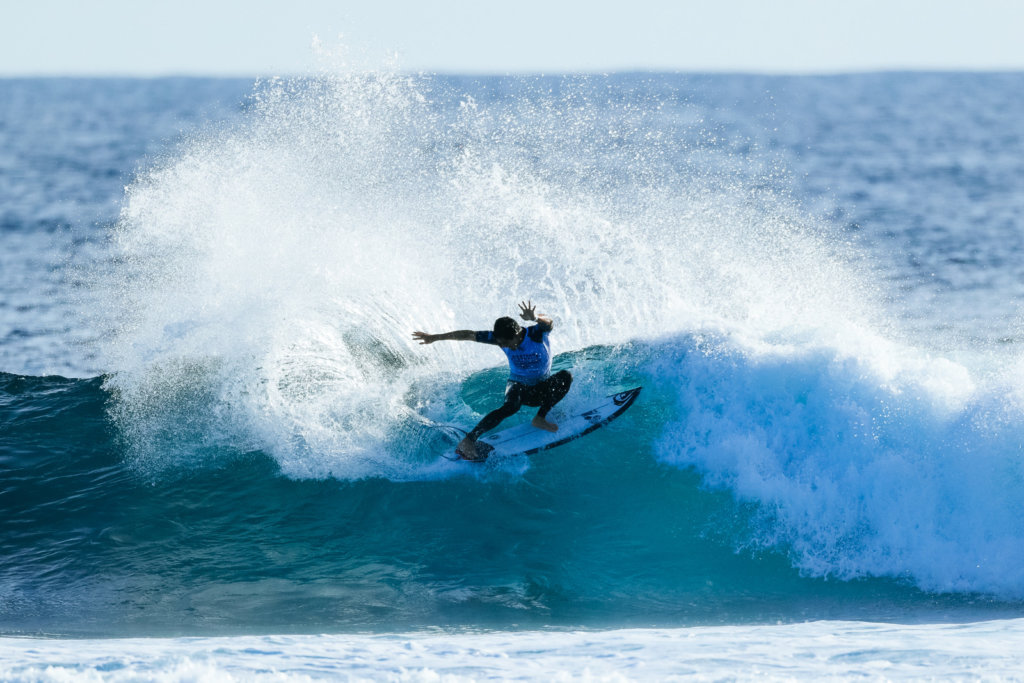 Zeke rounds out a win in his first heat… PHOTO: © WSL / Cestari
Heat 11: Jesse Mendes (BRA) 14.60 DEF. Jeremy Flores (FRA) 13.34, Willian Cardoso (BRA) 9.70
Heat 12: Owen Wright (AUS) 12.10 DEF. Griffin Colapinto (USA) 12.00, Michel Bourez (FRA) 5.33
Margaret River Pro Men's Elimination Round (Round 2) Matchups:
Heat 1: Wade Carmichael (AUS) vs. Jack Freestone (AUS) vs. Jack Robinson (AUS)
Heat 2: Michel Bourez (FRA) vs. Leonardo Fioravanti (ITA) vs. Jacob Willcox (AUS)
Heat 3: Willian Cardoso (BRA) vs. Yago Dora (BRA) vs. Frederico Morais (PRT)
Heat 4: Adrian Buchan (AUS) vs. Kelly Slater (USA) vs. Caio Ibelli (BRA)