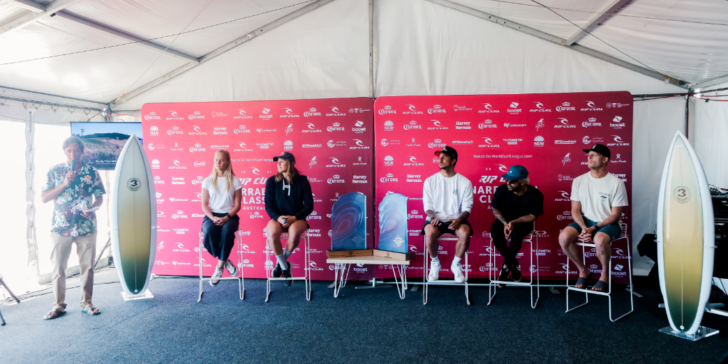 Reigning World Champions Eye Back-to-Back Wins at Rip Curl Narrabeen Classic Pres. by Corona

Surfing Icon Mick Fanning to Sport CT Jersey Once Again

Holding Period Opens Tomorrow, First Call at 6:30 AM AEST

WSL CT Fantasy Open for Registration and Team Selections
Front page. [From L to R] Joe Turpel, Isabella Nichols, Carissa Moore, Gabriel Medina, Italo Ferreira, and Mick Fanning at the press conference for the Rip Curl Narrabeen Classic pres. by Corona. Credit: © WSL / Miers
NARRABEEN, New South Wales, Australia (Thursday, April 15, 2021) – The Rip Curl Narrabeen Classic presented by Corona, the third stop on the World Surf League (WSL) 2021 Championship Tour (CT), kicks off tomorrow morning with the first call at 6:30 a.m. AEST for a possible 7:05 a.m. start.
The high-performance lefts of North Narrabeen have hosted dozens of professional events over the last four decades, but this will be the first CT stop in Narrabeen since 1997 that saw 11-time World Champion Kelly Slater (USA) and Kylie Webb (AUS) claim victory.
Reigning World Champions Eye Perfect Start to Aussie Leg
Fresh off of wins at the Rip Curl Newcastle Cup, reigning World Champions Italo Ferreira (BRA) and Carissa Moore (HAW) are eyeing off consecutive wins here at Narrabeen when the competition gets underway. For Ferreira, locations do not get more idyllic than North Narrabeen with punchy left-hand beach breaks offering up multiple opportunities to take to the sky.
"This is my first time here, and so far the waves have been so fun," Ferreira said. "I feel like it does suit my style, but it's the same for everyone. Everyone here can perform so well in waves like this, so I will need to surf my best and keep focused. It's been good to be here the last few days, and I'm excited for another great event here in Australia."
Moore will be looking to cement her spot in the Rip Curl WSL Finals, which will be held at Lower Trestles this September, with another solid result this week in Narrabeen.
"It's great to be here in Narrabeen," Moore said. "Last week was awesome in Newcastle. I was so happy to share a Final with Isabella (Nichols), but it is a long season and this is a new event, which means this is a clean slate. With events so close together like this, you can be on top of the mountain one week and down in the valley the next, so all I can do not is refocus and do my best once the first heat starts."
Surfing Icon Mick Fanning to Sport CT Jersey Once Again 
Having grown up competing in junior events at Narrabeen through his teenage years, three-time World Champion Mick Fanning (AUS) is in familiar territory for his first competitive appearance since he retired from the CT in 2018. Fanning was awarded a wildcard into the event by Rip Curl and will take on Morgan Cibilic (AUS) and Ferreira in Heat 6 of Round 1. Interestingly, the last heat Fanning surfed on tour was the Final of the Rip Curl Pro Bells Beach against Ferreira, meaning Fanning will pick up where he left off in 2018.
"It's good to be back here and catching up with a lot of old friends," Fanning said. "And I'll be in familiar territory for my first heat, up against Italo (Ferreira) again, plus Morgan (Cibilic) who is fresh off a solid result in Newcastle also, so I definitely think I've got the toughest opening-round matchup. That suits me though. I'm here for a challenge and that's what I'm going to get straight off the bat. I'm looking forward to learning some lessons from these guys."
Select Your Narrabeen Picks Now for WSL CT Fantasy
WSL CT Fantasy is open for the Rip Curl Narrabeen Classic pres. by Corona. Fans can create their leagues and set their teams for the third stop on the CT. WSL CT Fantasy is fully reimagined for the 2021 season. Register now and check out all the new features:
Power Surfers let you catch up quickly and give you 2x the points for one male and one female surfer on your team.
Combined teams create higher scores than ever before.
Progressive scoring means events are worth more as the season goes on.
Editing teams mid-event ensures you never have a surfer knocked out early.
Players can register now at ctfantasy.worldsurfleague.com and on the WSL app.
The Rip Curl Narrabeen Classic pres. by Corona is proudly supported by our partners Rip Curl, Corona, the NSW Government's tourism and major events agency Destination NSW, Northern Beaches Council, Red Bull, Oakley, Hydro Flask, Harvey Norman, Bonsoy, Boost Mobile, Dometic Outdoor, Bond University, BF Goodrich, and Oakberry. 
Rip Curl Narrabeen Classic Women's Seeding Round 1 Matchups:
Heat 1: Stephanie Gilmore (AUS), Malia Manuel (HAW), Brisa Hennessy (CRI)
Heat 2: Caroline Marks (USA), Tyler Wright (AUS), Macy Callaghan (AUS)
Heat 3: Carissa Moore (HAW), Nikki Van Dijk (AUS), Laura Enever (AUS)
Heat 4: Sally Fitzgibbons (AUS), Johanne Defay (FRA), Sage Erickson (USA)
Heat 5: Lakey Peterson (USA), Isabella Nichols (AUS), Keely Andrew (AUS)
Heat 6: Tatiana Weston-Webb (BRA), Courtney Conlogue (USA), Bronte Macaulay (AUS)Rip Curl Narrabeen Classic Men's Seeding Round 1 Matchups:
Heat 1: Kanoa Igarashi (JPN), Yago Dora (BRA), Connor O'Leary (AUS)
Heat 2: John John Florence (HAW), Frederico Morais (PRT), Alex Ribeiro (BRA)
Heat 3: Filipe Toledo (BRA), Adriano de Souza (BRA), Mikey Wright (AUS)
Heat 4: Jordy Smith (ZAF), Adrian Buchan (AUS), Reef Heazlewood (AUS)
Heat 5: Gabriel Medina (BRA), Jadson Andre (BRA), Dylan Moffat (AUS)
Heat 6: Italo Ferreira (BRA), Morgan Cibilic (AUS), Mick Fanning (AUS)
Heat 7: Jeremy Flores (FRA), Peterson Crisanto (BRA), Ethan Ewing (AUS)
Heat 8: Ryan Callinan (AUS), Michel Bourez (FRA), Leonardo Fioaravanti (ITA)
Heat 9: Owen Wright (AUS), Seth Moniz (HAW), Matthew McGillivray (ZAF)
Heat 10: Julian Wilson (AUS), Conner Coffin (USA), Miguel Pupo (BRA)
Heat 11: Jack Freestone (AUS), Wade Carmichael (AUS), Deivid Silva (BRA)
Heat 12: Griffin Colapinto (USA), Caio Ibelli (BRA), Jack Robinson (AUS)
COVID-19 Updates
The WSL will implement a robust and thorough COVID-19 health and safety plan for each event during the Australian leg of the CT in accordance with federal and state guidance. The WSL's health and safety plan includes enhanced high-touch cleaning at the event site, contact tracing procedures, sanitizer stations throughout the event site, and minimal personnel on-site. All traveling athletes and support staff completed the mandatory 14-day hotel quarantine and received medical clearance from public health officials before entering the general community.Due to COVID-19, the Australian CT events will run based on state border closures, strictly adhering to federal and state government guidelines and restrictions. All tour stops and dates subject to change due to applicable COVID-19 related restrictions, including global travel restrictions.
About the WSL 
Established in 1976, the World Surf League (WSL) is the home of the world's best surfing.A global sports, media and entertainment company, the WSL oversees international tours and competitions, a studios division creating over 500+ hours of live and on-demand content, and via affiliate WaveCo, the home of the world's largest high performance, human-made wave. Headquartered in Santa Monica, California, the WSL has regional offices in North America, Latin America, Asia Pacific, and EMEA.The WSL annually crowns the men's and women's surfing World Champions. The global Tours and Competition division oversees and operates more than 180 global contests each year across the Championship Tour, the development tiers, including the Challenger, Qualifying and Junior Series, as well as longboard and big wave properties.Launched in 2019, WSL Studios is an independent producer of unscripted television projects, including documentaries and series, which provide unprecedented access to athletes, events, and locations around the world. WSL events and content are distributed on linear television in over 743M+ homes worldwide and across digital and social media platforms around the world, including WorldSurfLeague.com.

WaveCo includes the Surf Ranch Lemoore facility and the utilizing and licensing of the Kelly Slater Wave System.

The WSL is dedicated to changing the world through the inspirational power of surfing by creating authentic events, experiences, and storytelling to inspire a growing, global community to live with purpose, originality, and stoke.